Is Custom Metal Framing Right for Your Photography?
Deciding how to best present and protect your works of photography is an important consideration. The question often starts with identifying which type of framing material is ideal for your piece. After all, every photo is its own unique expression, and each one deserves a frame worthy of its beauty. So, how do you know if custom metal picture framing is the right choice for your photography?
For starters, it's important to debunk the assumption that every metal frame consists of the same sub-standard quality you might find with an off-the-shelf product at a big box store. The truth is there's a whole universe of choices beyond that stereotype, and in fact, custom metal frames can be some of the sleekest, most sophisticated and highest-quality options for your photographs. The custom aspect also gives you immense control over sizing specifications and stylistic preferences.
Let's explore some of the nuances of custom metal framing that will help drive your decision-making process and determine whether this option is right for you and your work.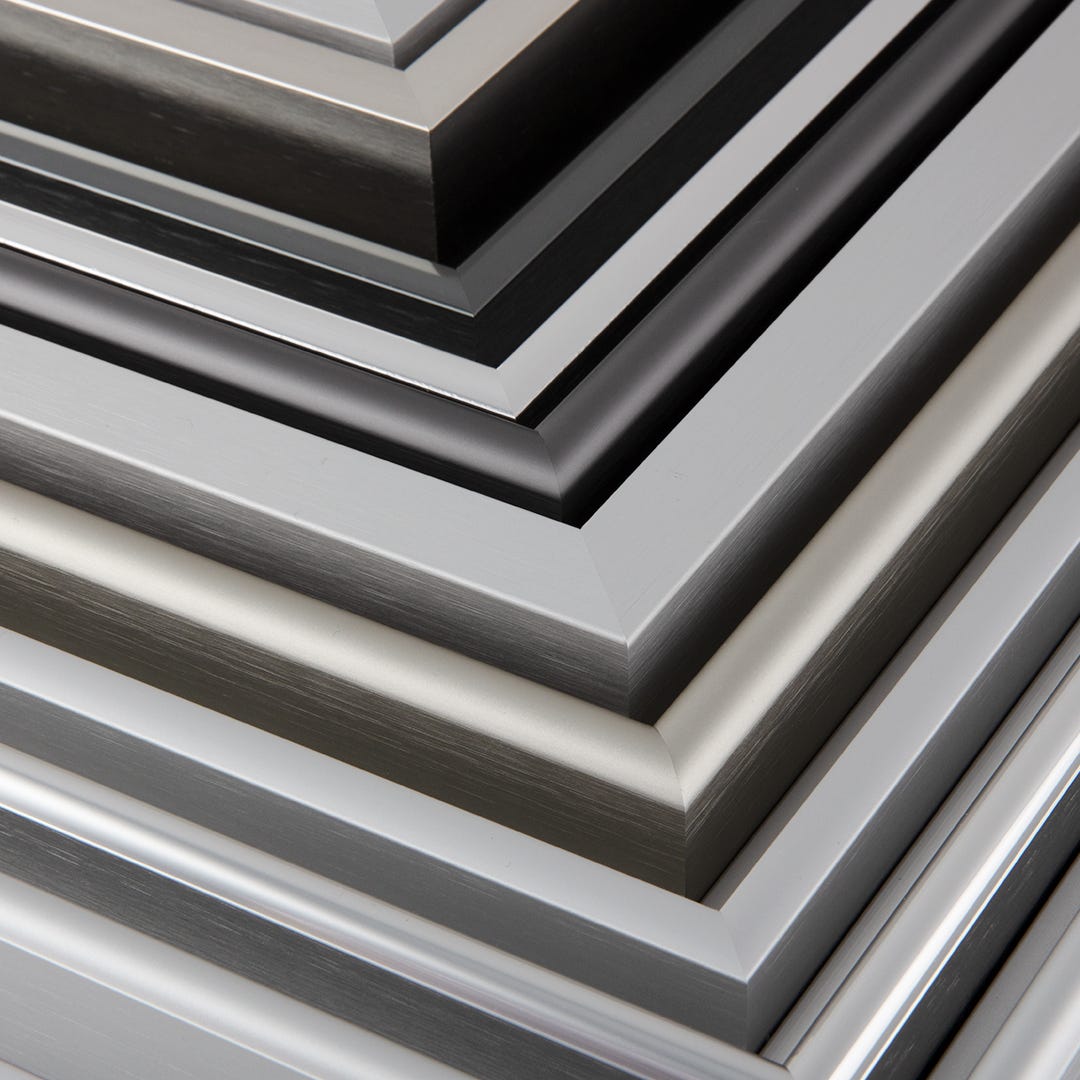 Custom metal picture frames from Nielsen provide a sleek aesthetic for your photography.
The Facts about Custom Metal Frames
Metal frames have been recognized as the backbone of custom framing for some time, beautifully complementing photography of all kinds in a number of ways:
For photographs that warrant a clean, modern look, metal frames provide a

sleek and smooth aesthetic

.

The nature of metal supports a

timeless

quality, in both style and function. Metal doesn't warp or phase out of style.

Metal frames are economical and come in an array of

highly affordable

options to meet various budgets.

They are

conservation quality

—a key advantage given the importance of protecting photography from harmful elements, like acid,, which can deteriorate a piece's essence over time.

Metal frames are

light but sturdy

, so they are structurally sound without involving an overly heavy frame.

DIY custom framing is simple when you opt for metal frames that offer

easy assembly

, with all hardware included.

If your photography requires

sizing

that doesn't fit standard, off-the-shelf frames, custom metal provides an optimal fit.

Metal frames are extremely

versatile and flexible

, fitting any type of photography. They come in a wide range of different finishes, styles and colors.
The Gold Standard in Metal Frames
There is a top choice when it comes to metal frames, and that's the Nielsen® brand. The inventor of the classic "gallery" frame and the leading manufacturer of metal mouldings worldwide, Nielsen has been making frames for over 40 years.
The manufacturing of Nielsen metal frames includes an anodization process that makes them highly durable and mar-resistant. A unique electrostatic paint system applies multiple coats to each frame. This means that coverage is exceptional, as is resistance to scratches and scuffs. These frames are made entirely in America, all from 100% recyclable aluminum, which also makes them earth-friendly.
Nielsen produces many different collections of metal frames, and two of our favorites include:
Standard Plus Two: This line of strong, flawless aluminum frames can elevate already dramatic photographs. The finishes on the Standard Plus Two collection are what make them truly special, including the variety of linen texture ones and the range of earth-tone mouldings that add sheen and glamour. From the integrity of these frames and how they're cut, to the seamless connections and easy assembly, this collection shines with simplicity and beauty.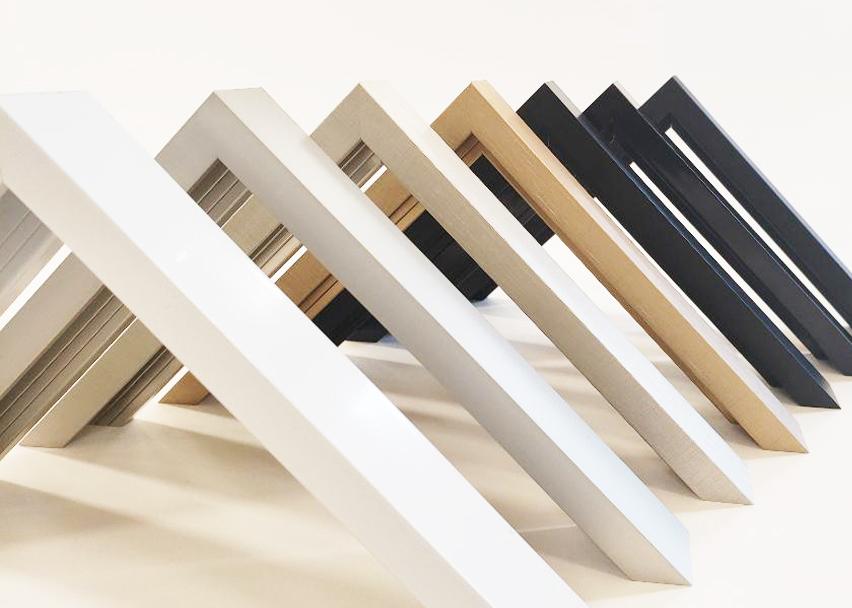 Standard Plus Two Nielsen 93 Metal Picture Frame Collection
Fusion: A collection unique to American Frame, the Fusion line of metal frames melds elegance with subtlety, pairing stylish, brushed finishes with neutral metallic tones to perfectly complement the clean, lustrous hues so prominent in today's décor. With a soft, angled profile, Fusion frames boost the glamour of any photograph, and their solid, aluminum construction gives them the strength to support oversized images.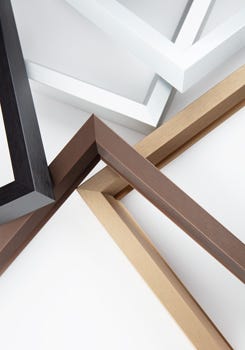 Fusion Nielsen 130 Metal Picture Frame Collection
Although photographers are not able to buy directly from Nielsen, American Frame is the nation's #1 online retailer of these frames. Each moulding comes directly from Nielsen's manufacturing plant in Tennessee to American Frame's Ohio facility. And as with all American Frame options, selections from the Nielsen collections can be cut to within 1/16", thanks to our PrecisionCut™ technology.
Abundant Color Capabilities
With custom metal frames offered in many hues, there's the perfect shade to complement your photography, no matter the subject or style.
Some interesting color properties can be found amongst different custom metal selections, like our Twilight collection. These intriguing frames feature translucent finishes for an iridescent shine, along with softly rounded faces and a broad range of luminous colors, from classic to daring. Some finishes even mimic popular jewelry tones. And with the Tiffany collection, you'll find chic, sophisticated frames with a recessed face and contemporary lines accentuated by rich jewel-tone anodized finishes. Playing with these types of moods and aesthetics can help you distinguish whether a custom metal frame is exactly what your photography needs.
A Word About Style & Width
If you thought metal only offered a standard look or created a basic profile, think again. The custom process enables you to choose from not only a myriad of colors, but also a wide selection of styles and widths.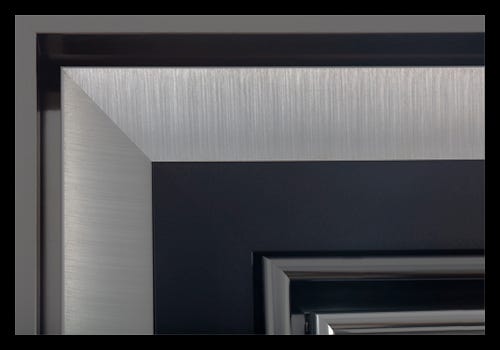 Nielsen metal frames are available in an array of widths and styles to suit your purpose.
When it comes to moulding style, you might opt for a classic flat-top with straight, clean edges to keep your photography looking sharp, or you could go with a round-top variety that lends a softness and subtlety to your displayed photos. There are also poster styles for accommodating extra large photography, and wedding styles that feature a gleaming selection of soft, satin and brushed metallic finishes for bringing a classy, luminescent quality to contemporary and traditional bridal portraits.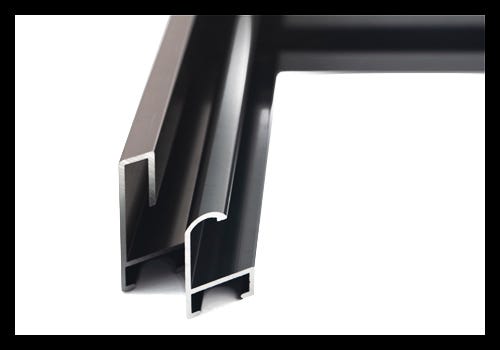 Nielsen metal frames are available in both flat-top and round-top profiles.
Widths can range from a thin 1/4" for lightly outlining your photography with a minimalist look, to a very wide 1-3/8" for oversized pieces. No matter the width, each frame can be PrecisionCut™ to your specifications in order to get just the right fit for your photographs.
Making the Choice
To get an even better feel for how individual choices of custom metal framing might pair well with your photography, take advantage of the opportunity to order free samples so you can feel confident about your purchase. Simply explore our wide selection of custom metal frames online, choose one you'd like to see firsthand and then click to add the sample to your cart. The only cost to you is a small shipping fee, which is well worth it in the end.
Essentially, you can't go wrong with custom metal frames, regardless of your photography style, size or budget. And while it all comes down to personal choice, there are simply so many ways the choice of metal can be ideal for your photography needs.