7 Trusted Tools & Resources for Custom Framing Photography
It's always important for photographers to remember that however you choose to employ custom framing for your photography, you don't have to manage the process alone. There are tools and trusted experts to support your efforts, from printing services to drop shipping and everything in between. Leveraging all of the resources at your disposal gives you an advantage in framing your photography to achieve the best result.
Therefore, ensure that you opt for a custom framing partner that provides support in a myriad of ways. Following are seven valuable tools and resources that you should look for in a partner, utilizing these aids to elevate your photography and simplify the process.
1. Samples
Don't take for granted the opportunity to order samples of frames and mat boards. Having samples of various framing options avoids a potentially lengthy and expensive process of ordering, assembling, and then returning products that don't end up working out for your photography.
Framing samples should be free, aside from a small shipping fee that's well worth it in the end. At American Frame, you can also order free paper samples to see for yourself how each one looks and feels, or purchase a set of printed paper samples to compare how they individually absorb ink and reflect light.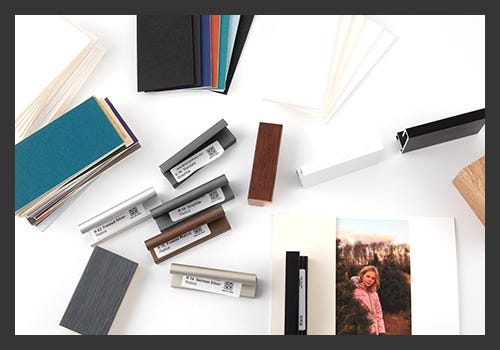 2. DIY Accessibility
DIY custom framing doesn't have to be a complicated effort. You have the freedom to order all of the elements you need and have them shipped to you with easy instructions for assembly. Online interfaces take care of all of the math associated with sizing so that materials come accurately sized to artwork specifications. You can design an entire kit, though you certainly don't have to. Some photographers prefer to cut their own mats, for example.
3. Preview Function
American Frame features an easy online design tool that actually enables you to preview a frame selection from your screen. Select a frame and upload your image to browse mats and preview your photography. Your choices will be displayed as a virtual mock-up of the finished treatment, including the specified photo sizes and mat borders.
4. Predesigned Kits
If you're looking for a simpler, more hands-off approach, you can find a professional service that meets your needs. American Frame's JustAddArt™ collection, for instance, comes with a unique frame and mat combo already picked out for you. We create the designs, and all you need to do is add your photograph. Every kit is of exceptional museum quality, created by our design team using fine archival picture framing materials and interesting color combinations, textures, and proportions. All JustAddArt™ designs can be cut to your exact specifications and shipped to your door, ready to assemble. If you are looking for a standard size predesigned kit, our Ready-To-Ship collection is for you. Made with the same high quality materials as our custom cut frames, in-stock and ready to ship to you quickly.
5. Print & Frame
We also offer this convenient option, which involves uploading digital images from your computer. Browse our assortment of beautiful paper options, including all-purpose photo and fine-art photography papers. All prints are produced in-house by our experienced team of printing experts, with the utmost care for superior output, using archival inks paired with name-brand papers. You get to preview your selections as well, so you can try out different color mats and framing products.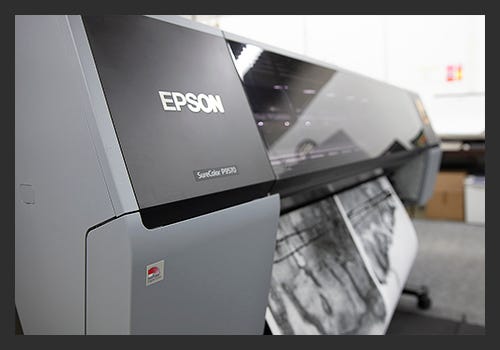 6. Professional Printing
Even if you want to assemble the frame yourself (or forgo a frame altogether), you can still have your photographs printed for you by a custom framing partner. While this option doesn't produce the same rapid-fire output as a home printer or store option, you have access to professional-quality materials and machines of the highest level. By applying archival inks with fine art quality papers, giclee printing services have become the gold standard for photographers producing high-quality output of their imagery.
7. Personalized Service
Whatever level of comfort you feel with applying custom framing treatment options, you should always have the option for individualized guidance. American Frame's ArtAssistant™ is our personalized custom frame service that helps make your artistic vision a reality.
Simply use the online form or contact our Customer Service team to tell us about your project. Based on your needs, we'll assign a design and framing expert to be your guide and ensure your satisfaction from concept through completion. Whether you're a seasoned professional or a novice hobbyist, we can help with everything from advising on gallery walls and starting your own photography business to marrying existing photographs with new ones. It's the consultative, expert option many photographers need and prefer.
As the photography landscape evolves to meet the current realities of today's photographers, these tips and insights can help you get the most out of your custom framing projects. Ultimately, this process is about catering to your own needs and accessing framing treatments and support that honor the value and worth of your photography.