The American Frame Showroom
Work with Experts, In-Person or Online.
The American Frame Showroom is our retail design center, co-located with our factory at 400 Tomahawk Drive. As a long-time resource for artists, designers and art enthusiasts, we invite you to enjoy the benefits of extra, expert attention to your needs. 
The Virtual Showroom
To serve those who live out of our area or those who are unable to physically visit, we now offer a Virtual Showroom option. Schedule online to enjoy the same level of individual, face-to-face attention, from wherever you are in the country, with an expert from our team.  To preplan your visit, please fill out our Art Assistant™ form and we'll look forward to seeing you.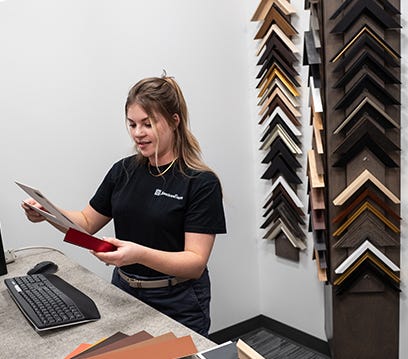 The Showroom
Visit in-person for one-on-one guidance from an experienced designer or for local pick-up of orders placed online at AmericanFrame.com. Our regular business hours are Monday-Friday, 9AM-5PM, Eastern. Walk-ins welcome.
Receive advice on custom framing design, framing canvases, fine art reproduction and digital giclee printing, framing memorabilia, gallery wall design and volume order consultation. We will help you create the perfect frame treatments for DIY assembly, assist you with uploading, printing and framing art and photography, or leave us your work and we'll handle the rest from start to finish. Likewise, if you simply have questions on using our website to its full potential, we're happy to help with that as well. 
Appointments for on-site visits are not required but can be helpful for reviewing large or complicated projects or if you're traveling a distance to see us. To schedule in-person, select the Factory Showroom option and we'll reach out to confirm details.