The 4-1-1 on Matting & Mounting Works of Photography
How you choose to frame your photography has a direct impact on both its real and perceived value, as well as its overall aesthetic and lifespan. Custom framing has become the ideal option for photographers seeking an optimal blend of quality, choice and preservation. And a vital element of that framing process is the selection of mat boards and mounting boards. Here, we're delving into this specific area to help photographers make the most informed decisions.
To Mat or Not to Mat
Matting is a popular option for framed pieces of photography, but the choice of whether or not to apply it will depend on the style and size of your piece. A mat creates a visual transition between the photo and the frame, as well as a nice separation between the paper and the acrylic. It can help focus one's eye on a particular image, or give a photograph some needed "breathing room." You might opt to forgo matting if you're going for a poster appearance, or you could float your photograph with a spacer.
Frame Matting Options
With custom framing, mat boards are offered in an assortment of properties, all of which support your particular concerns for purpose, style, and conservation. Standard mats are typically white and four-ply, but you can play around with proportions, colors, depths, and combinations. You might opt for a very sophisticated six- or eight-ply mat that adds a notable thickness and depth, or perhaps emphasize colors in your work with the use of a color core or double mat.
The Magic of Scaling
A photograph, unlike other forms of art, can be digitally scaled up or down to accommodate the location in which it's intended to be displayed. Of course, this hinges on the resolution of the image—because with a low-resolution photo, you can only scale so large without affecting the quality of the image. But you can also play with scale using various frame design techniques.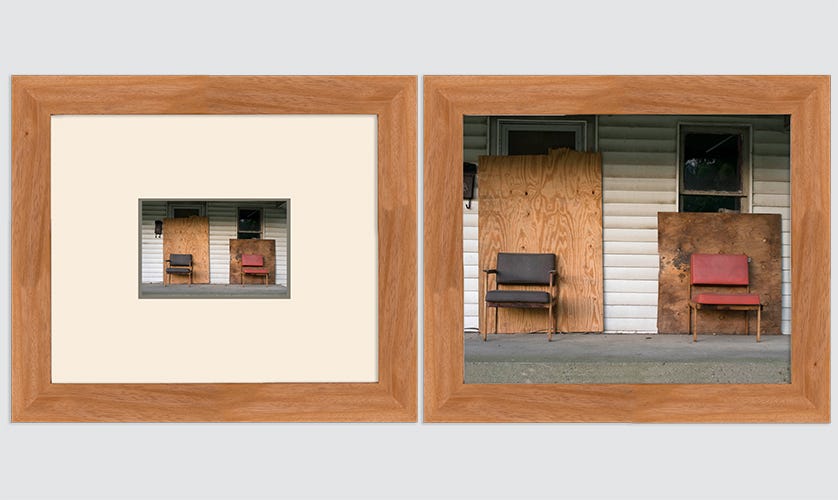 An oversize mat board can change the scale and proportion of a photograph, while eliminating the mat can maximize a poster-sized image.
For instance, an oversized mat can minimize the size of a photograph in relation to the entire framing treatment. Alternatively, you can maximize a poster-sized image by eliminating the use of a mat altogether. There are so many creative ways to present one image through the scaling effects of various framing treatments.
Accounting for Signature
One supplemental consideration for deciding on a matting application is whether or not you intend to sign your piece. Some photographers like to use a mat for this purpose, while others may simply sign somewhere on the photograph or emit their signature altogether. Remember to think about this in the context of your matting decision.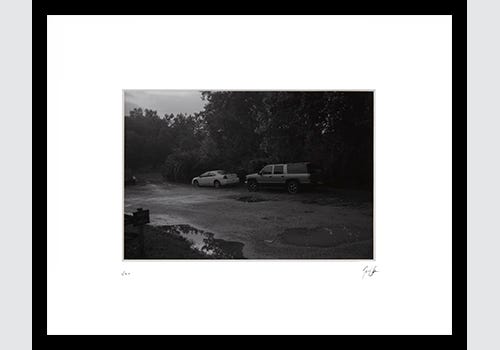 Many photographers choose to sign thier work on the mat board
Mounting within the Frame
Then there's the mounting or backing board that's placed behind the photograph to help stabilize it within the frame, enhancing the overall look and longevity of the piece. Avoid cardboard for this application, opting instead for a stable foam mounting board with paper on each side. Whereas cardboard contains harmful acids and absorbs moisture, an acid-free foam backing board will help protect and conserve the photograph, adhering well to any framer's tape.
Dry Mounting Considerations
A backing board can also serve as a substrate for dry mounting a photograph, a professional heat-activated method of adhering artwork to a backing board. The "standard mount" is a permanent process and most economical. The "archival mount" on preservation board is an acid free art mounting option that can be reversed by a professional.
Self-adhesive boards are not recommended for original or limited edition photographs, as they are permanent. Some photographers apply glue spray and roll the photograph onto the board, but again, this is only recommended if you can reprint the photo.
Other Ways of Securing Photos
Hinging is often used when a work of significant value is being framed because the process can easily be undone, if necessary. With this technique, a photograph would be attached to a backing board or mat with hinges consisting of small pieces of tape. This technique has little to no adverse effect on the long-term preservation of the photo. Hinging tape should be applied to the reverse or backside of the photograph, never to the front. By applying tape to the top of the piece, it can float and flex within the frame treatment. Be sure to use an acid-free linen or paper tape, neither of which contain potentially damaging acids.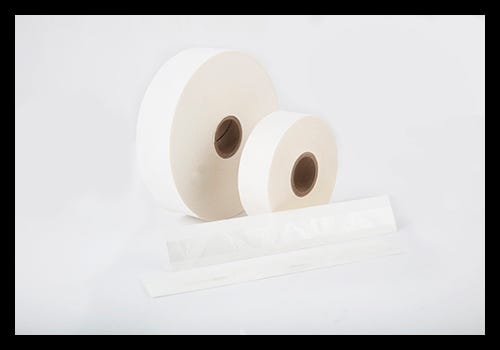 Acid-free linen or paper tapes are best when you plan to attach your photograph with a hinging technique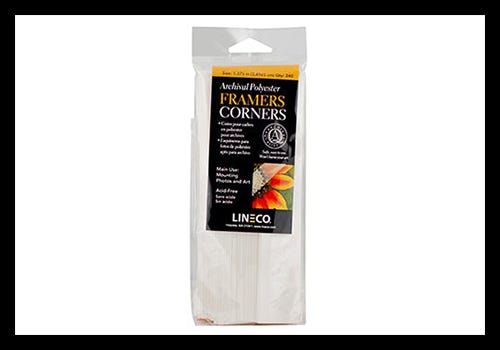 Archival mounting corners can be used for smaller photographs
Archival, pressure-sensitive, clear mounting corners are best for securing smaller photographs and prints. To apply the mounting corners, simply press them onto the mounting board, and then slide the photograph into place. Polyester mounting corners are made of clear archival polyester, are acid-free, and contain no harmful plasticizers. They allow for the natural expansion and contraction of paper without adhesive coming in contact with the piece.
Mounting strips are used for archival mounting of photographs to mat board or mounting board. With mounting strips, adhesive never comes in contact with artwork. Application is easy, as it involves merely attaching the strip to the mat or mounting board, then sliding the photo through the mylar.
With these tips for optimally matting and mounting your works of photography, you're better positioned to choose framing treatments that best support the aesthetic, preservation and value of your work.