4 Reasons to Love Nielsen Frames As Much As We Do
For 50 years, the enduring partnership between American Frame and Nielsen® has brought a wide selection of beautiful, high-quality and infinitely valuable metal frames to our respected art community. Recognized globally as the premier standard in craftsmanship, Nielsen stands as the eminent name in metal mouldings, and American Frame is proud to remain the nation's #1 online retailer of the brand.
We offer an incredible range of frames exuding the distinctive, uniquely metal aesthetic that only Nielsen can deliver. These products have stood the test of time—and continue to do so, much like the company itself. Following are four of the most compelling reasons why our customers can feel great about choosing Nielsen metal frames for their works of art and photography.
1. A Partnership Spanning Five Decades
For over half a century, Nielsen has been known as the inventor of the iconic "gallery" frame and the foremost producer of metal mouldings worldwide. Originating from designs that adorned New York's Museum of Modern Art in the 1950s, Nielsen has evolved into an unrivaled manufacturer of metal mouldings, all fashioned entirely in America from 100% recyclable aluminum.
American Frame's relationship with the brand began 50 years ago, when a representative presented founder Ron Mickel with their groundbreaking aluminum frame—a customizable creation secured with corner hardware. This sleek and simple design garnered major appeal for artists and photographers seeking affordable, durable and attractive ways of showcasing their work. The inaugural "Standard Collection" of Nielsen 11 Profile metal frames remains a timeless cornerstone even today, cherished by American Frame's community of artists and enthusiasts.
We take pride as the nation's top online retailer and the cost-effective leader in bespoke Nielsen metal frames. Available as standalone selections or as part of custom metal frame kits, these frames are sourced directly from Nielsen's manufacturing facility in Gainesboro, Tennessee. They are then precision-cut by our artisans in Maumee, Ohio, and arrive at our customers' doors ready for seamless assembly. Including a spectrum of over 100 Nielsen metal colors and profiles, American Frame offers a diverse array that caters to both occasional framers and seasoned artists, all at prices that delight.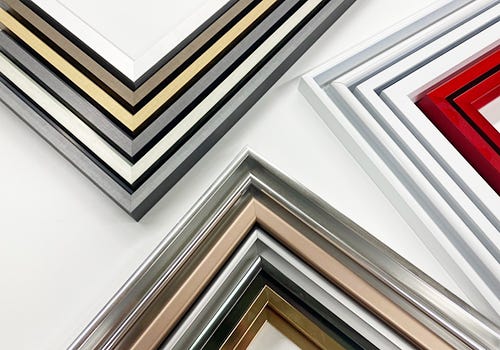 American Frame carries over 100 Nielsen metal frames in a variety of shapes, colors and sheens.
2. A Brand that Personifies Quality & Value
For framers concerned with quality and value, Nielsen frames deliver in every way. They are the only manufacturer with an extruding, anodizing and painting facility devoted exclusively to picture frame mouldings, allowing strict quality control every step of the way. American Frame customers can expect Nielsen frames to be:
Strong & Durable
Nielsen metal frames have no finger joins or organic flaws, rendering every inch usable. These products are impervious to heat and moisture, and the mechanical corner joins are more secure than glue, so Nielsen corners will not split or break when housing a heavy frame package. Aluminum is, by nature, inert and will not give off gas or rust, so there's no threat to precious art and no risk of unsightly corrosion. In addition, Nielsen's durable anodized and painted finishes are resistant to chips and scratches.
Easy to Use
The corner joins are easy to adjust with only a screwdriver, which means there's no need to dismantle the frame package. The hanging hardware and wire can easily be adjusted to correct the hanging height of the framed image (think: no more "oops!" nail holes in the wall!). This is especially convenient when hanging groupings of frames.
100% Made in America
From start to finish, the Nielsen manufacturing process is a fully domestic one. Not only does this status support American manufacturing and workers, but it also translates to in-house quality control at all steps of production.
Always In Style
Featuring a clean and contemporary aesthetic, Nielsen mouldings have a timeless quality about them. They embody minimalist elegance, are continuously on trend and feel at home among any decor.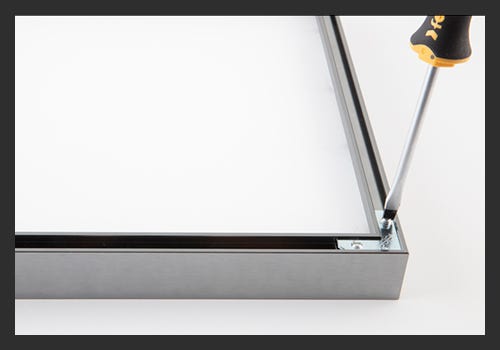 Nielsen metal frames are easy to use
3. A Flawless Finishing Touch
The captivating allure of Nielsen mouldings is a result of meticulous finishing techniques that span careful paint and anodization processes. Each of the two finish categories offers a plethora of design possibilities—from must-have primary colors to sleek, contemporary blacks and elegant, trend-forward metallics.
The journey commences with brushing and polishing, which enhance the aluminum's surface texture—crucial for the paint or anodized treatment. A brushing technique, with its distinct linear pattern or non-directional texturing, and a polishing technique, with its high-shine effect, lay the foundation for each finish's unique character.
Nielsen paints are applied in a customized electrostatic system that ensures full coverage and superlative durability. Colorwave colors are traditional opaque hues that provide a full assortment of primary shades, ideal for posters, sports imagery and photography. Vivids are translucent paint colors, which allow the sheen of silver aluminum to shine through, offering a rainbow of softened, contemporized color interpretations—the perfect choice for modern art.
The anodizing process, on the other hand, is an electrochemical process that creates a bond between the aluminum moulding and the anodizing color. For this process, the preliminary brush and polish are especially important because anodizing enhances (rather than masks) the base texture of the moulding. Once prepared, the moulding is treated to a bath in which the dye formula, chemical composition of the bath and specific aluminum alloy determine the resulting color and shine level: matte, frosted or glossy. Anodized mouldings are distinctively elegant, and offer the perfect aesthetic for both traditional and contemporary home décor.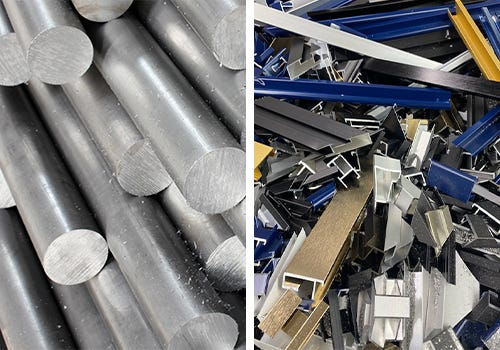 Every Nielsen® metal frame starts as a solid aluminum billet, shown on the left, which makes them completely recyclable. American Frame takes the extra steps to recycle any cutoffs as part of our dedication to the environment, shown on the right.
4. A Commitment to Environmental Initiatives
It is highly important to American Frame to work with partners who share in our dedication to environmentally sound practices. Our complete selection of Nielsen metal frames is fully and infinitely recyclable. They are made entirely from recyclable aluminum, which makes them inherently earth-friendly, and Nielsen recycles all aluminum scrap produced in the manufacturing of their mouldings.
Furthermore, Nielsen's electrostatic paint line reduces overspray and waste. An in-house still recovers the cleaning solvents used to clean the paint line, which allows them to recapture and use the solvent multiple times. Any residual waste is repurposed and used as fuel in alternative manufacturing processes. Their aggressive recycling program also recovers mineral by-products from their anodizing process, which is then sold and used to manufacture fertilizer.
Nielsen runs a manufacturing process that leaves the water being expelled even cleaner than how it began. All of the water Nielsen uses for manufacturing is treated right on site. The process neutralizes and precipitates the solids in the water back to levels that meet or exceed EPA standards. Nielsen maintains an NPDES permit to recycle all its water back into the river by its plant. The solids remaining from this process are approved for disposal in the local landfill. And whenever possible, the company uses its own well water to ease its dependency on city water.
With these initiatives, Nielsen has committed to protecting and preserving the Earth with the same level of dedication as American Frame. And customers can feel good that they are buying beautiful, strong, high-quality products that integrate such eco-friendly practices.