5 Pro Tips for Printing & Framing Wedding Photography
It's that time of the year when wedding bells are in full ring! From flowers to cake—and everything in between—brides and grooms are readying themselves for that special day of celebrating their "I do's." And while the planning of every detail may have spanned months to years, the glory of the day seems to pass by in the blink of an eye. That's why it's so essential to capture the beauty of each moment through the art of photography.
How do you ensure these meaningful memories are preserved for a lifetime? Here are five professional recommendations for printing and framing treasured photos from your blissful day so you can enjoy and appreciate them for years to come.
1. Honor the Power of Paper
Whether you hired a professional photographer or employed a talented friend or family member to capture special moments like the first kiss and first dance, know that framing these beautiful memories starts with selecting the right printing paper. Papers absorb ink and reflect light according to their physical properties—like brightness, core material and surface. Therefore, choosing the best paper for your wedding photographs requires an understanding of which ones will achieve your desired look.
For the most seamless and distinctive display, especially for a gallery look, it's best to apply the same type of paper to each photograph in your wedding collection. High-quality photography paper is critical for accentuating colors and details, particularly for elements like flowers. Be sure to avoid watercolor papers, which will not have the same effect. We recommend Epson Hot Press.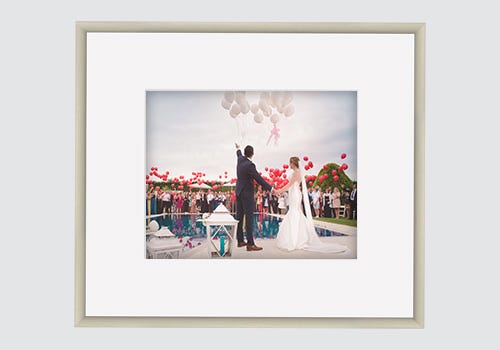 Selecting the correct printing paper for your wedding photographs is crucial
2. Leverage Mat Boards for an Elevated Effect
Another key element of beautifully framing wedding photography is using mat boards to take each photo to the next level. A mat board creates a visual transition between the photo and the frame, as well as a nice separation between the picture and the acrylic. More practically, it allows air to circulate within the framing treatment, thereby slowing down the buildup of acid that can damage photography over time. At American Frame, any mat board can be custom cut to your photography's exact specifications for a perfect fit.
By applying matting to your framed wedding photos, you can infuse elegance and glamour into the display and create more space and volume for appreciating the overall look of your wedding memories. Linen mat boards are a great choice for wedding photos. Consider opting for 6-ply and 8-ply mats to really elevate the look of your display.
3. Be Intentional About Choosing Your Frames
There are as many different types of frames as there are personal tastes and styles, and choosing just the right ones to showcase your cherished wedding photos has a major impact on the ultimate look. One of our favorite professional tips is to mirror the architecture of the wedding venue in your selection of frames. For photos that really draw people in, choose a framing style that matches the style of the venue.
Wood frames and metal frames tend to be the most common choices for wedding photography, and our Techline Nielsen 99 collection is particularly popular for these types of photos. With its lustrous finishes in matte black, brushed anodized and florentine cross-hatching, each frame becomes a beautiful extension of your wedding photography.
Alternately, you might opt for a frame with more of a rustic feel if that best matches the ambiance of your wedding locale. Wood frames are especially complementary for outdoor wedding photos or more nature-inspired venues. Metal frames in hues of gold, silver or jewel tones can be ideal for photos taken in more formal settings or to highlight various elements of a bride or groom's attire and accessories. Additionally, wider frames tend to work well for wedding photos, as they lend themselves to greater presence. Browse our most popular wedding photography frames to help find just the right selections for your wedding-day memories.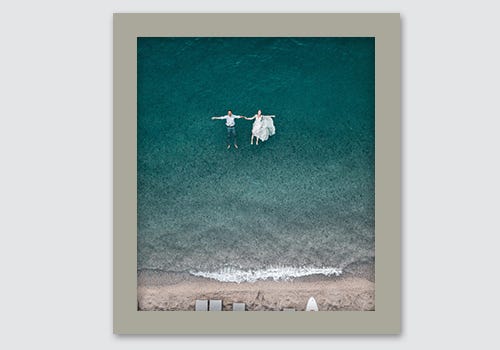 Frames come in multiple styles for different personal tastes. We recommend choosing a frame that matches the style and venue of your wedding
4. Ensure Your Photos Stand the Test of Time
It's important to make sure your framing choices and treatments support your photography's ability to stand the test of time (just like your marriage!), and using higher-end acrylic is one of the best things you can do to preserve your wedding photos.
For the best results, choose acrylic that provides UV protection and is non-glare. We highly recommend Tru Vue Optium Museum Picture Framing Acrylic for its various quality and conservation properties. Not only is this option acid-free, anti-reflective, anti-static and shatter-resistant, but it also provides nearly absolute UV protection. It is a top choice for framing wedding photography.
5. Streamline the Custom Framing Process
Your wedding day photos deserve customized framing treatments that showcase the joy and beauty of the day. But having these photographs brilliantly framed doesn't have to be an overwhelming or difficult ordeal. In fact, our Print & Frame service simplifies and streamlines the entire effort.
Be sure to check out this option, which helps you visualize everything, play with proportions, see the impact of various material choices on your photos, and get a feel for how your selections will determine the price. Shop a frame first, then simply add your favorite wedding photos to get a firsthand feel for the end result. All prints are produced in-house by our experienced team of printing experts, with the utmost care for superior output, using archival inks paired with name-brand papers.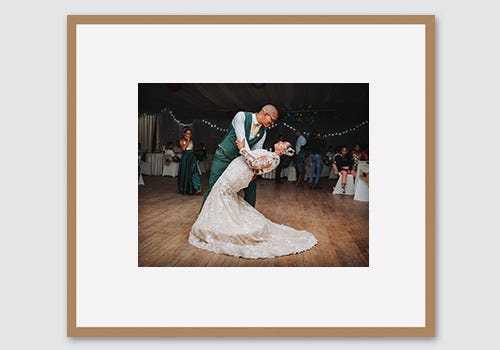 Use the preview tool in our framing engine to visualize how different frames or mat border proportions will look on your favorite photographs