8 Often-Overlooked Essentials of Framing Nature Photography
The great outdoors present a trove of opportunities for both hobbyist and professional photographers seeking nature's wonders for their next shot. Whether you're into capturing panoramic landscapes, up-close flora or any range of wildlife in their natural habitats, there are seemingly endless subjects to explore through the eye of the lens.
It goes without saying that works emanating from this particular genre deserve framing treatments that honor and protect the beauty of these photographs. To support novices and pros alike in elevating the value and essence of their work, we've curated the following insights into some of the most overlooked essentials of framing nature photography.
1. The Impact of Color
Throughout nature, there are palettes of every hue—with colors that seem to pop in a way other subject matter simply can't replicate. As such, it's important to allow color to influence your selection of framing treatment.
Consider, for example, the visual impact of displaying a photograph of a cardinal in a bright red frame, or opting for a cyber green frame to accent the intensity of glowing fog. Maybe the simplicity and elegance of a solid black or white frame is the perfect way to bring your subject's aesthetic into focus. Utilizing a double mat is another easy way to add color and enhance your image. Whatever the case may be, don't overlook the important role color plays in your choice of framing products.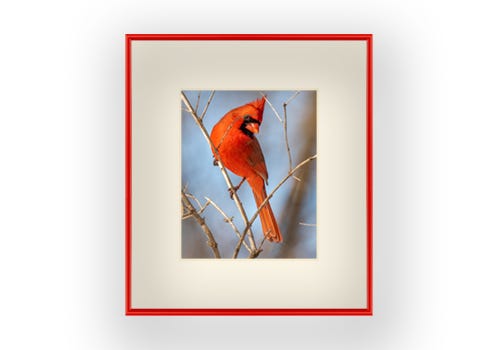 Male cardinal framed in our RC55 Right Red metal frame.
2. The Leverage of Lighting
Here again, there's an element to nature photography that makes it so distinct from other forms of the medium: Lighting is fundamental to the essence of a photograph in this genre. Many a photographer has been known to chase the coveted "golden hour" just before sunset or soon after sunrise. If you've captured this magic in your photograph, you may want to highlight it with the use of a metal frame or double mat—drawing out dynamic hues and impressions from your imagery. Regardless of whether you're working this particular lighting effect or another, leverage it to inform your frame and matting selections.
3. Paper's Part in the Presentation
Because photographs are printed, there's a unique opportunity to create different effects simply through your choice of paper. Opt for a resin-coated paper for its reproductive abilities and archival quality. American Frame offers options in matte, glossy, luster and metallic.
While paper selection is mostly about personal preference, certain papers are definitely more suited to specific subjects than others. Our Moab Slickrock Metallic Pearl, for instance, pairs amazingly with water pictures, bringing a notable shine to the surface. And our Canson Baryta Photographique is a classic, high-quality paper that's ideal for bringing out color, shadows and nuance. Be sure to order free paper samples to see for yourself how each one looks and feels, or purchase a set of printed paper samples to compare how each one absorbs ink and reflects light.
4. The Advantage of Digital Experimentation
As you play with different ways to reflect elements from your nature photography in the framing treatment itself, take advantage of the benefit of digital experimentation. When you're working with a digital file, you have the freedom to apply various sizing specs, cropping or montage capabilities.
There are ways you can digitally enhance the image of a running horse, for example, that you wouldn't otherwise be able to do with a static painting. Consider how you might crop or scale a panoramic view from the top of a hiking trail to replicate the feeling. Don't be afraid to dabble with digital effects.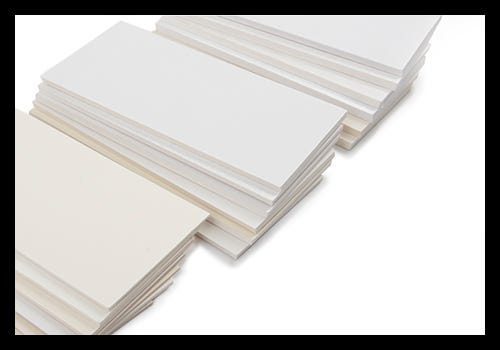 We offer a variety of white and cream mats in varying thicknesses - 4, 6 and 8 ply.
5. The Matter of Matting
While matting is a popular option with framing treatments for nature photography, your decision to apply matting—and your selection of mat product—really comes down to three factors: purpose, style and budget. Matting is considered by many to be a best practice, as it creates that visual break between the photo and frame, but some photographers do choose to forgo it. In certain instances, the mat could actually interfere with the image, like in the case of an animal photographed on a white background in a poster style.
If you do choose to go with matting, there are plenty of options at your disposal, from standard white mats to color cores. A core is visible when the window of the mat is cut on a bevel and, depending on your selection of palette, can add an extra pop of color around a piece. There are also double matting applications, deep-ply products and more. Mat boards are offered in an assortment of thicknesses, colors, and properties, all of which help emphasize your particular concerns for purpose, style and conservation.
To make the best selection for your piece, you should think about not only the subject matter and aesthetic, but also where the photograph will be displayed and for whom it is intended. Different matting choices can be used to maximize wall space, deepen substance or add interest.
6. The Application of Acrylic
Acrylic plexiglass is a critical component of your final framing treatment, serving to protect and preserve your photography. Acrylic is lightweight, shatterproof and acid-free, preventing harmful substances from damaging your photograph. And while acrylic is widely used for framing all types of art and photography, there are some important nuances to applying it to nature photography.
If you're printing on a highly coated, resin-like paper, for instance, you may want to stay away from a non-glare acrylic, as this type will actually counteract the properties of the paper. In addition, your decision to select an acrylic with UV properties will hinge largely on where your photograph is intended to be displayed. Be sure to take these factors into consideration as you shore up your final selection of framing treatment.
7. The Value of Custom Framing
When it comes to framing your nature photography, it's important to feel you have control over the process and every option at your disposal. The truth is off-the-shelf products, like those offered at big box stores, are neither realistic nor optimal for meeting the nuanced needs of your nature photographs.
Customization gives you the opportunity to frame one photo a certain way and another photo completely differently. It's about finding precisely what works best for your specific element of nature. Whether you work in color or black & white, prefer traditional aesthetics or bolder ones, display your photos at home or in a gallery, custom framing gives you the platform to select just the right treatment each and every time. At American Frame, our customization process even allows you to preview your treatment options online and access free samples for making decisions based on hands-on materials.
8. The Power of an Expert's Touch
Perhaps the most overlooked essential of all is the importance of working with a trusted resource—a framing expert with deep experience working with photographers at all levels and in specific genres of the medium.
This is why we offer the consultative expertise of our personalized custom frame service that helps make your artistic vision a reality. With American Frame's ArtAssistant™, you get the benefit of an expert's touch to be your guide from concept through completion. Your nature photographs deserve nothing less than a framing treatment worthy of their beauty and impact, and we're always here to support you in making this effort a seamless one.