Metal Frames: The Backbone of Custom Framing
Metal frames are extremely popular among those with a vested interest in presenting and protecting art—from artists and gallery owners to art collectors and museum curators. This particular category of frames has been recognized as the backbone of custom framing, and here are a few reasons why.
Metal frames are sleek.
For art and photography pieces that warrant a clean, modern look, metal frames provide a sleek and smooth aesthetic for optimal presentation.
Metal frames are affordable.
Budget has its role in any selection of custom framing products, and metal frames come in an array of highly affordable options.
Metal frames are conservation quality.
It's important to protect art and photography from harmful elements, like acid and UV rays, which can deteriorate a piece's essence over time. This makes the conservation quality of metal frames a key advantage.
Metal frames are light but sturdy.
Fully supporting the weight of your piece doesn't require an overly heavy frame. Metal features the best of both worlds with its lightweight yet sturdy structure.
Metal frames are easy to assemble.
No need to fear DIY custom framing for your art when you opt for metal frames that offer easy assembly, with all hardware included.
Metal frames are extremely versatile.
From modern art and color photography to unique gallery pieces and more, metal frames fit a variety of artistic forms and expressions.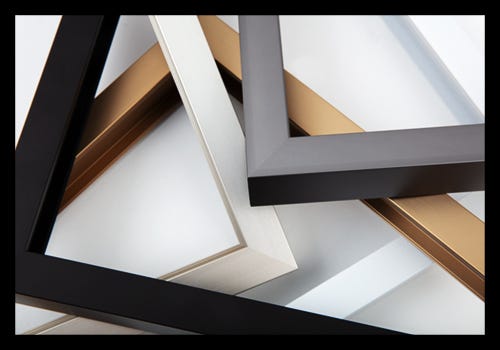 Nielsen Profile 95 Metal Frames
At American Frame, we carry the best in metal: Nielsen® aluminum picture frame mouldings. The manufacturing of Nielsen metal picture frames includes an anodization process that makes them highly durable and mar-resistant. Nielsen's unique electrostatic paint system applies multiple coats to each frame. This means that coverage is exceptional, as is resistance to scratches and scuffs. These frames are made entirely in America, all from 100% recyclable aluminum, which also makes them earth-friendly.
One of our favorite metal frames is the Nielsen Profile 95, our Standard Plus One Collection. Almost a full inch wide and one inch deep, this boxy face gives a bold but simple look. With a matte finish and substantial square profile, this metal frame is perfect to display:
Fine photography

Design treatments with multiple mats

Posters

3/4" stretched canvas paintings

Other types of artwork
With the extra rabbet depth of this versatile frame, you can also frame items up to one inch thick, create a shadow box or accommodate an acrylic spacer to float watercolors and other works on paper.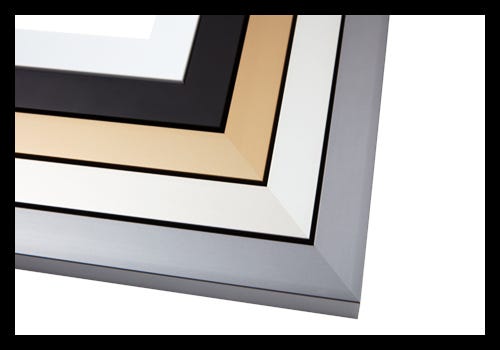 Nielsen 95 Standard Plus Two frame collection is offered in five nuetral colors
At American Frame, the Standard Plus One Nielsen 95 is offered in five colors:
As with all American Frame options, selections from the Nielsen Profile 95 line can be cut to within 1/16", thanks to our PrecisionCut™ technology. They arrive at your door with the hardware you need to assemble each frame easily and quickly. All you need is a screwdriver.
To leverage the beauty and utility of our quality metal frames, be sure to browse our full collection here, order free samples and start choosing the perfect frame for your next project.