The Biggest Week in American Birding: 5 Tips to Display Your Avian Photography
With spring in full bloom, nature enthusiasts everywhere are excited to be enjoying the great outdoors and capturing its beauty through art and photography. In northwest Ohio, many are gearing up for the Biggest Week in American Birding, the largest birding festival in the United States. In early May, people from all over the world will fly into our Toledo area to observe and photograph the many species of birds touching down off their migration paths.
To help our avid birders prepare for the chance to see and photograph many avian species currently in migration, we're outlining need-to-know information about The Biggest Week in American Birding and providing valuable tips on framing and displaying your avian photographs.
The Scoop on The Biggest Week
Here's a helpful snapshot of the what, when, where, who, why and how of this major event for interested birders and avian photographers.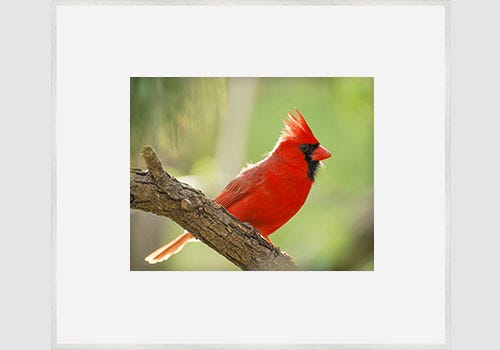 Male cardinal framed in our Nielsen 34 Silver Metal Picture Frame
WHAT: The Biggest Week In American Birding is a festival for experiencing spring songbird migration and some of the best birding North America has to offer. Whether you're a beginner or seasoned birder, there's plenty to see and do, including:
Bird identification workshops

Guided birding trips

Birding by canoe

Daily walks at the world-famous Magee Marsh

American Woodcock field trips

Keynote presentations

Birder's Marketplace

Evening socials with free food and music
WHEN: The 10-day festival kicks off on Friday, May 6, and runs through Sunday, May 15. Registration is open now.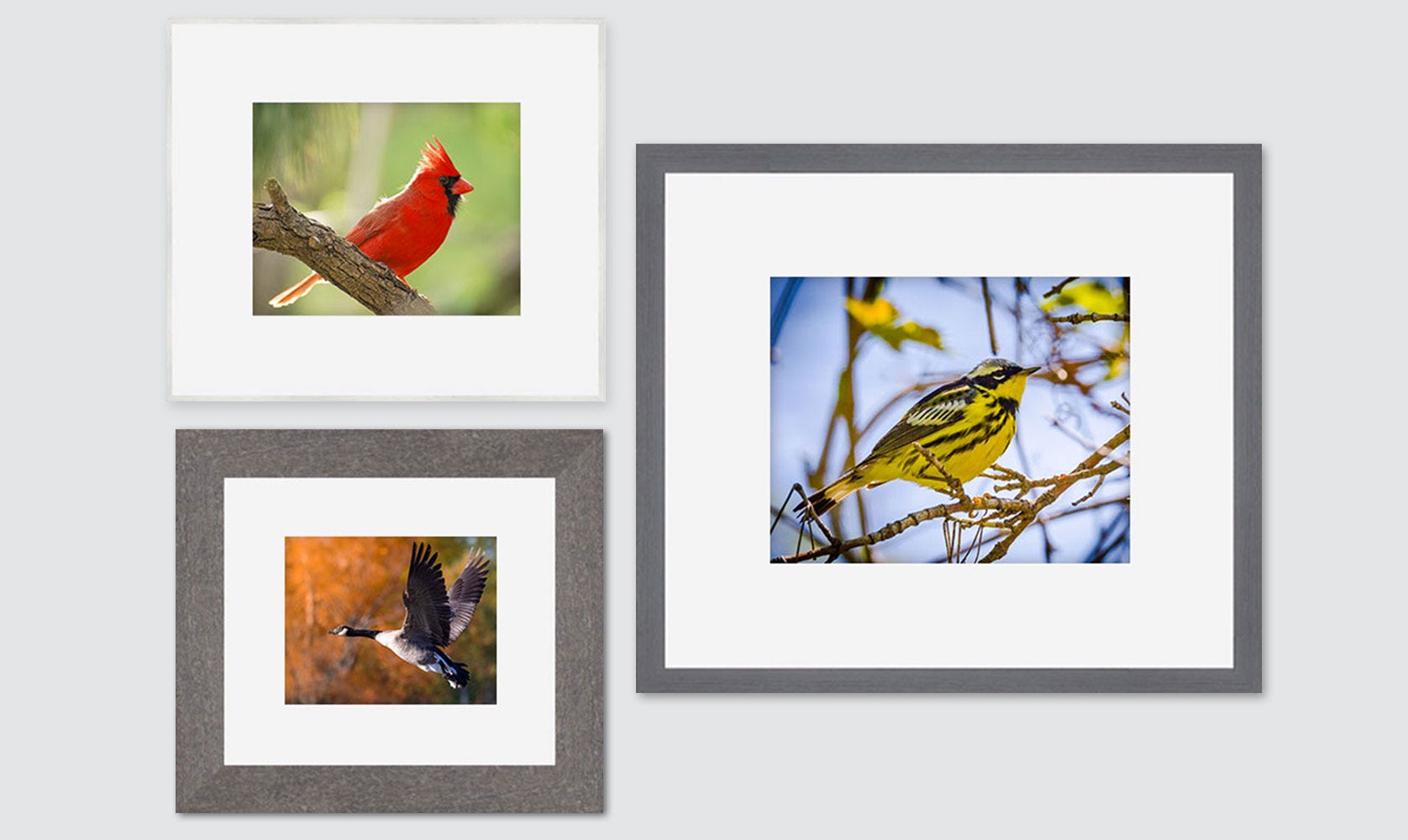 The Biggest Week in American Birding takes place in Northwest Ohio every May.
WHERE: The event takes place in northwest Ohio, also dubbed "The Warbler Capital of the World," and is headquartered at Maumee Bay Lodge and Conference Center.
WHO: It is organized and hosted by Black Swamp Bird Observatory, whose mission is to to inspire the appreciation, enjoyment and conservation of birds and their habitats through research, education, and outreach. The event is co-hosted and supported by Maumee Bay Lodge and Conference Center, Lake Erie Shores & Islands (Ottawa County and Erie County Visitors' Bureau), and Destination Toledo (Lucas County Visitors' Bureau).
WHY: Spring songbird migration is at its peak in Northwest Ohio during early May. The woodlots surrounded by marshland on the southern edge of Lake Erie become a haven for birds to rest and refuel, and the seasonal timing creates a perfect opportunity to experience them at a low, accessible vantage point. You can expect to see at least 20 warbler species every day, along with thrushes, vireos, flycatchers, orioles and other migrants in the woods, plus shorebirds and others in more open areas. This is a particularly special chance for avian photographers to capture active, vibrant birds—many at eye level.
HOW: If you're interested in attending The Biggest Week in American Birding, following the event's happenings or getting additional info, you can visit the website or follow on Facebook, Twitter or Instagram.
Expert Tips for Framing & Displaying Avian Photography
Whether you plan to attend the event or have other avian photography you wish to preserve and showcase, there are some helpful considerations to keep in mind for framing and displaying your photos in their best light.
1. It's important to ensure a proper amount of negative space (black or white) around a bird in order to offset any visual distractions that take the focus off your subject. Consider leveraging a mat board to create this negative space if there is a lot going on in your photograph.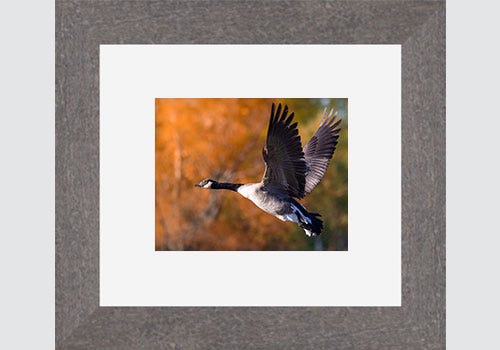 Canadian goose in flight, framed in our grey wash cherry wood picture frame
2. Don't overlook the importance of choosing the right paper for printing your avian photography, as this is fundamental to ensuring quality. For the best results, use traditional photographic papers or canvas. If you're working with color photography, resin-colored photo papers help accentuate vibrancy. You can also create moody or wild effects by applying cotton rag, canvas or matte photo paper. A metallic pearl option will give your photograph an abstract sheen and works particularly well with waterscapes. Hot press photo paper, which features a smooth, beautiful white cotton, will enhance your photography with an art-like quality.
3. Most bird enthusiasts will walk away from The Biggest Week in American Birding with more than one beautiful photo highlighting their avian adventures. If this is the case, you may want to consider creating a gallery or collection of framed photos to display your work. One interesting way to do this is by integrating a multi-opening mat board to present more than one photo in a single frame.
4. It's best to select wood or metal frames to elevate your photo display, as these materials work extremely well for avian photography. The choice between the two mostly comes down to personal style. Wooden frames can give your photos a rustic, natural vibe. We recommend our Blue Grey Wood Frame and Grey Wash Cherry Wood Picture Frame for beautifully framing your favorite avian photographs this year. Alternatively, metal frames support an elegant, sophisticated aesthetic. Consider the Black with Silver Nielsen 34 Metal Picture Frame to elevate the look of any photograph from your birding experience.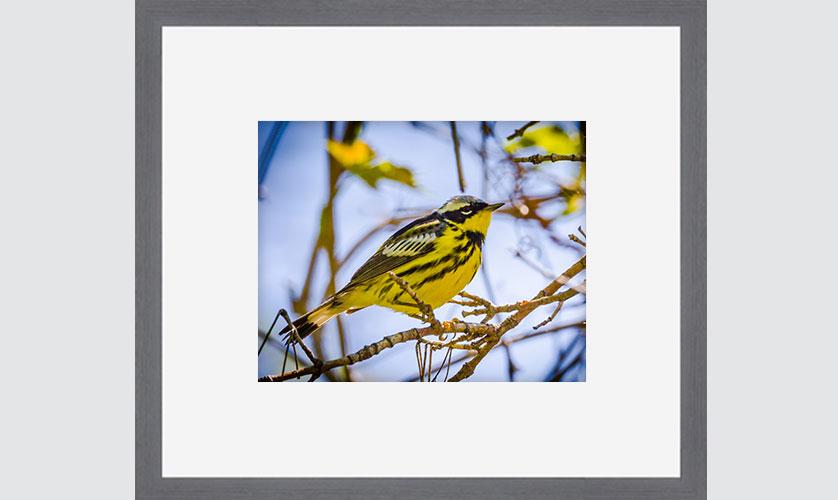 Northwest Ohio is the warbler capital of the world. During the spring migration you can expect to see over 20 species of warblers in the area.
5. Last but not least, rely on American Frame to receive superior value on custom framing and printing of your photography from the Biggest Week in American Birding! We know you'll be producing amazing avian images throughout the event. We're here to help.
If you'll be in northwest Ohio next week, be sure to stop by American Frame's recently reopened showroom to see our selection of high-quality, American-made custom frames in person. Come say hi to our team, show off your work and receive guidance from one of our experienced designers. We look forward to meeting you there. Or make a free virtual appointment with one of our experienced designers.