Print? We do that, too.
At American Frame, we sell frames. We can also produce the final version of what goes in those frames.
For years, we've known how to print fine art photography and artwork to the highest standards, and have satisfied some of the most fastidious artists and photographers.
Based on our customer feedback, our professional art and photo printing and framing services are exceptional.
Our print team: experienced, knowledgeable
We'll guide you through the print ordering process, which includes deciding the type of paper you want your art or photo printed on; the resolution of your prints; and preparing your file, if necessary.
The members of our printing staff have earned fine art, photography, visual communications and art education degrees, and have spent years in our printing department perfecting their craft.

Behold: The Epson SureColor P9570
We use a wide-format, 44" printer, the Epson SureColor P9570 and UltraChrome® PRO12 Ink (200-year archival rating). The P9570 requires three black ink cartridges, so black & white images are free of color casting. It also generates a wide contrast ratio, for sharp, clear output.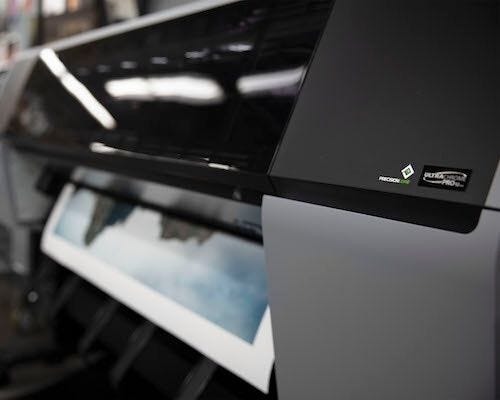 Papers specified for the P9570 have also earned excellent archival ratings (60-150 years).
Need to see proof? We can provide.
Resolution and color proofs – made with your art or photo, your choice of paper, and your choice of inks – can be provided, so you can see exactly how your final image will look before you place your order.

Living up to high standards.
Our printers, monitors, and other equipment are color calibrated to ICC (International Color Consortium) standards using X-rite i1Photospectrometer and software. Those are big, technical words, yes, but it means the results are exceptional.
Each of the 10 papers used for our printers are also ensured for consistency and adherence to ICC standards.
And as far as software is concerned, the latest and greatest version of Adobe Creative Cloud (Photoshop, Bridge, etc.) is used.
Paper: You've got choices.
We offer 10 types of printing paper – both coated and uncoated, and varying thickness, texture, and temperature.

Which paper is right? Our samples can help you decide.
A sample packet of paper swatches – of various thicknesses, color temperatures and textures – can be provided free of charge. And for a nominal fee, samples with images printed on all of our 10 of our papers are available. Then, you can be sure before you make your decision.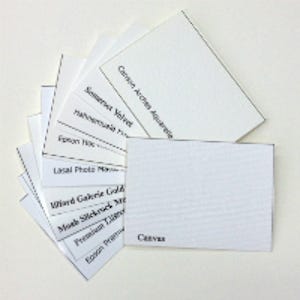 Customization? Yes.
Our proprietary PrecisionCut™ technology enables us to print accurately to within 1/16".
We can convert color images to black & white, or to a sepia print.
Attention, artists and photographers: After we print and frame artwork, we can drop ship directly to your customers.
Want to read more? Check out our printing FAQ here.