The Importance of Preservation in Photography
The concepts of photography and preservation go hand in hand. After all, photographs are, in essence, preserved moments in time. Photography's unique capacity to communicate these moments from a very personal point of view makes it a nuanced form of expression. Combining intricate equipment know-how with a knack for leveraging variations in lighting, color, angles, perception, digital enhancement, and more, a photographer's work is incredibly valuable—making preservation all the more integral.
Given the importance of preserving one's photography, it's helpful to understand how your choice of framing treatment is involved. Not all frames or framing materials can protect and preserve a photograph with the same level of effectiveness and quality. Preservation framing leverages specific materials to shield works of photography from the elements that could potentially damage them—whether from outside or inside the framing treatment, or from the treatment itself.
Improperly framed photographs are susceptible to environmental damage, such as yellowing, fading, tearing, scratching and mold. Photography will fade or deteriorate even faster than other art forms depending on how it is framed. That's why preservation must be a vital aspect of your framing selections, from the moulding and acrylic to the papers and inks.
Frame Moulding
The most archival frame moulding you can buy is high-quality anodized aluminum, as it has the highest level of physical stability, preservation grade and environmental friendliness among framing materials on the market. This is well known in the photography community, and Nielsen metal is the finest produced in the world.
If the look of metal is not your preference, the next best choice is a high-quality, solid wood picture frame. While woods can degrade over time (albeit extremely slowly) and potentially create byproducts that will react to harm your photography, damage can be mitigated by using the right boards and glazing.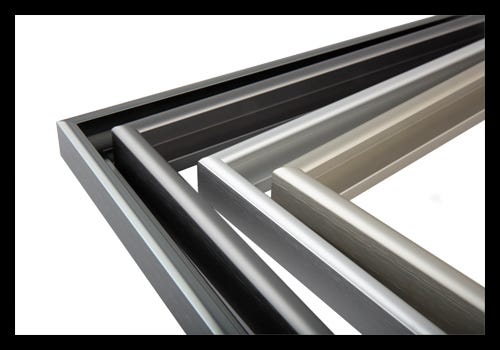 Nielsen® metal frame are inherently acid-free, making them a great choice to preserve your photography.
Frame Acrylic
This is where the importance of acrylic is emphasized. Photographs fade in the light, so it's smart to invest in a high-grade UV acrylic glazing (or plexi-glass) for maximum protection. Unlike glass, it is lightweight, acid-free, distortion-free and shatterproof—all important qualities for preserving image quality. It's also porous and allows for air flow. Keeping circulation within the frame treatment is essential to slow down the acid buildup that can occur over time and negatively affect the photograph.
Acrylic is essential to protecting your photography, but with off-the-shelf products, you don't necessarily know what you're getting. When you go the custom framing route with a knowledgeable, experienced partner, you have the freedom to choose from different variations of plexiglass sheets. It's important to ensure your acrylic is:
Framer's grade
Acid-free
Lightweight
Archival quality
If you're printing on resin paper and want the photograph to shine, be sure to avoid a non-glare acrylic. This essentially deactivates the glossiness of the paper and produces an opposite effect.
Archival & Acid-Free
No conversation about preserving photography should gloss over the subject of acids. These substances can come from a photograph itself or any of the materials that touch it, including the frame, mat board and backing board. When we're talking about photographic prints, many photographers leverage Epson Giclee technology with archival papers and inks. On the other hand, lots of images are printed using various chemical processes and will emit acids that eventually contribute to the acid mix of the treatment.
Therefore, it is highly recommended to opt for materials with Bainbridge ArtCare™ Technology, as opposed to materials simply rated "acid free." ArtCare™ products actually absorb acids and secure them away from the photograph, offering maximum protection to the image. Products labeled "acid free" offer only passive protection, meaning that although they won't contribute to the acid mix of the frame treatment, they won't resist it either.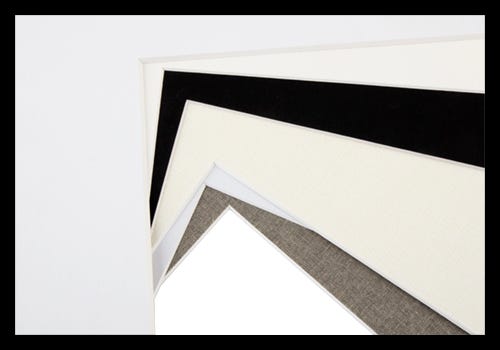 Bainbridge Artcare™ mat boards actively protect your photography from harmful acids.
Sealing & Framing Tape
When it comes to photographs that are framed using a mat board, an alkaline effect takes place that can emit harmful acids. For this challenge, sealing tape is the answer. By adhering the tape to the rabbet of the frame, an important barrier is created between the artwork and the frame. Together, the mat board and sealing tape serve to ward off unwanted components. Be sure to use a product that is anti-acidic and of exceptional quality in preserving invaluable, one-of-a-kind photographs.
Even without a mat board, there are mounting factors at play in proper preservation of a photo. A "sandwich fit" is achieved when the acrylic, photograph, and backing board are sandwiched together. If these are properly bound by acid-free framing tape, acids are prevented from penetrating and affecting the photography, and the piece being framed is protected accordingly.
In the end, photography preservation is about understanding the chemistry of your photos in relation to other elements, like sun, air, and even the framing materials themselves. To safeguard your precious photographs, ensure that your framing treatment supports optimal protection against the chemical influences that can damage your pieces over time.