Framing Photography & Digital Images
Acid, air flow, distortion, sunlight—there's a lot to consider when framing a photograph that you want to withstand the test of time.
How you decide to treat your print will directly affect its lifespan and value. Improperly framed photos are susceptible to environmental damage such as yellowing, fading, tearing, scratching, and even mold.
Use the pro tips in this article for framing photographs yourself without making costly mistakes.
Tip #1 - Beware of Acid
Your photograph itself or any of the materials that touch it, including the frame, backing boards, and mat boards used to frame the work, may release acid. Acid will ruin your photo over time unless it has a place to go.
As professional framers, we advise using materials labeled Bainbridge ArtCare™, or Peterboro Conservation as opposed to materials simply rated "acid free." These products actually absorb acids and secure them away from the photograph, effectively acting like a bodyguard and taking the "hit" to offer maximum protection to the image.
Peterboro Museum boards are also a great option. These are conservation-grade, PPFA Class I because they're made from cotton (also referred to as a rag board). Peterboro Museum boards are naturally acid-free and are therefore superior to other conservation boards.
Products labeled "acid free" offer passive protection in that they won't contribute to the acid mix of the frame treatment. They won't hurt, but they won't help either.
Tip #2 - Screen Your Work from the Sun
Images fade in the light, but we need the light to enjoy the images. Catch 22? Perhaps. Even if the piece is not hanging in a sunny location today, plans do change. Why take the risk?
For important works, invest in a high grade UV protected acrylic glazing (or plexi-glass) for maximum protection. Unlike glass, it's lightweight, acid free, distortion free, and shatterproof—all important qualities for preserving image quality.
Tip #3 - Let Your Work Breathe
Here is another reason to abandon glass in favor of acrylic. It's porous and allows for air flow.
Keeping circulation within the frame treatment is essential to slow down the acid build-up that can occur over time, affecting the photograph. All our acrylic products are museum quality, from Standard to UV and Tru Vue Optium, and serve this purpose.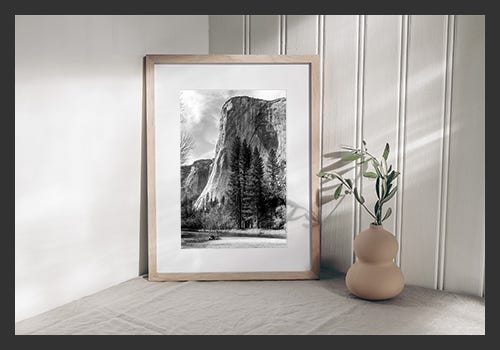 Using UV protected acrylic protects your art from sunlight.
Tip #4 - Choose a Worthy Frame
High quality anodized aluminum moulding is the most physically stable, preservation grade, and environmentally friendly framing material on the market.
If you want your photograph to look great in its frame for generations, make the investment in good molding. Professional photographers have known that for years and Nielsen metal is the finest molding in the world.
Our most popular frame collections for photography are:
Standard (Nielsen #11)
Standard Plus Two (Nielsen #93)
Standard Plus Three (Nielsen #117)
If the metal look is not your preference, the next best choice is a high quality, solid wood picture frame. Although woods can degrade and potentially create byproducts that will harm your artwork, it takes an extremely long time for this to happen. Fortunately, damage can be mitigated by using the right boards and glazing.
American Frame's favorite wood collections for photography are:
Whatever you do, avoid using what's currently being touted in our industry as "Environmentally Friendly" frames for work you care to preserve. These mouldings are made from recycled woods using laminates and adhesives that release toxic gasses (or formaldehydes) into the frame treatment. We don't recommend its use for framing high quality art and photography. Sustainably harvested, FSC certified solid woods are the superior product.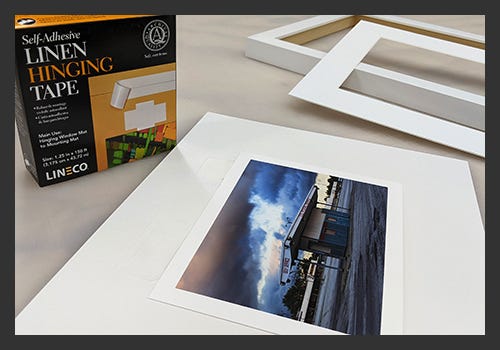 Use acid free tapes to attach your artwork.
Tip #5 - Use the Correct Tapes for Hinging
The way you choose to attach the artwork to the backing board or mat board is very important. The wrong tape or mounting method can cause the work to tear, buckle or yellow. This is often an overlooked element in fine art photography picture framing.
For more information on how to properly frame your art and photography visit our How-To library for framing artwork.