50 Years of Custom Framing: Timeless Classics That Launched an Industry
For 50 years now, artists and do-it-yourself framers have appreciated the quality, control and affordability provided by American Frame products. Our successful family-owned and woman-operated business originated five decades ago, founded on one man's creative, passionate and entrepreneurial spirit— and the trail-blazing collection of DIY custom metal frames that started it all.
As we celebrate this momentous 50th year in business, we've taken a look back at how our company's history shaped an entire industry. We could not fully recognize that history without highlighting the collection that gave life to American Frame and launched a new industry of DIY custom framing products.
The Birth of a 50-Year DIY Custom Framing Business
It all started with Ron Mickel, proud U.S. veteran and a firm believer in the American dream, who opened a hardware store in Toledo, Ohio, in the late '60s. The business evolved to include paint, wallpaper and eventually custom picture framing. When he turned his attention completely to art and framing, his former hardware store became the Ron Mickel Gallery, and in 1973, Ron was introduced to a frame that would revolutionize the industry.
A manufacturer's rep handed Ron a frame made of aluminum—one that could be custom cut and secured with corner hardware, which had never been done before. Its clean, simple and sleek profile would have major appeal for artists and photographers seeking affordable, durable and attractive ways to present their work. It was Ron's instinct to begin offering this product that paved the way for American Frame's 50 years of success.
Ron launched the company with this line of metal mouldings. The "Standard Collection" of Nielsen 11 Profile metal frames was available to customers in five colors, including black, silver, gold, pewter and copper brown. In fact, when Ron's daughter Laura (now co-owner of American Frame) first began working at the company, one of her first jobs was to answer the phones using these specific frame colors in her greeting.
Today, this collection of metal frames—the one that started it all—remains a classic and a staple for American Frame's community of artists and art lovers.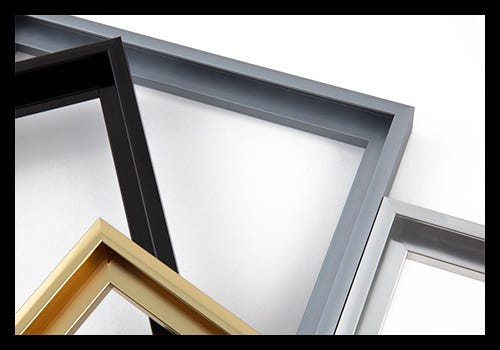 Black, silver, gold and pewter Nielsen 11 frames are still some of our top selling frames
A Timeless Collection for Framed Art & Photography
The Standard Nielsen 11 Profile collection is embedded in the very roots of our company—and, in turn, the entire custom framing industry. But it is not a relic of the past. These frames have continued to be best-sellers for the last 50 years, and remain so today.
Because many artists want to tastefully and simply frame their work, not distract from it, this collection is a prime choice for elevating the value of one's art. And if a customer wants to reframe it with more specific or deluxe options, it's easy for them to do so.
The popular Standard Nielsen 11 Profile collection has expanded to include 14 different colors, all with classic, clean lines. Featuring one of the original shapes developed in the mid-20th century, these frames are designed to surround pieces with a slender band of color and create the perfect outline for framed art and photography.
The collection's S21 Matte Black Nielsen 11, in particular, is still a top seller today. This simple, economical selection is a true classic that goes with everything. No matter the trends that come and go (and we've seen plenty of those these past 50 years!), it never goes out of style. And its quality withstands the test of time.
Standard Nielsen 11 Profile frames are made entirely in the United States, and always have been. They are custom cut at American Frame and sent to customers with a four-piece hardware kit for streamlined assembly by DIY framers. Quite simply, all you need in order to put the frame together is a screwdriver.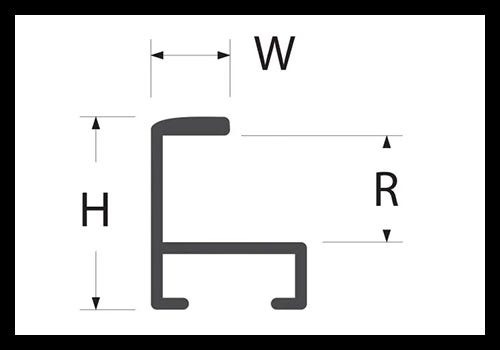 Line drawing of Nielsen 11 profile, our Standard metal frame collection
A Decades-Long Tradition of Ageless Classics
Certainly, picture frames have been around for hundreds of years. But it wasn't until American Frame's founder introduced this new type of frame to the world that the playing field changed for artists and art appreciators. Our business, and the Standard Nielsen 11 Profile collection that brought it to fruition, set the stage for an emerged industry of DIY framing and our company's exciting 50 years of success.
Be sure to check out this collection for yourself and see why it's remained a timeless classic for so many decades.