Always, a family-owned business.
At American Frame, art has always been our heart, soul, and reason for being.
Helping artists present, preserve and protect their work inspired Ron Mickel to start this company.
Ron had the disposition of a successful professional artist. He was creative, independent, entrepreneurial, persistent, and had great business instincts.
"What if?": For Ron, anything was possible.
In the late '60s, Mickel–proud veteran of the Korean War and a firm believer in the American dream–opened a hardware store in Toledo, Ohio. Business slowed in the winters so Mickel added paint and wallpaper to his inventory. Custom picture framing soon followed.
Ron, who loved working with his hands, became particularly adept at framing. Customers took note of his beautiful craftsmanship and keen eye for design. His frames enhanced the presentation of their artwork as well as their home decor.
Eventually, Ron concentrated his attention totally on art and framing. His hardware store was turned into the Ron Mickel Gallery, where he passionately and enthusiastically showcased both established and up-and-coming contemporary artists: painters, sculptors, as well as those working in plastics, batiks, ceramics, tapestry, blown glass, and more.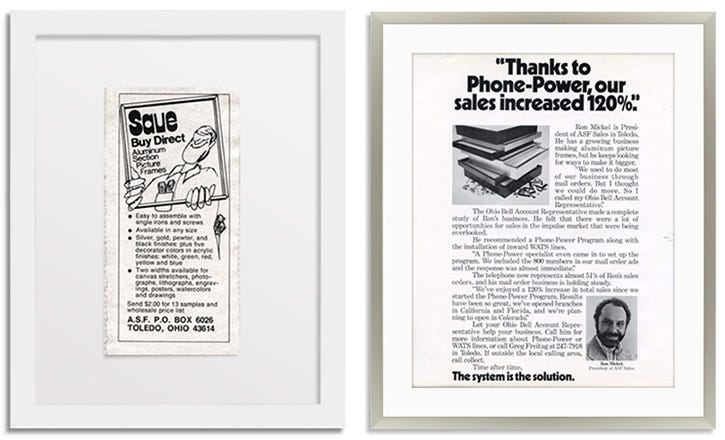 American Artist magazine ad, 1973. Ohio Bell ad, 1976.
Photos at top: Ron Mickel, 1975. CEO/AFO Dana Dunbar, founder Ron Mickel, President/CMO Laura Jajko, 2015.
Then, in 1973, a manufacturer's rep handed Ron a frame made of aluminum; a frame that could be custom cut and secured with corner hardware, unusual for the time. Ron loved its clean, simple, sleek profile, and immediately grasped the appeal it would have to artists and photographers looking for affordable, durable, attractive ways to present their work.
Empowered by the potential of his newest product, Ron Mickel was about to revolutionize the picture framing industry.
Ron never stood still, and constantly drove his company forward. Better products and services were always sought out. If there was a faster way to deliver his customers the goods, it was taken.
One ad changed everything.
Mickel took out an ad in the classified section of American Artist magazine offering 13 samples of his new metal frame, along with a wholesale price list, for $2. In the ad, Ron called his new enterprise "ASF Sales," as in "aluminum section frame."
Two weeks later, his P.O. box was filled with orders. More sales came via phone, from interested artists calling to talk shop with an ASF representative. At that time, Ron was the only ASF representative.
"American Frame" was easier to say.
"'ASF Sales was a tongue twister," Mickel said years later, "hard to understand over the phone." So in 1982, ASF Sales became the American Frame Corporation.
Mickel cut custom picture frame mouldings to whatever sizes his customers wanted and shipped them unassembled. It was an ideal DIY solution. Artists and do-it-yourself framers loved the control it provided over the final presentation of their work. Plus, it was less expensive than going to custom frame shops.
Constantly improving, never settling.
In the time he owned and led American Frame, Ron Mickel was unfailingly upbeat, optimistic about his company's prospects, and enthusiastic about how he and his team could help his customers. Ron never stood still, and constantly drove his company forward. Better products and services were always sought out. If there was a faster way to deliver his customers the goods, it was taken. Investments in technological improvements were generously made. Mickel gave his company every chance to succeed, which it did.
Now, women-owned.
By 1991, Ron's daughters Laura Jajko and Dana Dunbar had both joined the company, which he sold to them in 2017. Today, they carry on with the same passion, drive, and commitment as their dad, occupying the top positions in this 100% women-owned business.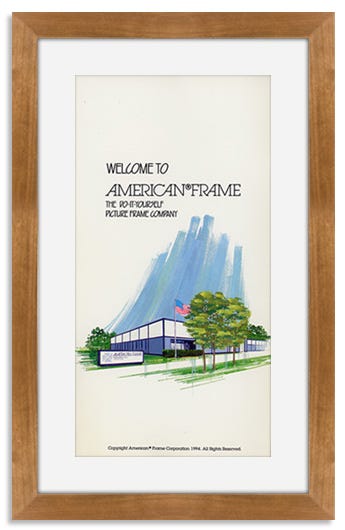 Cover of 'Handbook', 1994.
The family business, in its third generation.
Several of Ron Mickel's grandchildren have also joined the American Frame team, which continues to enthusiastically support those who create, showcase, display, collect, or just plain love art.
Living up to the company name.
American Frame has always been a truly American company: Headquartered in Maumee, Ohio; offering mostly American-made products; working closely with museums, galleries and artists throughout the U.S.; and constantly reinvesting in American workers and the U.S. economy.