Multi-Opening Mat Boards for Unique, Customized Displays
In any variety of framing applications from photography and artwork to memorabilia and more, matboards serve an important function and can have an immense impact on the overall visual presentation. This is particularly true when displaying multiple pieces in a single framing treatment. That's where the beauty of multi-opening mat boards—also referred to as collage mat boards—truly shines.
A multi-opening mat board is a mat board that features more than one cut. At American Frame, you can customize this option with as many openings as you like. Plus, you have the flexibility to order any mat board in our product line as a multi-opening arrangement, including your preferred color, type and thickness.
Popular Uses for Multi-Opening Mat Boards
Because multi-opening mat boards support an attractive presentation of more than one photograph, art work, memorabilia or other display piece, they can be used in a myriad of unique ways. For example, they are often leveraged for:
Showcasing concert memorabilia

: You can frame a concert poster, ticket, souvenir, photo (or arrangement of photos) all in one framing treatment, with mat board cuts that visually separate each item to create the most pleasing aesthetic.

Displaying school photographs

: A prominent senior photo surrounded by a carousel of school pictures from various grade levels makes for a beautiful and meaningful wall hanging.

Coordinating a thematic element: Easily create a collage of related pieces, such as multiple pictures from a memorable vacation, special photographs from a wedding or event, or even smaller-sized art pieces and prints that show well together.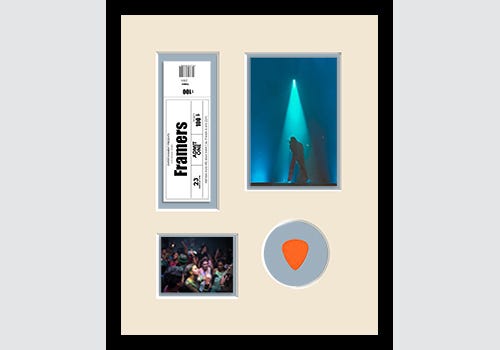 Mutli opening mat boards can be used to frame a grouping of memorabilia from a concert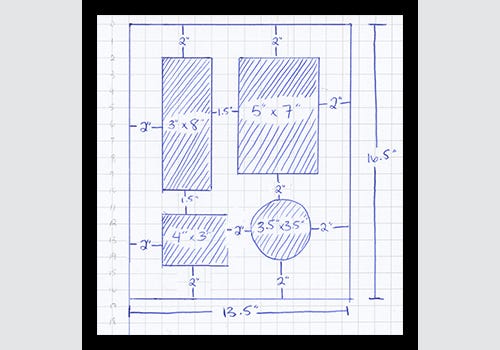 The drawing for your multi opening mat board can be hand drawn and does not need to be to scale
Dialing In on Dimensions
The flexibility of multi-opening mat boards extends to their specifications. As mentioned, you have the option to order any American Frame mat board as a multi-opening display—no matter the texture, style, color, thickness or conservation quality.
Additionally, multi-opening mat boards can be ordered in any size to the nearest 1/16 of an inch, and you have the freedom to choose between different cut shapes (i.e., rectangular, oval, square).
The two dimensional requirements you'll need to consider include:
The space in between each opening, which must be a minimum of 1 inch.

The outside borders around each opening, which must be a minimum of 1.25 inches.
How to Order Your Multi-Opening Mat Board
When you're ready to order a multi-opening mat board for your framing needs, here are some easy steps to follow:
First, create a simple drawing of your desired mat board with its individual openings. This can be done digitally or on paper, and it does not need to be complex or to scale. Just be sure to include:
The orientation of the mat (landscape or portrait)

The size and orientation of each mat opening, including all widths (Note: Mat openings are cut to the exact measurements you specify. Make sure you account for a slight mat overlap to hold your photo or piece in place. For instance, an opening for a 4x6 photo must be cut to 3.75 inches x 5.75 inches.)

The outside dimensions (Pro Tip: Your outside dimensions should match the inside dimensions of your frame or be the same size as your acrylic and mounting board.)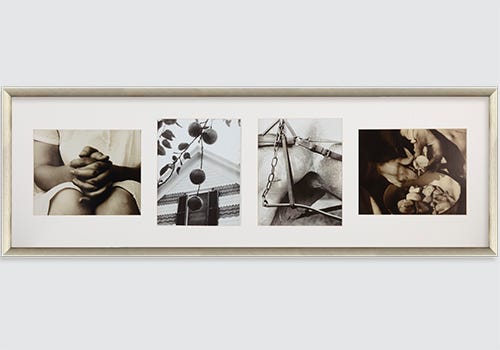 Your multi opening mat board can be used to display a grouping of photographs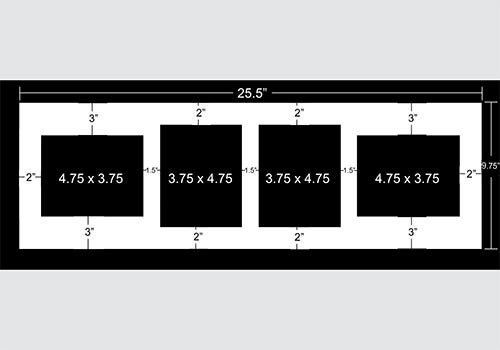 Be sure to allow for the mat to overlap your photos or artwork slightly so they don't fall through the mat window opening
Next, choose your desired single mat board from our wide selection, and add it to your cart.
When checking out, leave a note in the comments that you are ordering a multi-opening mat board.
Finally, email your drawing to our team at procut@americanframe.com. A member of our team will be available to assist you or answer any questions you may have.
And remember, you always have the option to see before you buy. We can send a free sample of any mat from American Frame to help you decide on the perfect treatment for your display.