How to Mat and Frame Your Best Family Photos
Our families make for some of the most meaningful subjects in photography. And whether you're a pro with the camera or just so happen to snap some wall-worthy shots, your treasured family photos deserve framing treatments that reflect the significance of each captured moment. From professional photo shoots to social media pics, here's what you need to know about matting and framing your best family photos.
Consider the Details of Your Display
Whenever we talk about the process of framing art or photography, we emphasize the importance of honing in on three important factors: purpose, style and budget. These elements play an important role in selecting just the right framing treatment (combination of the frame, mat, supporting materials, and proportions that make the look 100% custom). In the case of family photos, it's also essential to focus on how the finished piece(s) will be displayed.
In other words, think about whether you intend to hang a single photo in a specific spot, or arrange an entire gallery on the wall. (Insider tip: For gallery walls, check out our recent article detailing 7 Expert Tips for the Most Striking Family Photo Wall.) Maybe you have a vision for printing and framing a dozen family photos, then shipping each one off as a holiday gift for loved ones. Depending on how your framed photographs are expected to be displayed, you can leverage the details to make decisions about sizing, matting, color, material, acrylic and more.
Cater to the Subject Matter
Again, many of the decisions you make regarding the matting and framing options for family photos will revolve around function and style. A vital component of that style involves leveraging the subject matter to influence the framing treatment.
A classic family photo, for example, might look best with a sleek black metal frame paired with a simple white mat. This is also a popular choice for black and white photography. If, on the other hand, you're working with a photo of family members posing beachside in matching jean clothing, you might consider options with more of a whitewashed or natural feel, creating a seamless aesthetic. Perhaps your collection of wedding or formal photos would look best in sophisticated silver tones with deep-ply matting. Or a candid photo of the family boating trip might be best served by a frame that reflects the color and lighting of the water.
Of course, you'll want to weave these subject matter considerations into the overall style and display elements. What looks good on neutral walls inside a city apartment, for instance, might not fit as well in a cabin setting or ski chalet. In these cases, you may opt for a more rustic look in framing your family photos.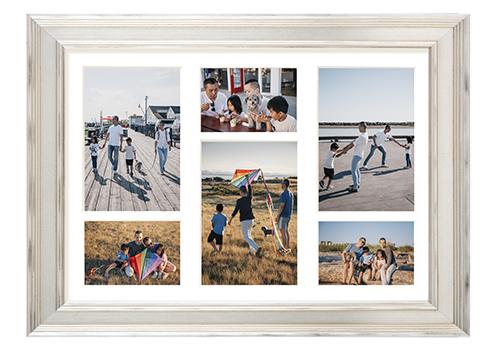 A collection of family photographs framed with a multi-cut collage mat and antiqued silver wood frame.
Play with Mat Board Configurations
When matting is applied to a framing treatment for photography, it creates a visual transition between the photograph and the frame, as well as a nice separation between the photo and the acrylic. As mat boards are about style and function, they come in an assortment of thicknesses, colors, and properties. This range of options can help emphasize your personal preferences for the framed photo's purpose, style and conservation.
There are matting options to fit all types of needs and budgets, so don't be afraid to play around with proportions and combinations. You might opt for a very sophisticated, six-ply mat that adds a notable thickness and depth, or perhaps emphasize colors in a family photo with the use of a double mat. You can even alter the size and shape of your photograph through the use of a matboard, if doing so will help maximize wall space or accommodate your gallery arrangement.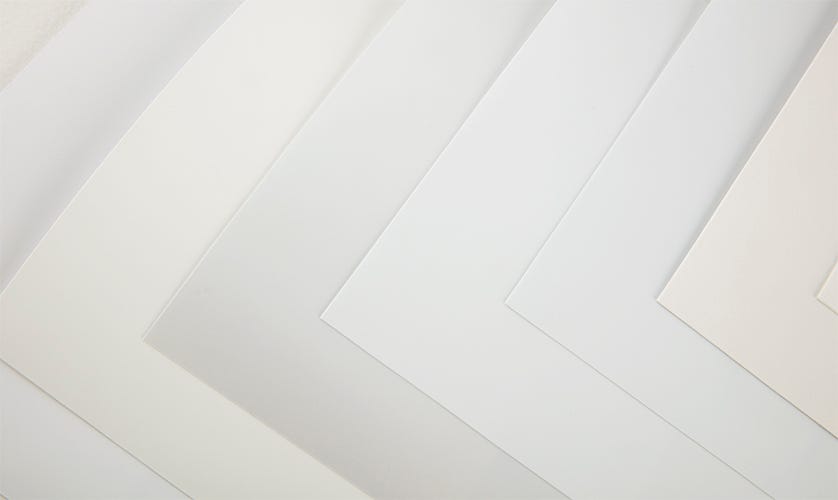 An assortment of neutral mat boards in a variety of thicknesses and textures.
Understand How Lighting Impacts Photos
Wherever your family photography is intended to be displayed, the lighting of that room will be a critical point of interest. Whether you're dealing with an abundance of natural light that permeates the space during daytime hours, or harsh overhead lights shining at night, it's necessary to make sure you consider the effect of lighting and glare on your family photos, and choose an acrylic accordingly.
American Frame offers, among other types, Optium Museum Acrylic®. This glazing option virtually eliminates reflections and glare while protecting your memories for generations to come. Light damage is one of the most common forms of damage to photos over time, and museum acrylic blocks 99% of damaging UV rays. Its optimal light transmission also brightens colors, and the acrylic is both durable and easy to clean.
Additionally, it's important to note how your choice of paper fits into the picture here. If you're printing a family photograph on a highly coated, resin-like paper that emphasizes shine, you may want to stay away from non-glare acrylic, as this type will actually counteract the properties of the paper.
Streamline & Simplify the Framing Process
Applying just the right mats and frames to your family photos doesn't have to be a complex undertaking. In fact, there are multiple ways to get custom treatments without having to expend unnecessary time and effort.
American Frame offers predesigned kits from our JustAddArt™ collection, which comes with a unique frame and mat combo already picked out for you. We create the designs, and all you need to do is add your photograph. Every kit is of exceptional museum quality, created by our design team using fine archival picture framing materials and interesting color combinations, textures and proportions. All JustAddArt™ designs can be cut to your exact specifications and shipped to your door, ready to assemble.
We also have a convenient Print & Frame service to help make the process easy and efficient. You can upload digital images directly from your computer, Google Drive, Instagram or Facebook, and we'll print and frame them for you. Simply shop our array of wood or metal mouldings, or select a pre-designed frame treatment from our JustAddArt™ collection, then upload your digital image and we'll walk you through the rest. Receive your print—custom sized, custom framed and ready to hang. All prints are produced in-house by our experienced team of printing experts, with the utmost care for superior output, using archival inks paired with name-brand papers.
In the end, framing your family photography should be an enjoyable process that results in a cherished display of priceless moments. Use these tips to help guide your efforts, and relish the joy of family photographs that bring smiles for years to come.