Selecting the Right Materials: When to Use Archival Framing Products
Given the importance of preserving one's works of art or photography, it's essential to have a clear understanding of the role framing treatments play in this effort. Not all frame types and materials feature the same level of protection for effectively preserving a work's essence and quality. That said, the framing products you choose should depend on the specific project at hand, your overall budget and your goals for displaying and preserving the piece.
General Purpose Vs. Archival Framing Treatments
If you're more concerned about cost than longevity, general purpose materials can give you the look you want at an affordable price. Perhaps you intend to reframe your piece later on, or maybe you're working with an easily replaceable print. In scenarios like these, standard products may suit your project well.
However, standard mat and mounting boards contain acids, which can deteriorate a work's colors and essence over time. These acids result from the breakdown of lignin, a binding polymer that holds wood together. Since general purpose mats and mounting boards are made from wood pulp, the acids from these materials can transfer to your work over time, causing discoloration and damage.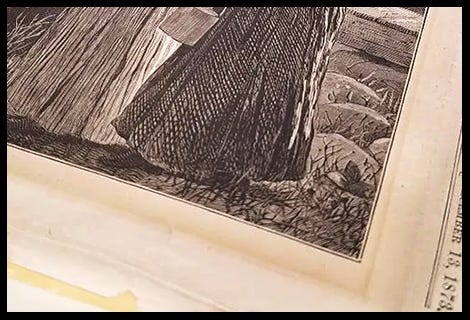 Non-archival framing materials can cause damage and discoloration over time to your original artwork
So if you're looking to frame an original piece of artwork or a cherished family heirloom, selecting materials that protect it from acids and other harmful elements is paramount. Archival framing products leverage specific materials to shield works of art and photography from the elements that could potentially damage them—whether from outside or inside the framing treatment, or from the treatment itself.
Archival framing materials are the best options to protect a framed work from acids, and they even undergo an extra layer of manufacturing excellence aimed at preventing damage from the start. Every aspect of archival framing—from the acid-free materials to the specific mounting methods—is designed to protect your work and maintain its presentability over the long term.
Types of Archival Framing Products
From frame mouldings and mat boards to acrylic glazings and tapes, American Frame has a wide variety of archival framing products to fit your needs.
Archival Frames
When seeking an archival-quality frame, consider choosing from our wide selection of stylish metal frames, as they are inherently acid-free. High-quality anodized aluminum is the most archival frame moulding you can buy, given its supreme level of physical stability, preservation grade and environmental friendliness among framing materials on the market. At American Frame, we carry the best in metal: Nielsen, the finest produced aluminum mouldings in the world.
If you're concerned about archival-level protection but love the look of solid wood frames, you can protect against acids by applying an anti-acidic, high-quality sealing tape. Adhere the tape to the rabbet of the frame to create an important barrier between your piece and the frame. In combination with a mat board, sealing tape serves to ward off unwanted components and aids in preserving invaluable works of art and photography.
Archival Mat Boards
At American Frame, we offer both general purpose mat boards by Bainbridge, made entirely in the USA from the high-quality materials. Our general purpose mat boards have an acid-free backing, making them an economical choice for non-archival framing.
Then there are our conservation-quality mat boards from Bainbridge, featuring Artcare™ technology, which traps acidic gases and keeps them far away from your work. We also offer Peterboro Museum and Crescent Select selections. All these mat boards offer the most state-of-the-art preservation technology available, and they are made entirely from virgin alpha-cellulose fiber to meet all quality standards set by the Fine Arts Trade Guild. They are both acid- and lignin-free, as well as resistant to fading and bleeding.
We also offer mounting boards in both standard and acid-free varieties.
Archival Acrylics
Acrylic is essential to protecting your art or photography, but with certain types of products (especially off-the-shelf ones), you don't necessarily know what you're getting. At American Frame, on the other hand, you have access to different variations of plexiglass sheets for meeting your specific protection needs.
All of our acrylic glazing is acid-free and framer's grade, as well as lightweight and archival quality. They are offered in five variations to fit your purpose, budget and style. For maximum archival protection, we recommend Tru Vue® Optium Museum Acrylic®, which is also anti-static and anti-reflective. Our UV, UV Non-Glare and Tru Vue Optium Museum Acrylic all have 99% UV resistance.
Your Selection of Framing Materials
If you're still unsure about which frames and accessories you should use for your next custom framing project, we have the knowledge and design expertise to support you through the entire process.
Don't hesitate to consult our in-house framing experts, get step-by-step assistance via our complimentary Art Assistant™ program, or schedule a free virtual consultation. We're always here to help make your artistic vision a reality.