Bainbridge Artcare Mat Boards
Great art deserves to be preserved.
Bainbridge's Artcare mat boards offer the most state-of-the-art preservation technology available – even the Library of Congress uses them for the most historical documents.
Other pieces protected by Artcare include George Washington's last will, the Wright Brother's original bi-plane drawings, and Lewis and Clark's plant specimen collection.
American Frame is proud to offer Artcare mat boards by Bainbridge, the world's foremost authority on preservation, trusted by conservators and museums around the globe.
Pardon the technical talk, but Artcare mats are technically astounding products.
Their patented MicroChamber technology offers a level of conservation and protection not found in other mat boards. They're made of 100% virgin alpha-cellulose fiber to meet all quality standards set by the Fine Arts Trade Guild. Tests conducted in accordance with TAPPI Method T-236 om-85/ISO 302 show the board to be free of groundwood and lignin.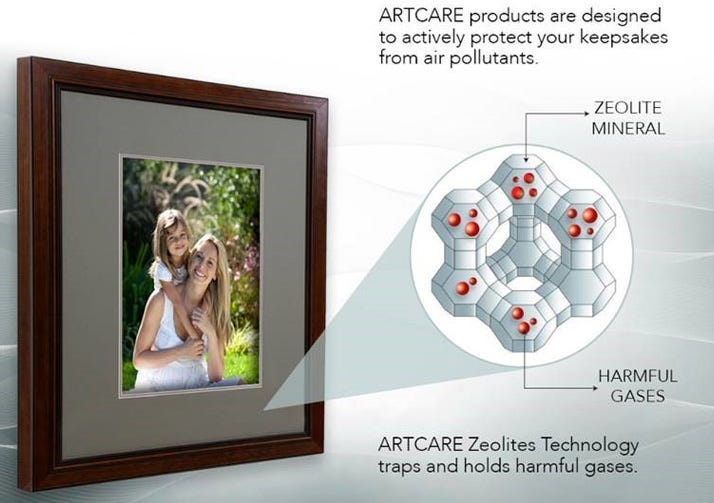 Technology that safeguards your keepsakes.
Just like antioxidants protect your skin from damaging substances, Artcare protects your keepsakes from harmful gases in the air. Natural minerals, called zeolites, trap and hold these gases, keeping them away from your cherished heirlooms forever.
Examples of Acid Burn
These examples illustrate what can happen to your art if a conservation mat board is not used.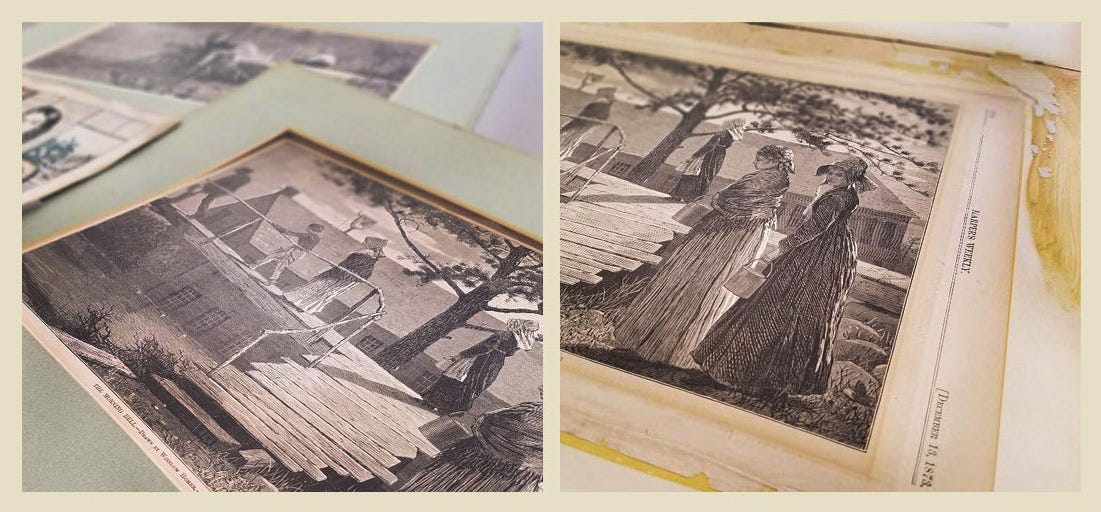 Zeolites absorb pollutants into the mat, trapping them there to keep them away from art, photographs and documents. These boards slow paper degradation, neutralize acid by-products, are acid-free, resistant to fading and bleeding. Water-based alkaline adhesives are used without solvents, helping maintain alkaline pH levels of 8.9 +/-.4 using the TAPPI Method T-509 om-88 cold extraction on slurried pulp.
Artcare's lightfastness is superior, with its fade resistance established using a Xenon Fadometer in accordance with ASTM D3424. Alphamat colors show less than a 2.5 brightness shift.
All of this means Bainbridge Artcare acid-free mat boards offer superior protection against deterioration, fading, discoloration, and environmental irritants. We provide these fine, 100% archival products at a true value.
Look for mats on our website labeled "conservation" to find those featuring the patented Artcare technology.
When preservation matters, American Frame has the Artcare products your art deserves.
For questions or free samples, consult our experts in customer service .