Custom Framing: The Art to Presenting Your Art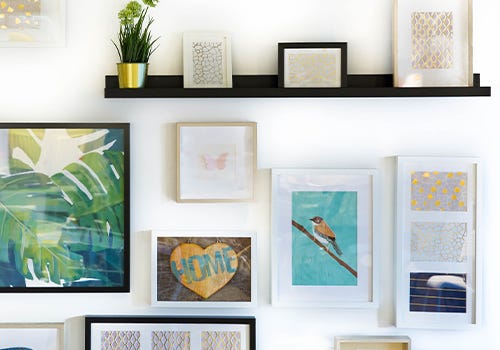 A gallery wall using mismatched frames in a cohesive way
When done well, custom framing online can greatly improve the appearance and presentation of your art.
When done not so well, it can diminish the way an otherwise spectacular work is perceived.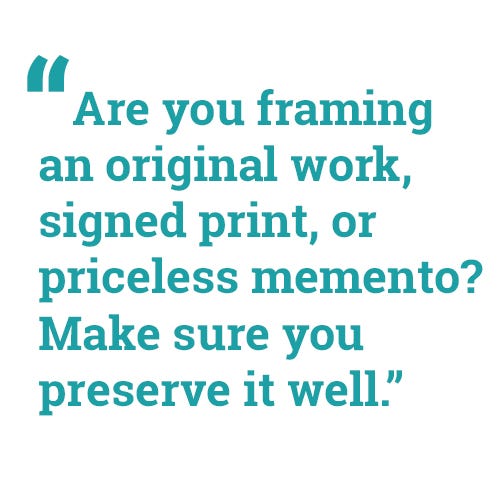 Plenty of beautiful options
We've helped so many customers create outstanding frame solutions. How can we help you make it happen? Here are things to consider.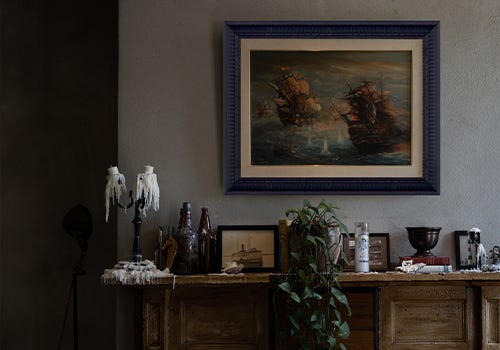 A space being enhanced by a framed artwork
Where will it go?
If you're framing works on paper or photography for a gallery show, simplicity, quality, and proportion are important. If it's framing for your home or office, you can decide based on your personal taste. Bold, classic, or simple would all work.
A good general rule: Always make sure your frame supports the art, and doesn't upstage it. That is, it should enhance the way it looks, with consideration given to how it will look in the room. If your drapes are blue and end tables are silver metal, a blue mat and silver metal frame isn't necessarily the best framing combination.
Consider scale, art style and matting
The size of your artwork and the style of your artwork have a lot to do with how you frame. Good matting can enhance your look considerably.
Your frame: Which one is right?
No matter your artwork or framing budget, you want a frame and a color that will make your art the focal point of a wall or room, or simply pulls out a specific color in the art. Choosing the right style, color, scale, and texture is vitally important.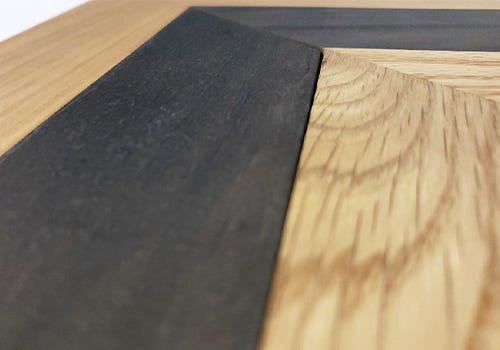 Wood frames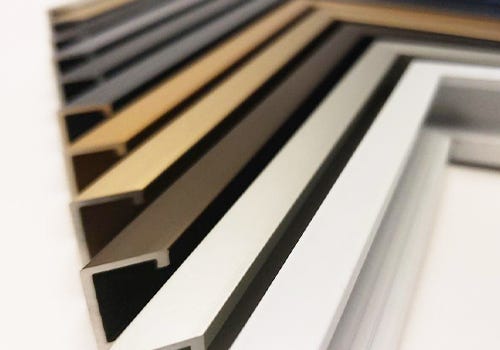 Metal frames
Wood or metal?
Natural wooden picture frames add texture and a neutral but interesting complement to your art. Metal frames bring a sleek, minimalistic feel and are inherently archival. A wood frame with a classic black or white finish has a timeless quality.
If you're using matting, make sure its size is different from your frame's size. Why? Because human eyes like seeing variance. Generally, a frame should be thinner than the matting contained within it.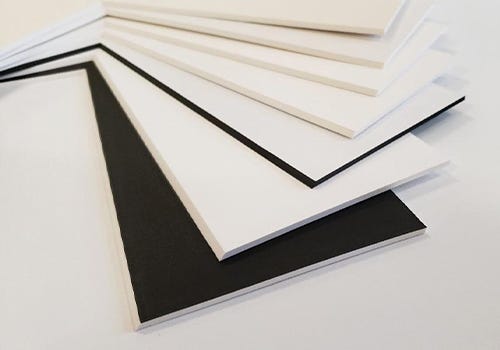 Different matboard options
Choosing custom mat boards
Although matting isn't always necessary, most works on paper—photography, drawings, watercolors—look better with some space between the edge of the paper and the frame, which matting provides. That seperation actually helps draw more attention to the artwork. A mat board also functions to keep the artwork from touching the glazing – the acrylic "window" on top of your frame system. Matting allows air to circulate by preventing the artwork and acrylic from sticking together.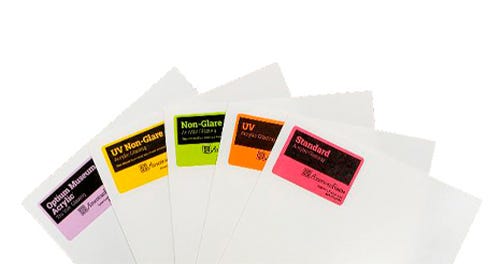 All of the acrylic options
Like most galleries and museums, we prefer framer's-grade acrylic (plexiglass). It won't distort the artwork, and doesn't run the risk of shattering, like glass. Acrylic is also acid-free and lightweight. When choosing acrylic, consider budget, your artwork's value, and where it will be displayed. You may need a UV-protected or non-glare solution.
Make sure it's acid-free
Are you framing an original work, signed print, or priceless memento? Make sure you preserve it well. Use only genuine archival materials, which are typically devoid of acids that can cause artwork to become brittle or discolor over time. Products enhanced with Artcare™ technology are ideal.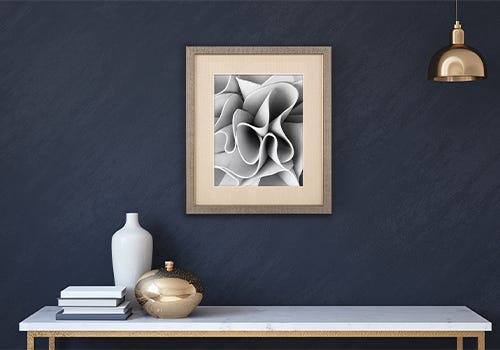 A JustAddArt custom frame kit
With our JustAddArt™ pre-designed custom frame kits, there'll be no guesswork in your custom framing online. These professionally designed combinations of metal and wooden picture frames with custom mat boards are all made with museum-quality materials.
Use our design-a-frame-package tool to see what your mat/frame combination will (virtually) look like. You can even upload an image of your artwork into the tool.
Fill out our easy, personalized Art Assistant™ form to get expert frame design consultation on your specific project.
Want to see and feel our frames and mat boards first? Make sure you're getting exactly what you want before you place your order by ordering samples of frames and mat boards .