5 Framing Best Practices to Sell More Art Online
Your art is your passion, but in order to make it your career—or even an additional income generator—there's an element of business involved in the equation. For lots of artists selling their work independently, an online presence is the ideal channel for reaching buyers. You can successfully market and sell your pieces if you understand what it takes to appeal to an online audience, making your art both attractive and valuable to prospective buyers.
Part of this effort has to do with implementing best practices for framing your finished art. It's often said that the quality of your frame reflects the quality of your art, and even the most beautiful pieces can be overlooked through lack of attention to this critical element. If you're seeking ways to sell more art online, check out these expert recommendations regarding your framing approach.
1. Present Your Work Already Framed
When selecting work to present for sale online, make sure you're finishing off each one in a quality frame. This serves two purposes: 1) it elevates the professional appearance and value of your work, and 2) it gives the buyer a more concrete idea of what they're getting. Since they're likely to have it framed anyway, it's best if they can visualize what that might look like in context and have the work done for them.
The truth is people know what they like when they see it, but they may not necessarily know how to get there. You're taking them from visual concept to completion by showing them your finished piece in a specially selected professional frame—one they don't have to do the work of sourcing on their own. So instead of merely presenting your art and leaving it up to customers to do the rest, make the process simpler and the product more enticing by displaying it as it will be.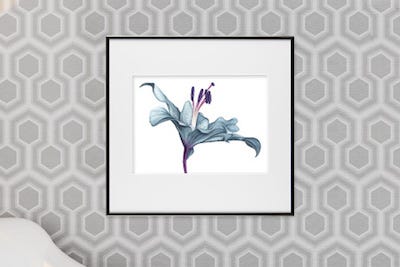 Presenting your work already framed online elevates the value and appearance
2. Explain the Details
As you finish off pieces with quality frames that elevate the real and perceived value of each one, take time to explain the finer details of the frames included in the sale. Yes, the simple presentation of the work in its frame will go a long way in attracting buyers to your art, but outlining the specifics of the frame's characteristics will take this effort even further across the finish line.
For instance, present information about the frame's:
Brand, type and materials

Mat board

, including its conservation quality and attributes

Type of

acrylic

, highlighting details such as UV resistance and non-glare properties

Acid-free

designation

Country of origin and facts about how it was made
These are all details that you can acquire from your framing supplier, as any quality supplier is going to be highly transparent about this type of information. In the end, it gives prospects even greater insight into what they're purchasing and more reasons to buy your work.
3. Keep It Simple
Even though presenting and selling your work already finished off in a frame can do wonders for elevating its overall appearance and worth, if you select a treatment that's overly distracting, it could have the opposite effect and actually detract buyers from purchasing. Because tastes can range so dramatically from person to person, it's best to keep the frame simple.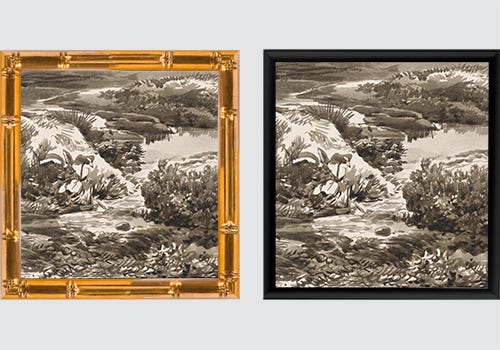 Keep your frame simple when selling your artwork online as a busy frame could overpower it
There may be an unusual or out-of-the-box frame that you absolutely love, but it might very well be a turn-off for someone who would otherwise be highly interested in your piece of art. Ultimately, you want the frame to optimize your work and show it in its best light, not distract a buyer from the essence of the piece. They might have something else entirely in mind for their personal display purposes, so remember that simplicity in framing selection is usually best.
4. Leverage Art Shows & Events
Art shows are THE place for artists to see and be seen, so they're great for getting exposure and gleaning feedback. But there's more you can do to leverage their value even beyond the event if you tie them back to your website and online sales.
While at a show, collect email contact information from as many attendees as possible—even if they don't end up buying from you—and be sure to ask if it's OK to reach out to them. Then you can use email marketing strategies to stay in front of them with your latest art, professionally displayed in quality framing.
Also consider handing out cards, an effective step that can often be overlooked or forgotten by artists. This is a great way to drive traffic from interested show attendees directly to your website or online store. Make it easy for them to purchase from you after the fact, with simple access to your online array of quality-framed art work.
5. Think Like an Artist AND Businessperson
As mentioned in the beginning of this article, there's more to selling art online than having a passion for what you do; it also requires a bit of business sense. In some respects, you have to wear the hat of both artist and businessperson.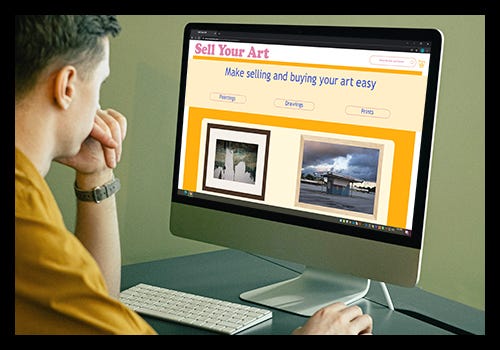 Selling artwork online requires you to think like a businessperson and an artist
This can be challenging, as artists are highly creative people and don't usually get into it with the idea of mastering business elements like invoicing and accounting, website creation, email marketing, social media, etc. But unless you're working on commissions only, selling your art IS a business, and it necessitates a certain amount of attention to these important details. Even if you're leveraging a platform like Etsy to simplify, you still have marketing and other efforts to manage. No matter what, success in selling your work takes organization, consistency, communication, strategy and investment.
As you create your art, think like an artist. But as you plan out how to approach sales, think like a businessperson. Working with high-quality and economical partners or suppliers is key, as doing so factors directly into your bottom line and your ability to maximize your work without having to charge unrealistically. Options like DIY custom framing can be an advantage if that's something you're willing to explore.
There are plenty of good and cost-effective resources out there. You just have to be open to seeing the entire effort of selling your work from both an artistic and business lens.