Custom Framing and Matting 101
Novice and experienced creators alike understand the relevance of framing needs within their craft. But not all artists, photographers or individuals with specific framing needs are highly attuned to the ins and outs of custom framing applications. By becoming more familiar with these details, you curate the insight to maximize the quality of your framed work and save time and money in the process.
Here, we're breaking down some basic elements of custom framing and matting to help clarify these important aspects.
What Is Custom Framing?
With so many different types of art, photography and other display pieces, standard frames in cookie-cutter designs are often unsuited to the needs of a framing project. As most artists know, each work features its own size and aesthetic, requiring a custom approach to the framing process. Just think about how standard watercolor sheets are trimmed down to an artist's preferred size, or how a concert poster or custom-made gift requires a precise frame size and orientation. Plus, different framing projects necessitate different levels of conservation, so material choices are critical.
Custom framing enables all varieties of work to be presented, protected and optimized based on individual needs and preferences. From a wide range of frame materials, colors, sizes and finishes, to a large swath of mat board, acrylic and other framing options, custom applications open up so many possibilities for the framer. Choosing just the right custom framing treatment is key to elevating the quality and value of a piece as well as honoring its essence—outcomes which standard framing products are hard pressed to achieve.
What Does Custom Framing Comprise?
Simple: everything needed to display a piece based on its specific purpose, style and budget. That means you have the freedom and control to make your own decisions about frames, mat boards and other aspects all along the way.
Let's start with the frame material. Hugely popular are solid wood frames, which vary in quality, texture and appearance. You might go with a completely natural aesthetic, leveraging walnut or maple wood. For a more uniform look, you could opt for a solid wood frame with a Gesso coating that eliminates knots and other features of natural wood. Equally favored in the art and photography world are aluminum frames. We exclusively offer Nielsen metal frames, which are unrivaled in quality and price, made entirely in America, constructed from 100% recyclable aluminum, and come in over 100 colors and profiles.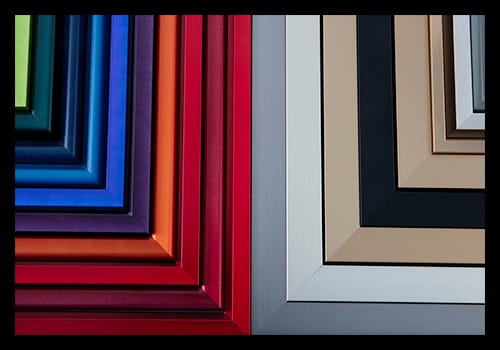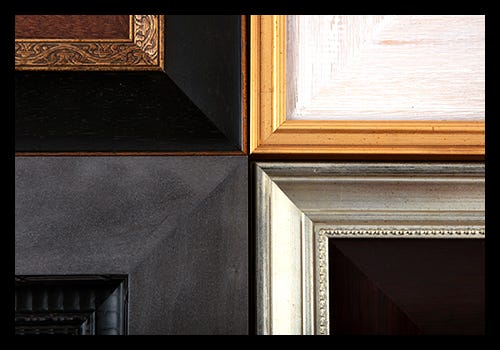 American Frame offers Nielsen metal picture frames in a variety of shapes and colors as well as wood picture frames from Studio, Larson Juhl and Nurre Caxton.
To suit the requirements of all types of framing projects, there's a myriad of options, from basic square profiles to more decorative ones. You can choose from matte finishes, glossy finishes, and various depths and widths. At American Frame, we PrecisionCut™ everything to 1/16 of an inch, which allows you to procure the exact right fit. That's not just the frame itself, but also the foam board, mat board, and acrylic.
Speaking of acrylic, this element of the framing treatment is essential to protecting artwork without distortion or the risk of shattering. With off-the-shelf products, you don't necessarily know what you're getting. At American Frame, this risk is eliminated. We offer five different variations of plexiglass sheets, all of which are framer's grade, acid-free, lightweight and archival quality. Because of the custom nature of this process, you're free to select the acrylic option that best meets your needs.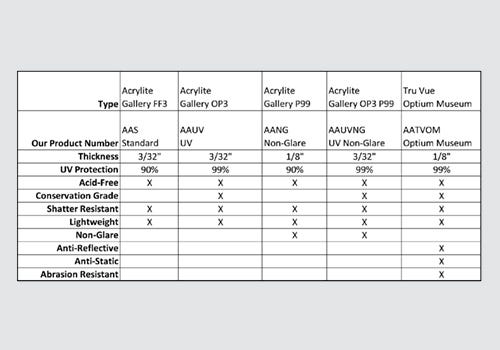 American Frame offers five types of framer's grade acrylic to fit your purpose and budget.
A mounting or backing board is placed behind the piece to help stabilize it within the frame, and it can enhance the overall look and longevity. For conservation purposes, you'd want to choose an acid-free option to protect the piece. And depending on whether you're going with a wood (acidic) or metal (non-acidic) frame, you may need to line the inside of it with special tape.
Also involved in a custom framing treatment is the matting (which we'll discuss more specifically in a moment), self-adhesives when applicable, and various other options you wouldn't find in a big box store setting, like spacers, shadow boxes and floating products. Because this is a customized treatment, you're in the driver's seat when it comes to selecting which types of elements will best frame your piece.
What Is Matting?
Matting is a popular option for a number of framing projects. It creates a visual transition between the work and the frame, as well as a nice separation between your art and the acrylic. It is often used with watercolor pieces and photography, but can be applied to many other pieces.
Mat boards are about style and function, so they are offered in an assortment of thicknesses, colors, and properties, all of which help emphasize your particular concerns for purpose, style and conservation. Ours are made from the highest-quality materials and can be purchased 'a la carte' or as part of a complete custom picture frame kit.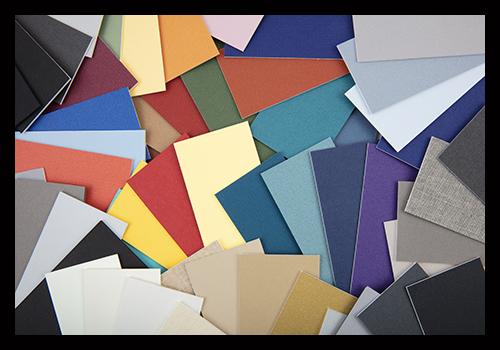 American Frame offers matboard in an assortment of colors, textures and thicknesses from Crescent, Bainbridge and Peterboro.
There are matting options to fit all types of needs, preferences and budgets. For instance, we offer the Peterboro Museum line, a collection of rag mat boards made from 100% pure cotton pulp (with no chemicals used in production), featuring cotton fiber for extra strength and rigidity. Of course, this is just one option available for your mat board requirements.
You can also play around with proportions and combinations. You might opt for a very sophisticated, six-ply mat that adds a notable thickness and depth, or perhaps emphasize colors in your work with the use of a double mat. You can alter the size and shape of a piece through the use of a matboard, thereby maximizing wall space, deepening substance or adding interest. These are all options to be considered in the custom framing and matting process.
How Do I Implement Custom Framing & Matting?
When it comes to the actual implementation of a custom framing treatment, you have options.
DIY custom framing tends to be more economical than outsourcing the work, and this option doesn't have to be a complicated effort. Order all of the elements you need, and they're shipped to you with easy instructions for assembly. You can design an entire kit, though you certainly don't have to. Some artists prefer to cut their own mats, for example. When you go the DIY route, you can order all the components or any variation of them for your custom framing treatment.
American Frame features an easy online design tool that actually enables you to preview a frame selection from your screen. Select a frame and upload your image to browse mats and preview your art. Your choices will be displayed as a virtual mock-up of the finished treatment, including the specified art sizes and mat borders.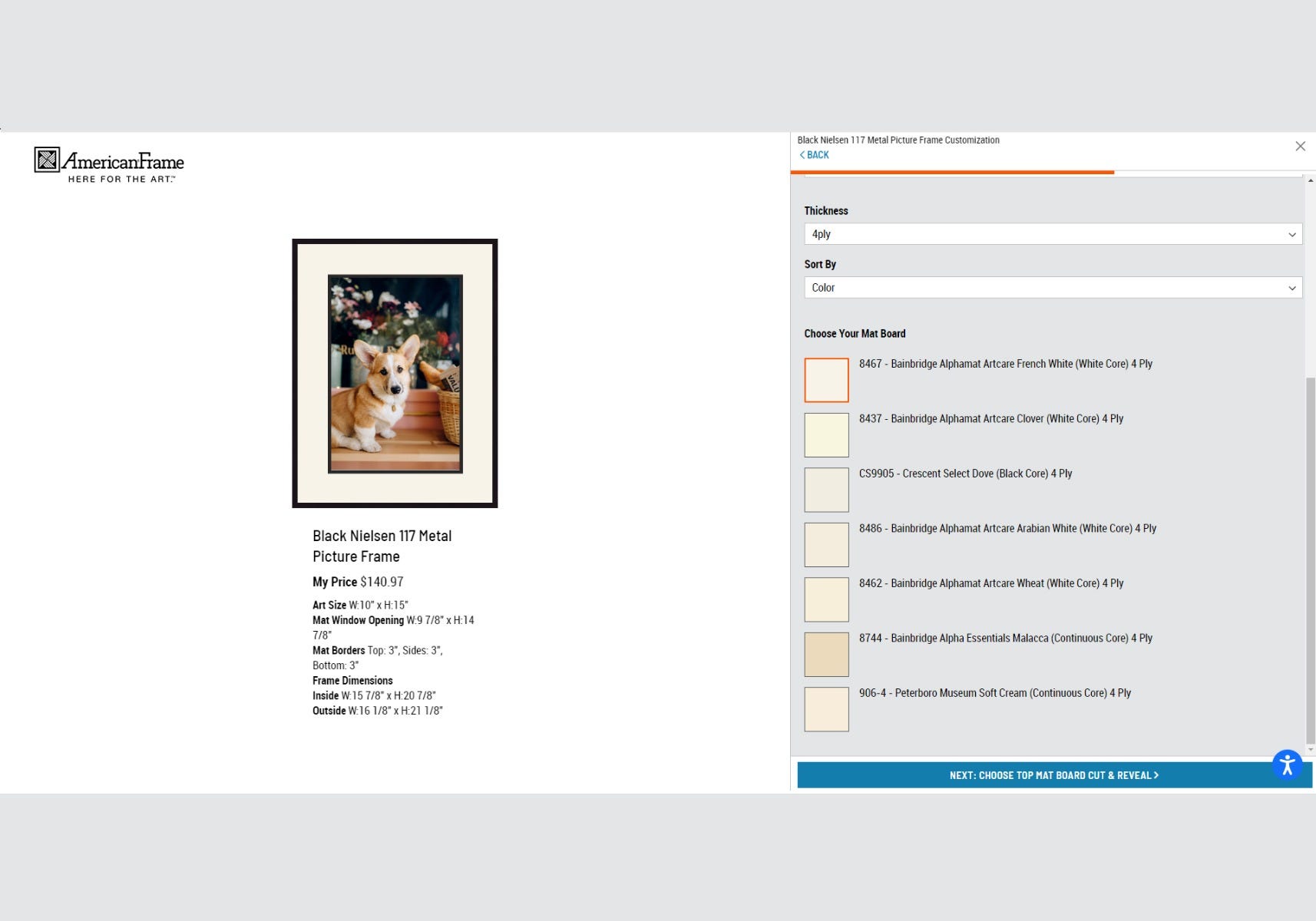 AmericanFrame.com has an easy to use online design tool that lets you preview your custom frame treatment.
If you have work to frame and would rather not DIY, we offer a Send in your Art option. We will receive your art, frame it to your specifications, and ship it back to you ready to hang. Start by filling out the online form, and one of our design specialists will walk you through your project.
Our Print & Frame service is another convenient option, which involves uploading digital images for us to print and frame for you. Browse our assortment of beautiful paper options, from all-purpose photo and fine-art photography papers to textured papers for reproducing watercolors and other digital media. All prints are produced in-house by our experienced team of printing experts, with the utmost care for superior output, using archival inks paired with name-brand papers.
Whatever level of comfort you feel with these custom framing and matting options, we're always here to help. American Frame's Art Assistant™ is our personalized custom frame service that helps make your artistic vision a reality. Simply use the online form or contact our Customer Service team to tell us about your project. Based on your needs, we'll assign a design and framing expert to be your guide and ensure your satisfaction from concept through completion.
For even more insider tips on the custom framing process, be sure to check our informative checklist outlining six fundamental considerations for choosing the right frame for your art.