Trending Now: Where to Find the Latest in Custom Framing
With the recent launch of American Frame's newest website section, Trending Now, it's easier than ever for artists and discerning enthusiasts to find just the right custom frame for your priceless pieces. Whether you're looking for what's hot right now or seeking some creative inspiration, the Trending Now section has the most current collection of trending custom frames for the art community—all conveniently displayed on one easy-to-navigate page.
The Place for Tastemakers
Here, you can explore this week's top-selling choices and browse through a wide range of metal and wood picture frames that cater to diverse tastes and décors. We understand the importance of discovering the most current frames that resonate with your artistic vision. That's why this collection of trending frames is updated regularly.
Each week, you'll find the most popular selections, ensuring you're always in the know when it comes to the latest trends in custom framing. In addition to long-time favorites, the page also showcases new and exciting products that are in stock and available for ordering. As you dive into the world of trending frames, you're bound to encounter some familiar classics and timeless choices, as well as several pleasantly unexpected surprises.
At American Frame, "trending" doesn't equate to "trendy." All of these frame options stand the test of time and never go out of style. With clean lines and sleek finishes, our frames effortlessly blend aesthetics and functionality to enhance your piece and integrate with your space.
Spotlight on Color, Texture & Style
When it comes to art and design, the elements of color, texture and style play a vital role—just as they do in our new Trending Now collection. These curated bestsellers naturally spotlight key aspects for elevating your artwork and photography.
Discover a range of color palettes that speak to an array of artistic perspectives. From classic blacks and captivating metallics to other vibrant and soothing tones, our frames reflect a kaleidoscope of possibilities. Whether you seek a frame that complements your artwork's palette or one that creates a striking contrast, our Trending Now collection is your palette of inspiration.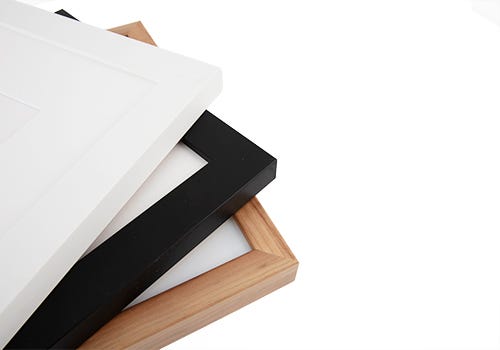 Texture has the power to transform a flat surface into a multi-dimensional masterpiece. This reality is celebrated among our Trending Now choices, offering plenty of tactile wonders to maximize visual impact. From smooth and sleek finishes to more complex surfaces, explore the captivating textures that breathe life into your works.
Artistic expression knows no bounds, and our Trending Now section is a testament to that truth. Whether your tastes lean toward minimalist presence, classic elegance, captivating allure or contemporary flair, uncover popular frames that serve as an extension of your creative vision and enhance the stylistic impact of your artistic pieces.
Snapshot of Trending Frames Feature
From the striking quality of metal to the warmth of natural wood, each trending frame has been carefully designed to complement your artwork's unique charm and aesthetic appeal. In this section, you're likely to see some of the following frames rank among the most popular choices:
Black frames: Consistently dominating our trending frames from week to week, there's a timeless elegance and professional air to black frames that makes them widely popular. With versatile and sophisticated choices that effortlessly complement any style or color palette, black frames exude an understated appeal and draw attention to the artwork at hand.
Maple frames: With a natural warmth and organic beauty, maple frames tend to bring an element of charm to artistic displays. Highlighting distinct wood grain patterns and a natural allure, maple frames are strongly featured among today's picture frame trends and strike a perfect balance between simplicity and sophistication.
White frames: The cleanest and freshest aesthetic is often achieved through the application of white frames, which is why this color continually graces our trending pages. These frames offer a contemporary and minimalist look that beautifully enhances artwork with a bright, airy feel, allowing your piece to take center stage and effortlessly complementing a variety of styles and decors.
Simple profiles: For a beautiful and professional presentation, there's something to be said for the clean, understated impact of simple profiles. These frames prioritize clean lines and minimalist design, so the artwork remains the focal point. Featuring unassuming elegance, simple-profile frames are a classic, versatile choice for showcasing art and photography.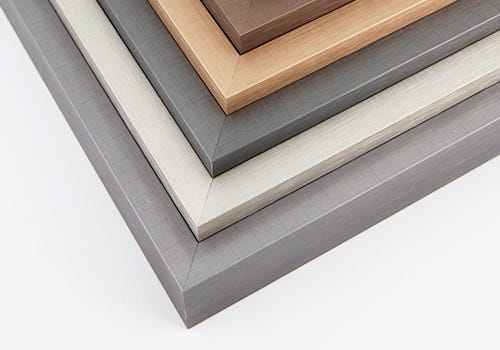 Quality & Precision Are Always on Trend
No matter which frame catches your eye, you can expect the same level of quality, affordability and exceptional service that American Frame customers have always relied on.
Constructed from high-quality materials, crafted with meticulous attention to detail and PrecisionCut™ to within 1/16″ of your specifications, every custom frame in our trending section (and across the site) is built to elevate your work, transform your environment and withstand the test of time.
From professional artists and art enthusiasts to photographers and DIY framers, there's a trove of treasures to be found among these trending custom picture frames. We invite you to discover our newest website addition and start browsing beautiful frame selections to perfectly complement your unique style.