5 Custom Framing Secrets that Save Artists Time & Money
Your art is your passion, and how you showcase it matters. But so does your precious time and money. Regardless of whether you're an established professional with frequent framing needs or an avid hobbyist figuring out how to house your work, custom framing is an essential part of the picture. And while you want beautiful, quality products worthy of your art, you're also concerned about affordability and efficiency.
The truth is most artists don't work in standard sizes, so off-the-shelf framing products are not a realistic option. From the frame itself to the mats and acrylic, you need products that meet your work's individual size specifications. Though custom framing may seem like an expensive, complex undertaking, it certainly doesn't have to be.
These insider tips from custom framing experts illustrate how you can save both time and money in the process.
Secret #1: The DIY custom framing process is actually quite simple.
Some artists steer clear of DIY framing because they're unsure of what they're doing and don't feel comfortable taking it on themselves. When you're not familiar with the process, it might seem like a difficult and time-consuming one. But it's actually very easy!
Aside from the control and satisfaction that comes from personally framing your own art, DIY custom framing also tends to be more economical than outsourcing the work. When you're organized and prepared, it's not a complicated effort at all. Think of it like how the everyday person applies a photo to a standard, box-store frame—only now you're putting everything together with professional-grade materials. With the right tools and information, this time- and money-saving option for custom framing is no challenge at all.
At American Frame, we've taken a task that was historically considered a high-level professional effort and made it simple and accessible for pros and hobbyists alike. And we're always here to guide you. So you don't have to shy away from the process or be afraid to take on DIY custom framing for your art.
Secret #2: There's no need to work alone.
When it comes right down to it, professional artists don't work alone. They rely on trusted partners to support them. Plenty of photographers utilize printing services, and many artists regularly outsource their custom framing. Some professionals even use drop shipping to send their work to customers.
If you need to send your custom-framed work to another destination, American Frame has a white-label shipping option. Or, we can frame and ship the item to you, and you can reuse the packaging to ship to your intended recipient. Either option simplifies the process for you, and can save money in the long run.
And if you're on a tight deadline or simply don't wish to go the DIY custom framing route, we're here to help. American Frame's Art Assistant™ is our personalized custom frame service that helps make your artistic vision a reality. Simply use the online form or contact our Customer Service team to tell us about your project. Based on your needs, we'll assign a design and framing expert to be your guide and ensure your satisfaction from concept through completion.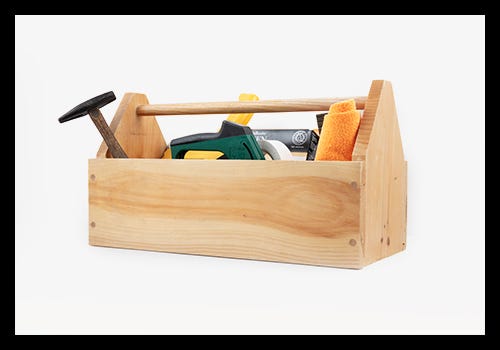 Tool box with all the essential framing tools, including a point driver and acrylic cleaning cloth.
Secret #3: The right toolbox is a framer's best friend.
When it comes to custom framing, there are tools of the trade that make the effort smoother and faster. A proper set of framing tools also helps produce a higher-quality product. Here are some of the essentials:
A

point driver

is a worthy investment for working with wood frames (not applicable to metal). It drives a point into the back of the frame to help secure your "art stack," which includes the acrylic, mat board, etc.

An acrylic cleaner and cloth

enables you to remove static, prevent fingerprints, repel dust and improve shine.

Linen tape

is leveraged for securing your artwork to a mat board. Linen is archival quality, pH neutral and made from strong, high-thread count cotton for supporting heavier weights and resisting tears.

Framer's tape

is needed for attaching one mat to another, or securing the mat to the backboard.

A static whisk

is a stiff brush you run across the acrylic to dissipate any static and remove dust.

Screwdrivers

will be helpful for assembling the entirety of the framing.
You can check out some of these tools and others on our Accessories page to help save time with your custom framing applications, carefully prepare your materials for a finished product, and maintain the appearance of your frames over time.
Secret #4: There are free framing samples for the taking.
One of the best-kept secrets among professional artists is the utility in ordering samples of frames and mat boards, especially while you're still preparing your artwork. Simply go online and see what direction you want to go in. Framing samples are free, aside from a small shipping fee that's well worth it in the end.
Having samples of various framing options avoids a potentially lengthy process of ordering, assembling and then returning products that don't end up working out for your art. It can save you a 20% restocking fee and the cost of any non-returnable pieces like acrylic that has the protective coating peeled off.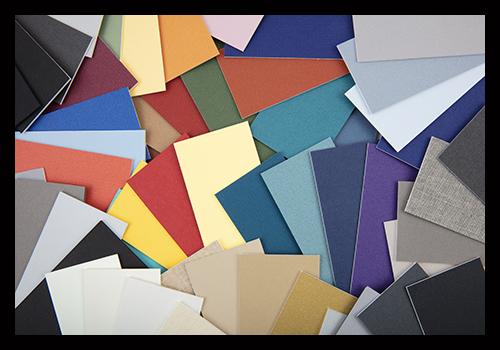 Free samples of our mat boards in various colors and textures. We also offer free samples of any of our frames.
Secret #5: The right framing choices elevate the value of your art.
Simply put, the quality of your frame reflects the quality of your art. Even the most beautiful pieces can be diminished by sub-standard framing, while the right selections can add both professionalism and value. A six- or eight-ply ply matboard, for instance, can make a piece feel expensive and sophisticated. Ultimately, the best framing choices both protect the art and enhance its aesthetics, elevating both its perceived and real value.
This is an especially important tip for artists who sell their work, and it makes choosing just the right frame a pivotal step. Honor the value of your art by taking the framing process seriously, and count on American Frame to provide just what you need along the way.