Are You Paying Too Much For Custom Picture Framing?
From established artists and avid hobbyists to art lovers and DIY photo framers alike, custom framing is often an integral aspect of creating a beautifully finished display. After all, most artists don't work in standard sizes, so off-the-shelf framing products don't typically meet the mark. Of course, custom framing may seem like an expensive route to go, but it's all about understanding cost versus value. In the end, you want a high-quality custom framing treatment that also meets your budget.
So, are you paying too much for your custom framing? The truth is pricing for custom frames can be quite variable. They are based on determining factors such as the dimensions of the piece, the quality and quantity of the framing material and the frame's level of detail and intricacy. In most circumstances, custom framing will cost more than buying a premade frame, but the benefits of customization usually outweigh the cost.
To ensure you're not overpaying for your custom framing treatment—and that you're getting the best value for your purchase—it's important to keep a few things in mind.
Beware of the Big Box
Offerings at large commercial retailers are designed to be identical, regardless of the location; this is the customer experience these brands cultivate. Having such a level of inventory at affordable prices, however, comes at the expense of quality. Big box stores are rarely the best option for custom framing treatments, as they don't typically offer a wide range of options or focus on high-quality materials designed to elevate and preserve the value of your piece.
And while these stores may lure you with large-discount offers for custom framing, keep in mind those numbers are ginned up to ensure the house wins at the end of the day. In our own studies at American Frame, we have found custom framing prices at big box retailers (even with a coupon!) to equal at least double what we charge as an independent retailer focused exclusively on framing.
Bottom line? Quality and transparency are key to selecting the right partner for your custom framing needs and ensuring you're not overpaying on your purchase.
Consider Your Capabilities
Let's say, for example, you're an artist who has finished a canvas painting and needs to find a custom frame to finish off the piece. Do you have the knowledge and design experience to select a suitable framing treatment on your own? Or will you need to rely on the expertise of a professional with a helpful consultation on how to frame your piece? The level of guidance or assistance you'll need in this regard plays an important role in determining the cost and value of your purchase.
Lots of artists have the expertise, familiarity or curiosity and drive to manage this effort on their own, so they opt for a more cost-effective process of DIY custom framing. Others aren't sure whether or not they should hire a professional or do it themselves. In order to make this decision, be sure to consider these pros and cons of DIY custom framing. The process can be lots of fun—and save you quite a bit on price. And if you do need help from a pro, American Frame affords you the opportunity to connect with a framing consultant.
DIY custom framing is the most cost-efficient choice, and can certainly be a very satisfying experience. American Frame can get you started with designing your own custom framing project online. We've taken a task that was historically considered a high-level professional effort and made it simple and accessible for pros and hobbyists alike. Once you've broken the proverbial ice and framed a few simple pieces, you just might be amazed at how easy it is to manage yourself and save on costs.
Source the Best Quality at the Lowest Price
When it comes to finding a custom framing treatment that elevates the appearance and value of your piece, there's simply no substitute for quality. And you don't have to overpay for quality products when you opt for a custom framing partner that focuses exclusively on the framing experience.
At American Frame, we promise only the best products from top manufacturers like Nielsen for metal picture frames, as well as Bainbridge, Peterboro and Crescent for mat boards. We use solid woods from a variety of reputable sources, including Larson Juhl for frames and Nurre Caxton and Studio for mouldings. We also manufacture our own FSC-certified proprietary designs to bring you the finest materials at the lowest possible custom framing prices anywhere online.

All of our materials are handcrafted, PrecisionCut™ to the 1/16 of an inch, carefully packaged and shipped fast. Each order arrives with simple assembly instructions and all the hardware you need. That's the kind of quality-for-price cost equation to keep in mind as you shop custom framing products.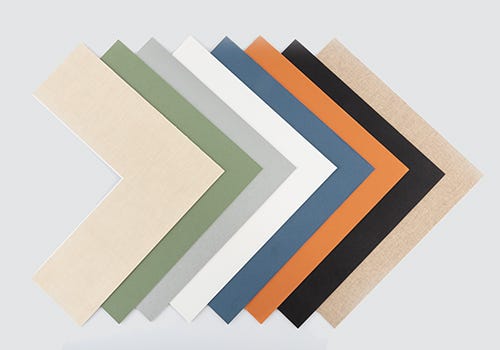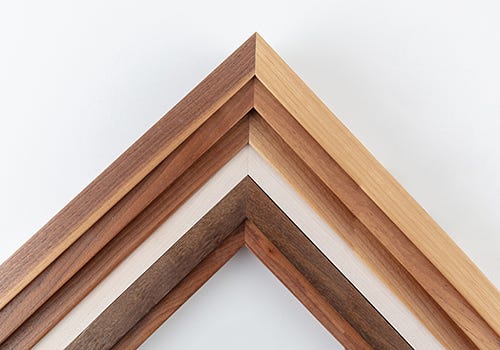 American Frame carries the best products in the industry; from Tru Vue acrylic, Nielsen® metal frames to our exclusive line of solid American Hardwoods
Support DIY Custom Framing with Expert Resources
Learning how to custom frame your own pieces doesn't have to be overly complex or daunting, especially when you have access to helpful, expert resources—like those available at American Frame. Here, you have the opportunity to tap into knowledge and information spanning a variety of custom framing topics, including:
Assembly
How-to
Glossary of framing terms
Measurement taking
Video tutorials
We're here to help present your art beautifully, and always in the best light. So check out these custom framing resources fully available to you to ensure that your art is framed quickly, properly and for the right price.
As always, you can get in touch with our experts for any assistance you may need with your next custom framing project, including free color samples, instructional information and more.