Hot Ideas for Framing Your Summer Vacation Photos
As summertime shifts into high gear, vacationers everywhere are kicking back, having fun and making memories. With summer vacation plans unfolding, there are sure to be plenty of unforgettable moments captured on cameras and phones. Don't let these special photos stay hidden away on digital devices when you can have them beautifully displayed. Framed summer vacation photographs make for meaningful gifts and decor, keeping you and your loved ones smiling the whole year through.
To help you start preserving these special memories for everyday enjoyment, here are some great ideas and expert tips on framing summer vacation photos of all kinds.
Celebrate Sun, Sea & Sky
Lots of summer vacations take place amid nature's gorgeous settings, and the natural elements in your photographs can be complemented by printing and framing choices that highlight their beauty and character. From the gleam of summer sun to glistening waters and picturesque flora or fauna, there's no shortage of ways to bring your vacation's backdrop to the surface.
Be sure to start with the paper your pictures will be printed on, as various characteristics can complement the natural features of your photographs. With water shots, for example, our Moab Slickrock Metallic Pearl is a perfect pairing. This iridescent option brings a notable shine to the surface and can have a sparkling effect on pictures set along the water. This paper is highly recommended for vacation photos that involve water sports, like water skiing, jet skiing, tubing and sailing—or any shots captured with big splashes!
Also consider playing with mat board options and various frame materials, colors and textures to help bring your vacation photos to life. Double matting with a color core can highlight specific hues in your shots, while wood or metal frame materials in various finishes can nicely round out the ambience of your summer vacation photographs.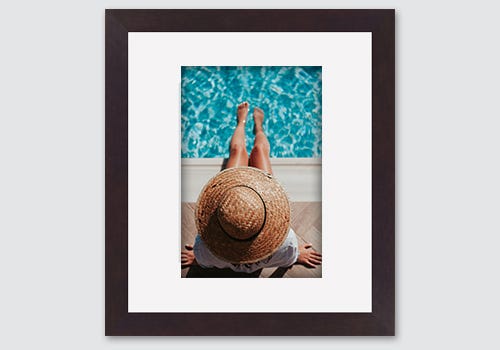 When printing water shots try our Moab Slickrock Metallic Pearl paper. It's iridescent qualities will make your photographs shine.
Lean Into Summer Lighting
Lighting is fundamental to the essence of a photograph, and this element can be tricky to manage with summer photography. But here again, you can use printing and framing materials that display your summer vacation photos in their best light.
For photographs snapped when the lighting is warm, be sure to opt for a warmer paper as opposed to one with cooler tones. Examples of papers that work particularly well for warmer lighting include our Epson Hot Press Bright, Hahnemuele Photo Rag and Epson Premium Luster or Premium Glossy. If you've captured the coveted "golden hour" just before sunset or soon after sunrise, you may want to highlight this magic with the use of a metal frame or double mat—drawing out dynamic hues and impressions from your imagery.
Ultimately, it's important to work with whatever lighting effects are present in your vacation photography to help inform your printing and framing selections. At American Frame, you can order free samples of frames, mats and papers to see for yourself how each one reflects and caters to light.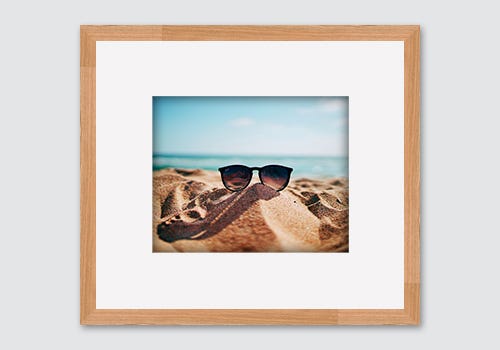 In addition to warm toned printing papers, we also have a selection of warm toned mat boards that work well with photographs taken in warm lighting.
Showcase a Collection of Shots
You're bound to have a collection of amazing and memorable photos from your summer vacation, so don't feel limited to displaying just one! There are beautiful and interesting ways to showcase a whole collection of them together.
Consider using a multi-opening mat board, which is a mat board that features more than one cut to display multiple pictures in a single framing treatment. At American Frame, you can customize this option with as many openings as you like and have them cut to your exact size and specifications. Plus, you have the flexibility to order any mat board in our product line as a multi-opening arrangement, including your preferred color, type and thickness.
Alternately, you could opt for a gallery display of summer vacation photos, each framed separately and hung together in a cohesive way. A gallery wall can be simple and unified, or ornate and diverse. For a more formal display, matching frames can be hung symmetrically, whereas a more casual one might juxtapose frames of different styles and sizes in an organic configuration. If you use varying frames, consider choosing ones within a specific color palette and include some repeating sizes to create cohesion.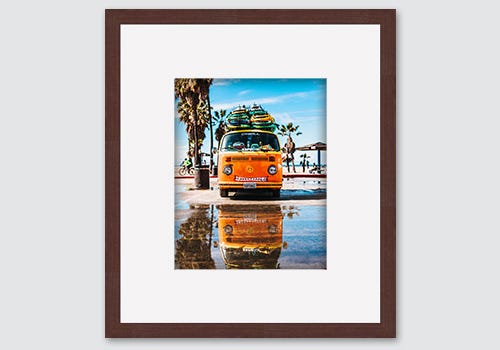 You don't have to travel far to enjoy summer. Some of the best memories can be made close to home at a local park or lake.
Feature the Summer Staycation
Some of the best summer memories happen right at home, and you don't want to miss an opportunity to preserve and display these moments for years to come. Consider creating a collage or photo gallery highlighting all of your fun summer activities—from swim dates, scavenger hunts and lemonade stands to picnics, playground visits, summer camps and music concerts!
For special events, think about framing a piece that combines lively photographs with interesting memorabilia like a concert poster or event ticket. This is a fun way to display and remember treasured moments from your summer agenda, and it can even be given as a heartfelt gift to a special someone who attended the event.
In the end, it's all about capturing any summer memory that makes you happy. And not every display has to be a big or collective one. You can easily create a smaller display for a work desk or other area. Consider using easel mates to help secure these smaller arrangements of framed photos.
After posting your share-worthy summer vacation shots to social media, use our website to easily print and frame them. You can upload digital images directly from your computer, Google Drive, Instagram or Facebook, and shop our array of framing treatments. Then receive your prints custom sized, custom framed and ready to hang for your enjoyment.