Magical Metal: Our Fusion Frames Collection
Metal picture frames are immensely popular with those with a vested interest in presenting and protecting art in the very best way: artists, gallery owners, and museum curators.
Why?
Because metal frames are affordable.
They're conservation quality.
They're lightweight, yes…
…but strong and sturdy.
Metal frames are easy to assemble.
Versatile.
And, they look great.
We carry aluminum picture frames made entirely in America of 100% recyclable aluminum. They're earth-friendly and, dare we say, gorgeous.
We're particularly fond of our Fusion Collection of custom picture frames, made by Nielsen®. They're the embodiment of simple sophistication. Featuring a contemporary melding of flat and angled surfaces, Fusion creates a beautiful outline, and their sloped inner face guides the viewer's eye toward the art.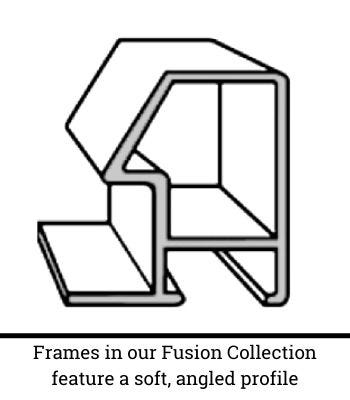 The clean definition of this profile forms an exceptional surround for photography, modern art, and more. And thanks to the inherent strength of aluminum, Fusion is ideally suited to serve as sizable metal poster frames, and for oversized art, heavy materials, and mirrors.
The Fusion collection includes an attractive assortment of neutral, design-friendly colors. They're all right at home in any home. See the entire Fusion collection of metal frames here.