Fresh Shades & Style: Introducing New Finishes for Nielsen 93 Frames
Featuring clean edges and a slender face, the Nielsen 93 Profile showcases unique textured finishes that add sophistication and dramatic impact to art and photography. Most recently, the profile has received an upgrade of four new color finishes from Nielsen's Tuscan Linen collection. Let's take a closer look at the newest additions, all proudly offered by American Frame.
Meet the Newest Arrivals
Nielsen's Tuscan Linen collection comprises beautifully sophisticated metal frames with an embossed finish that surprises and captivates the eye. Pairing the sleek lines of aluminum with the softened visual of a fine fabric, this stylish collection provides a comprehensive design palette for the most sophisticated framing.
As part of our Standard Plus Two Nielsen 93 collection, American Frame has carried aluminum frames from Nielsen's Tuscan Linen collection in shades of silver, black and amber. The four newest additions to this line have expanded our selections to include:
Pewter Linen
A clean light gray with the luster of softly buffed silver.
Caramel Linen
A rich and contemporary take on brown with undertones of aged bronze.
Slate Linen
A deep gunmetal gray uplifted by the linen aesthetic.
Raw Steel Linen
A cool industrial finish warmed by the sophistication of linen embossing.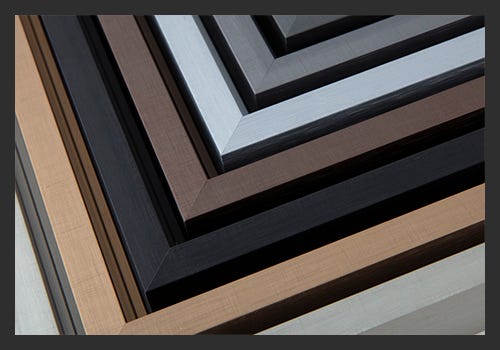 Nielsen 93 Tuscan Linen finishes add a subtle, elegant layer of texture.
Each of these four selections features a linen finish with a cross-hatched texture embossed on the front—infusing a layer of texture to the frame's design that is both subtle and elegant.
"Linen is a very timely finish," explains Nielsen, "and the neutral palette of three grays and one brown fit right into the 'earthy' color trend, translated onto metal."
More on Nielsen 93
The aluminum frames comprising Nielsen's Profile 93 are characterized by clean edges and a slender face, which translate to a contemporary, minimalist aesthetic. This is a look that's a bit more difficult to achieve with wood.
Profile 93 is particularly appealing for the presentation of photography and modern art. These frames can also be used inside wood mouldings to provide enhanced structural support, and as a "pinstripe" for larger images.
Now available in seven different varieties of linen finishes, American Frame's assortment of Nielsen Profile 93 products support subtly unique and sophisticated framing designs. And as with all American Frame options, selections from the Nielsen Profile 93 line can be cut to within 1/16 of an inch, thanks to our PrecisionCut™ technology.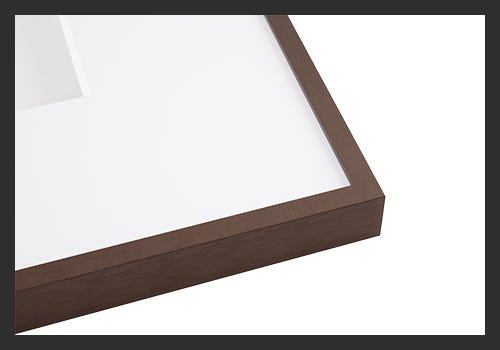 Metal frames are sophisticated high-quality options for your art and photography.
Nielsen, the Number One in Metal
Custom metal frames are some of the sleekest, most sophisticated and highest-quality options for your art and photography—and there is certainly a top choice in this arena. The Nielsen® brand, which invented the classic "gallery" frame, is the leading manufacturer of metal mouldings worldwide and has been making frames for over 50 years.
The manufacturing of Nielsen metal frames includes an anodization process that makes them highly durable and mar-resistant. A unique electrostatic paint system applies multiple coats to each frame. This means that coverage is exceptional, as is resistance to scratches and scuffs. These frames are made entirely in America, all from 100% recyclable aluminum, which also makes them earth-friendly.
Check out the newest additions to American Frame's selection of Nielsen Profile 93 frames to see the combination of rich colors and embossed finishes for yourself. Order free samples (with small shipping fee) to explore how these offerings may perfectly complement your next framing project.