Celebrating Our 2022 Featured Artists
Each and every day, we're inspired by the artists that make up this amazing community. It's one of the reasons we're so passionate about bridging the gap between inspiration and finished work for professionals, hobbyists and aficionados around the world. This year, we had the pleasure of learning from several featured artists and hearing about their personal experiences. We welcome you to look back on the stories and wisdom they shared with us over the course of 2022.
Al Navarre
Al Navarre has been a premier designer as well as branding and marketing specialist in Toledo, OH, for over 50 years. Since 1972, he has been an industry leader, and his work has impacted design and branding worldwide. Today, he also works as a professional artist in the mixed media arena.
Throughout Al's career, he has been involved with the fine arts (e.g., painting, paper making, jewelry and more) and has always enjoyed painting as a release from the more strategic and regimented business of design and marketing. When the pandemic hit in 2020, he decided to make fine art a full-time business.
Read more about Al and his work here.
Piggy, Mixed Media by Al Navarre
Cynthia Pierson
Artist and instructor Cynthia Pierson enjoys painting in watercolor but absolutely loves working in pastel. Without any brushes or instruments between herself and the color—just a stick of pure pigment—she feels a sense of exhilaration from this art form. When she comes to the end of a work, adds her signature and installs the piece, she hopes she has been able to take the viewer inside the painting, to make them wonder.
Cynthia attended John Herron School of Art in Indianapolis, and worked as an art director and illustrator for several national children's magazines. She has designed theater sets and theatrical costumes, as well as painted murals and commissioned portrait work. Many of her works are in private collections.
Read more about Cynthia and her work here.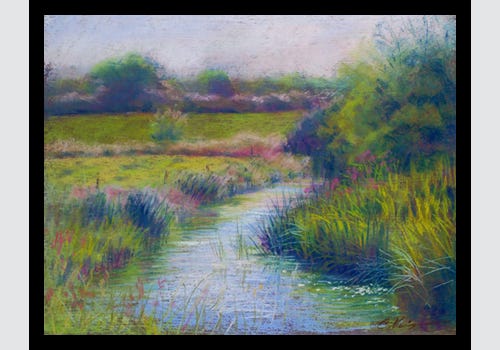 Morning Mist, by Cynthia Pierson
Dave Frieder
Dave Frieder has been photographing New York's bridges since 1993, combining precision with art to represent his long-time fascination with these engineering marvels. He has learned that in order to be able to capture a subject on film, paper or canvas, one must understand their subject fully. For Dave, being able to "Feel The Steel" was a way of understanding how and why bridges work and function.
Involved with photography since the age of seven, Dave started off with a Kodak Brownie, experimented with early box cameras, and eventually bought his own 35mm.
Read more about Dave and his photography here.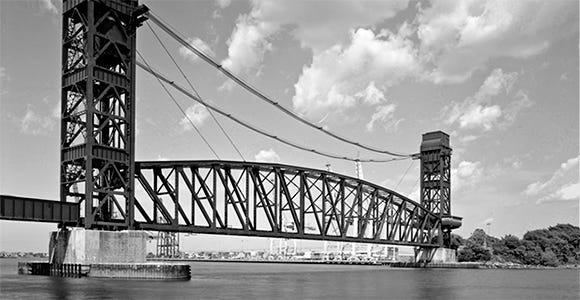 Arthur Kill Lift Bridge, Photographed by Dave Frieder
Full View Closed Position 2011
Claude Larson
Claude Larson is a fiber, acrylic and mixed media artist. For over two decades, she has been working with—and producing her own—textiles and papers using paint, dye and various forms of surface design, all from her New Jersey studio. Some of her favorite techniques include collage and layering of materials. She is primarily self-taught and creates intuitively, making one decision at a time in order to move her work forward.
Claude's work is predominantly abstract and non-representational, and her love of vibrant colors and visual elements is evident. Her artwork is inspired by nature and reflects everything from the weather and season to events that create the ebb and flow of life.
Read more about Claude and her work here.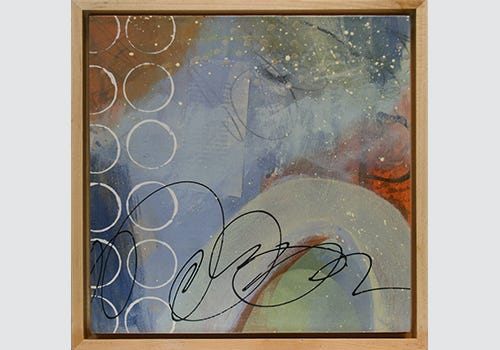 Blue Mesa Trail, by Claude Larson
Abstract painting inspired by Arizona's Petrified Forest
Elaine Mickel
"A work of art is as inexplicable to me as a working relationship. How it came to be is a mystery to me, but I enjoy its presence. The process of work is a stimulating conversation between me and what occurs on the drawing surface. There is no chatter—attention and involvement are paramount. I control the process, but I do not direct it. I must leave myself open to the voice." - Elaine Mickel
Laura and Dana, second-generation owners of American Frame sat down with their mom, Elaine Mickel—artist, teacher, former gallery director and co-founder of ASF Sales (later to become the company we are today, American Frame)—to talk about her life in the arts.
Read more about Elaine and her work here.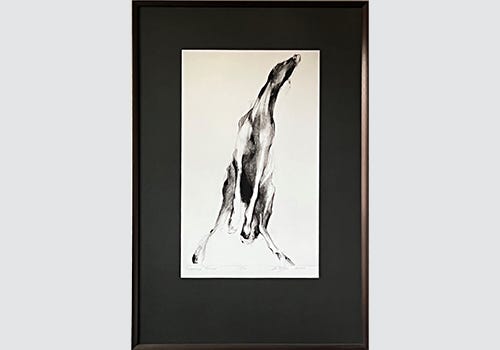 Rearing Horse, Charcoal by Elaine Mickel
Jessica Mia Vito
Jessica Mia Vito is an emerging artist specializing in both traditional and contemporary approaches to oil painting and drawing. Originally from the Cleveland, OH, area, she knew from a very young age that she wanted to be an artist.
Jessica completed her Bachelor of Fine Arts degree at Bowling Green State University in Bowling Green, OH, with a major in 2-D painting and drawing, as well as a minor in fine arts instruction. She went on to attend Southern Illinois University Carbondale, where she received her Master of Fine Arts degree in painting and drawing.
Read more about Jessica and her work here.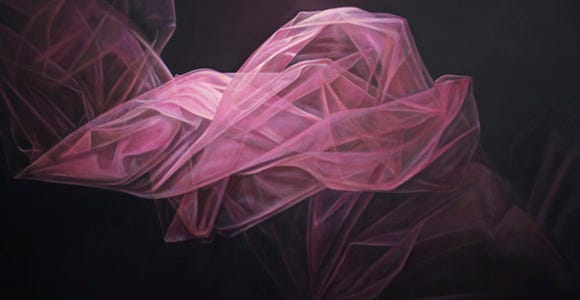 Reverie, Oil on canvas by Jessica Mia Vito
Debra Buchanan
Accomplished artist Debra Buchanan infuses keen observational skill, attention to detail and compositional acumen into her work. Whether she's wielding oils, pastels, graphite or charcoal, she works to garner aesthetic ingenuity and exquisite rendering. Mastering old-world techniques and ardently carrying on the still life and portrait traditions established by seventeenth-century masters, she imbues her own modern spin and propels her work into the contemporary realm of design sensibility.
Debra was born and raised in East Toledo, where she resides today. It is here, on the "wrong side of the river," where she established her understanding of community. Her first exposure to arts and crafts manifested at The Neighborhood House, now the East Toledo Family Center, where she and her siblings spent entire summers as children—from painting ceramics to weaving boondoggles.
Read more about Debra and her work here.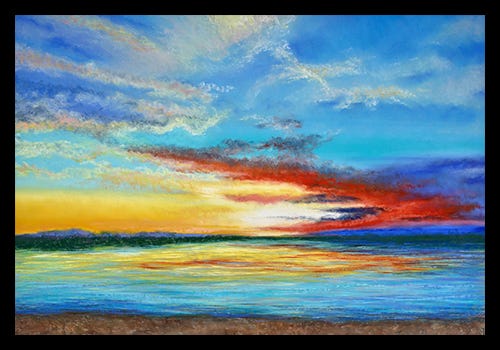 Lake Erie Sunrise, Pastel by Debra Buchanan