Artist Profile: Al Navarre
Al Navarre has been a premier designer as well as branding and marketing specialist in Toledo, OH, for over 50 years. Since 1972, he has been an industry leader, and his work has impacted design and branding worldwide. Today, he also works as a professional artist in the mixed media arena.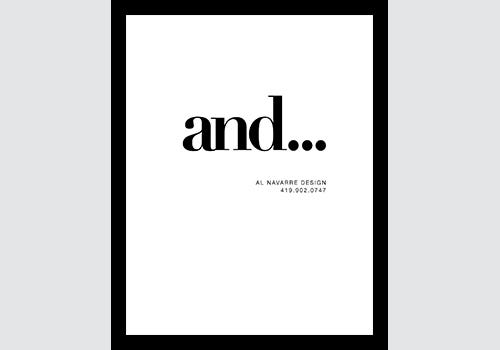 AND logo
In the early 80s, Al formed the Lesniewicz/Navarre marketing communications and branding firm, where he served as President and driving force of the company for 16 years. Since then, he has also founded and operated his own boutique design and consulting firm, served as Vice President of Marketing for a promotional merchandise firm (where he aided in growing it to the second largest promotional products company in the nation) and helped establish two other promotional product companies. He established and still operates Al Navarre Design—a design, branding, marketing and promotional company and consulting firm. He has been featured in a number of industry magazines, recognized and awarded by Art Directors Clubs in New York, Los Angeles and Chicago, and judged design shows and annual competitions across the nation.
Throughout Al's career, he has been involved with the fine arts (e.g., painting, paper making, jewelry and more) and has always enjoyed painting as a release from the more strategic and regimented business of design and marketing. When the pandemic hit in 2020, he decided to make fine art a full-time business. At 72 years old, he very much enjoys working as a professional artist. He continues to take on design projects as Al Navarre Design, but on a very selective basis—choosing projects he finds interesting, challenging or lucrative.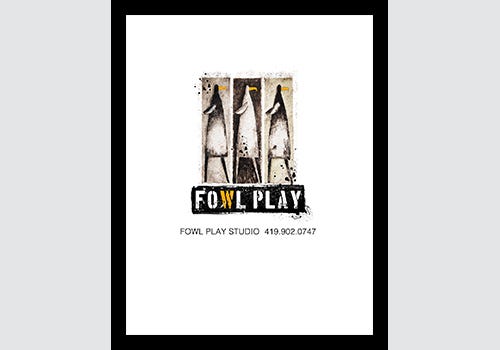 Fowl Play Studio logo
American Frame connected with Al Navarre to find out more about his career, inspiration and thoughts. Our insider Q&A provides a closer look at Al's work, artistic approach and personal insights.
Q: What is your genre?
A: If asking whether I work in a specific category (such as flowers or portraits or wheat fields), that's not how I create. I develop concepts or strategies or ideas. These come in all forms. Subject matter is not on my radar. I visualize my artwork. So I see my work finished before I even pick up a pencil or brush. When I begin a painting, it is already complete to the smallest detail. I simply have to transfer what I see in my mind to the work surface. The concept is the most important thing.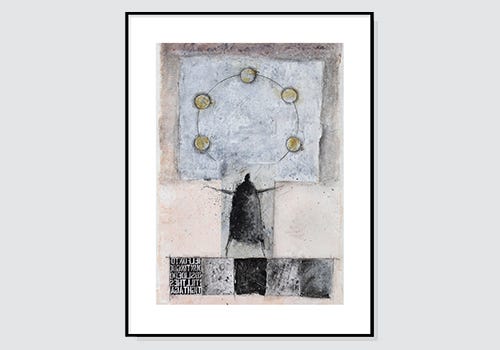 The Juggler - Mixed Media
While not really a genre, there are recurring elements in most of my work. Since I was a young designer, I loved typography. And I am in awe of the pros of the 60s and 70s—guys like Herb Lubalin, Tom Carnase, Mo Lebowicz—who were masters at hand lettering and letter forms and ligatures. These guys made typography a thing of beauty, an art form in itself. Today, I still love good typography and practice good typography in whatever I'm designing. Consequently, you will see letter forms and typography used as an element or elements to some degree in almost all of my paintings.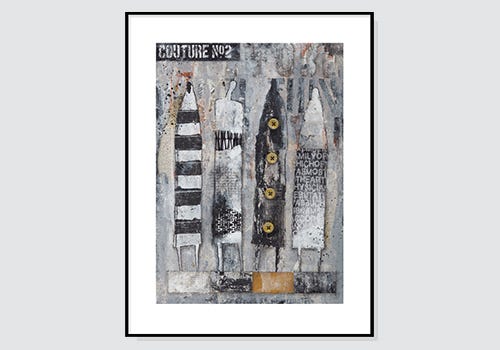 Couture No. 2 - Mixed Media
Q: What is your medium?
A: I suppose it is best described as mixed media. I use anything and everything that is required to transfer my vision to paper. That includes acrylics, watercolors, charcoal, pencil and powder, spray enamel paint, latex house paint, glue, gauche, etc. I have even, on occasion, used beet juice, mustard and tea to achieve the color or hue that I needed. And I use a variety of tools and instruments to apply the medium and/or manipulate the surface: foam brushes, paint rollers, scrapers, palette knives, paper towels, sand paper, sponges and more.
My process begins with 22″ x 30″ acid-free Canson Edition paper. I always work on the same size paper. I tape off my live area so the finished size of my paintings is always 20¼″ x 28¾″. I then prepare the surface with a special gesso that contains dry wall compound mix, sand, glue and more. I alter the amounts of the ingredients to achieve the surface texture I need for the piece I am going to create. Once the surface is dry, the fun can begin.
Q: Is your art your occupation or a hobby?
A: Fine art has become an occupation. My time is divided between Fowl Play Studio and Al Navarre Design.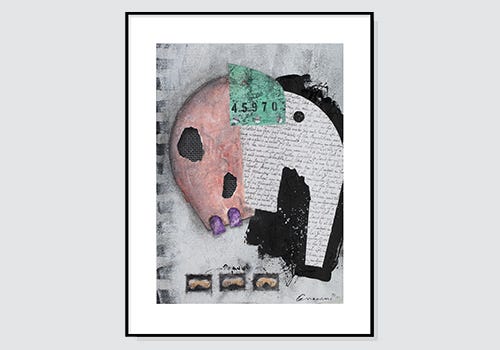 Matilda - Mixed Media
Q: How do you make time to create?
A: As stated, design and fine art are my business, and that requires a routine. My day begins at about 5:00am. After I make coffee, I am at the board—designing or painting. I usually stop at noon to take an hour nap, then back to work until around 5:00. Often I work in the evenings, depending on my energy level.
Q: Who is your biggest influence as an artist?
A: At a time in 2020 when my future was not clear, two people encouraged me to pursue fine art. One is a dear, lifelong friend who is also a great designer and very good artist in Columbus, OH. I envy Bill Meyer, who has a successful design firm and also has a successful fine arts career. I was looking for counsel from Bill, and what he said to me was, "Pick up the brush." The other individual who influenced my decision is my brother Garry, who for as many years as I can remember, kept pushing me to paint. These two individuals convinced me that I had enough talent to produce desirable art. Any success I have as a fine artist, I owe to them.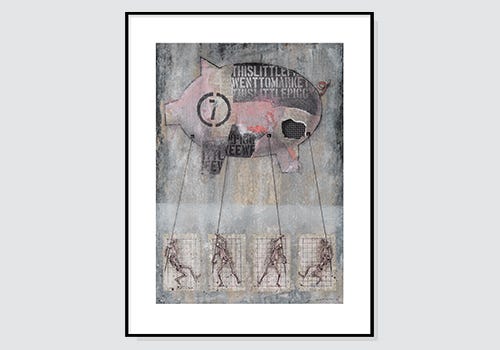 Piggy - Mixed Media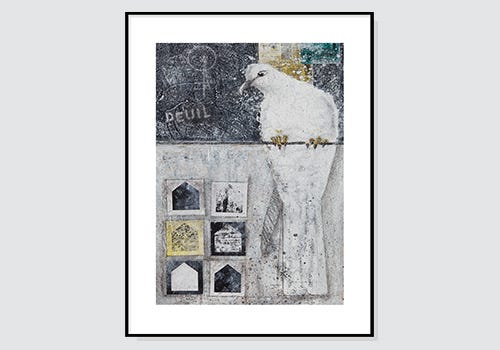 The Dove - Mixed Media
Q: If you could meet any artist in the history of the world, who would that be and why?
A: Without question: Jean-Michel Basquiat. He really could not draw and had limited design sense. But he painted life spontaneously and effortlessly. His work was raw and electric. You could feel his passion. There appears to be very little pre-planning. The images just seem to move from his brain to his hand to the painting surface. I wonder what that feels like.
Q: What is your biggest challenge as an artist?
A: My biggest challenge is to not over-design my paintings. As a Bauhaus designer, I tend to adhere to these principles. This is sometimes very restrictive. I need more spontaneity and less rules.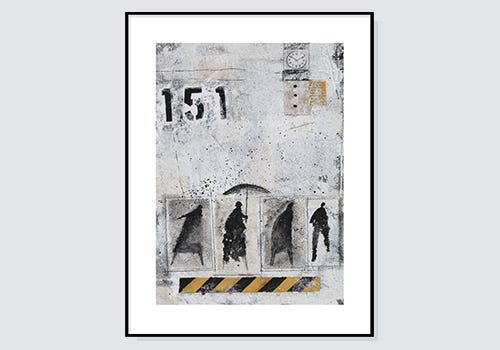 The Bus Stop - Mixed Media
Q: How do you break through creative blocks?
A: That's an oxymoron. I never have blocks. My problem is having more concepts than time. I always have four or five paintings on my board. If I am unsure about any aspect of the painting I'm working on, I move to another painting. Usually, when I get back to the painting in question, the solution is obvious.
Q: What are you most proud of?
A: I have been a design professional and fine artist for over half of a century. In that period, I have designed, created or produced a very large body of work. I will tell you that of the thousands and thousands of projects I have produced, I can honestly say I have never created the perfect piece. At the end of the day, there is always something I would change or do differently. However, if you could review the body of work I have produced in 50 years, I think you might agree that I have created a tremendous volume of pretty good pieces. I am most proud of what I have accomplished. (I'm not dead yet. I still have more to do.)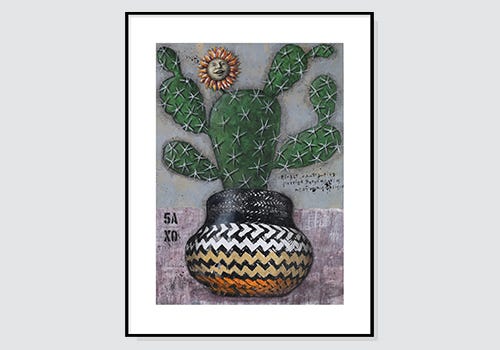 Cactus Flower - Mixed Media
Q: How did you discover American Frame?
A: Not sure, but I can tell you I have been buying their kits and frames for a very long time to frame my posters and a variety of art.
Q: What do you love about working with our team?
A: I work exclusively with Craig Hagenbuch, Senior Manager, Sales and Service. Craig has become a very valuable partner and an important asset. He has provided counsel and advice on frame selection, as well as ideas and concepts for matting and presentation. He is very good at keeping me updated on new products and services.
Also, Craig has been instrumental in helping me establish a process for producing high-quality gicleé prints and storing all the color profiles for my paintings on the American Frame website. Now, whenever I need a gicleé print, I simply order it on the site.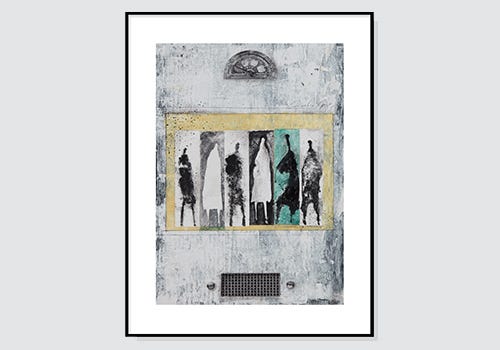 The Lift - Mixed Media
In addition, Craig has worked with me to create an Al Navarre frame kit. Since all my paintings are one size, the frame size and matte opening are consistent. Clients that buy an unframed original or gicleé print from me receive a data sheet that conveys my thoughts on framing and offers my frame of choice in a package (side rails, top rail, bottom rail, acrylic sheet, backing board, pre-cut mat board and hardware) for a set price. My clients can simply call Craig and order their kit, which Craig is happy to ship anywhere for an additional shipping charge.
Q: What is your favorite frame that we carry?
A: For me, less is more. I prefer the simple black metal frame (either gloss or flat) with a small profile in the canvas width and a 4″ bright white mat. Lately, Craig and I have been trying the AF206 Light Maple frame. We are pedestal-mounting a gicleé print on a bright white mat and using ¼″ spacers to give a slight shadow box effect so the print appears to be floating.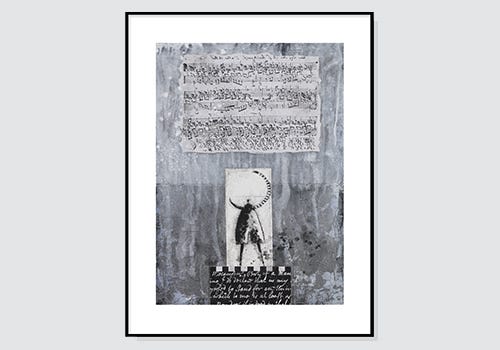 The Maestro - Mixed Media
Q: What piece of advice would you give to artists reading your story today?
A: I want to say don't take advice from a guy like me. Everyone is different. Find yourself. If you have a passion and you think you have something to offer, then keep creating. If nothing else, it's good for the soul!
To follow Al Navarre's work, go to alnavarre_fowlplaystudio on Instagram, or you can contact him at 1.419.902.0747.