Artist Profile: Claude Larson
Claude Larson is a fiber, acrylic and mixed media artist. For over two decades, she has been working with—and producing her own—textiles and papers using paint, dye and various forms of surface design, all from her New Jersey studio. Some of her favorite techniques include collage and layering of materials. She is primarily self-taught and creates intuitively, making one decision at a time in order to move her work forward.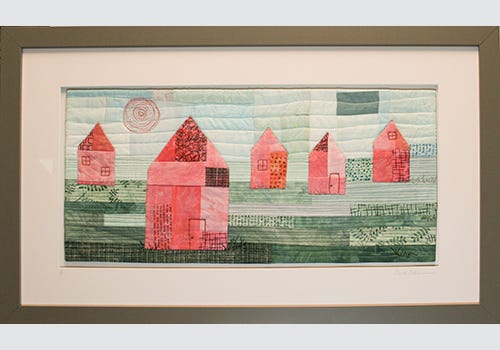 Little Pink Houses 5
Hand-dyed fiber work whose proceeds benefit children who are struggliing with trauma
Claude's work is predominantly abstract and non-representational, and her love of vibrant colors and visual elements is evident. Her artwork is inspired by nature and reflects everything from the weather and season to events that create the ebb and flow of life. Her pieces have a deliberate, quiet complexity that encourages the viewer to lean in and see the details as well as stand back to see the big picture.
American Frame connected with Claude Larson to find out more about her career, inspiration and thoughts. Our insider Q&A provides a closer look at Claude's work, artistic approach and personal insights.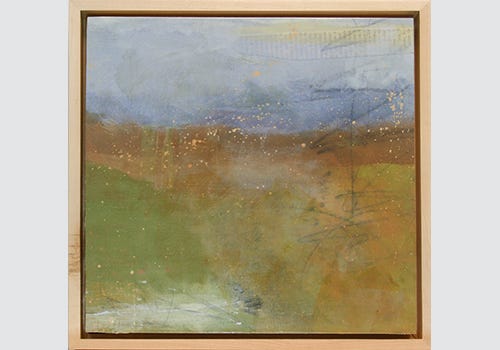 The Rim Trail
Abstract painting inspired by Arizona's Petrified Forest
Q: What is your genre?
A: Non-representational, abstract.
Q: What is your medium?
A: Textiles, acrylic paint and mediums, and collage.
Q: Is your art your occupation or a hobby?
A: Art used to be a hobby alongside my full-time job as a science teacher, but now it is a more serious practice. I commit several hours a day, several days a week to creating.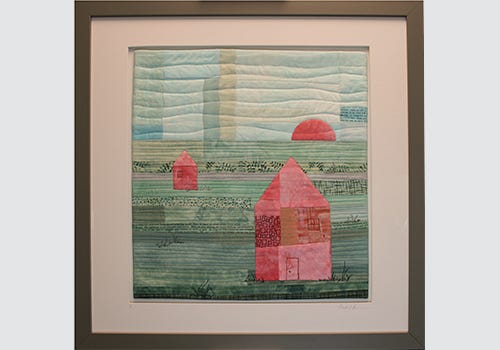 Little Pink Houses 4
Hand-dyed fiber work whose proceeds benefit children who are struggling with trauma
Q: How do you make time to create?
A: I am very lucky to have left full-time employment and gone into business making art and being an author. I have the option of making my own schedule. Even when I worked for someone else full-time, I carved out time by reducing the amount of time I watched TV or did non-essential things. I created systems to complete my essential tasks, which allowed more time for my creative endeavors.
Q: Who is your biggest influence as an artist?
A: My greatest influence comes from the natural world. If I had to pick a favorite artist, I would say Vincent Van Gogh. His impressionistic landscapes and vibrant colors are very inspiring.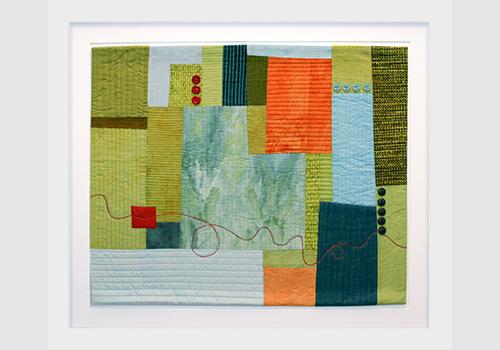 Cartwheels on the Lawn
Fiber work inspired by the joyful colors of childhood
Q: If you could meet any artist in the history of the world, who would that be and why?
A: I would like to meet David Hockney. He has continued to evolve throughout his career. His fearless approach to making big art, using technology and embracing nature no matter the weather is so inspiring to me. I want to evolve my art for as long as I make it, and I'd love to have a conversation with him about his 5+ decades-long journey.
Q: What is your biggest challenge as an artist?
A: My biggest challenge is avoiding and limiting interruptions to my workflow. Once people know you make your own schedule, they tend to think that you have more time. You don't get more time than anyone else, so you just have to protect your creative hours. I also put my phone on silent or "do not disturb" because that can take my attention away from creating.
Q: How do you break through creative blocks?
A: I check the Big 3 creative tools: Sleep, Clean Eating and Movement. I think it's a myth that artists are partying in order to sustain their creativity. If I'm procrastinating, I set a timer for 20 minutes and go clean or organize things in my studio. Once I clear off a table or design wall, there's space for the creativity to appear.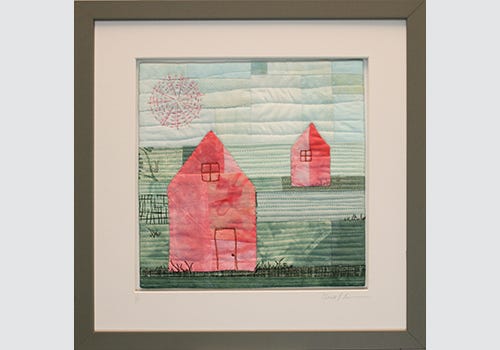 Little Pink Houses 3
Hand-dyed fober work whose proceeds benefit children who are struggling with trauma
Q: What are you most proud of?
A: I am most proud of how far I have come in my artist journey. When I started decades ago, I made some pieces that were pretty undeveloped. Now I work in layers, and I have a lot more knowledge and skills that I can lean into to create much better work. The longer I work at creating art, the more I realize that this is a never-ending journey. I never seem to run out of ideas, which is why I protect my creative time as much as possible and keep my health in good order.
Q: How did you discover American Frame?
A: I started out making art quilts, and people liked them but weren't sure how to display them or were worried because they weren't protected by a frame and glass. So, I figured out how I could display the quilts in frames, and presto—people started buying my work. Because my work was rarely standard size, I needed custom frames. I tried a few companies, but I come back to American Frame exclusively now.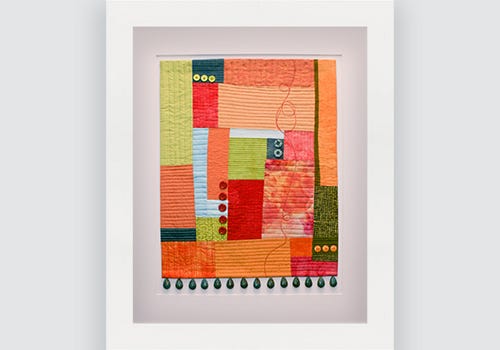 Summer Rain
Fiber work inspired by the joyful colors of childhood
Q: What do you love about working with our team?
A: What I love about your company is that you can upload your artwork and see what it will look like in each frame you carry, as well as customize the mat, frame and artwork size. I also love the frames themselves. They arrive with exceptional precision, and the packaging is outstanding.
Q: What is your favorite frame that we carry?
A: I love your matte grey wood frames. I use them a lot, and also your matte finish black frames. I make contemporary pieces, and the clean edge and matte finish help bring the artwork forward. Your team assembles them so precisely; they really highlight the work.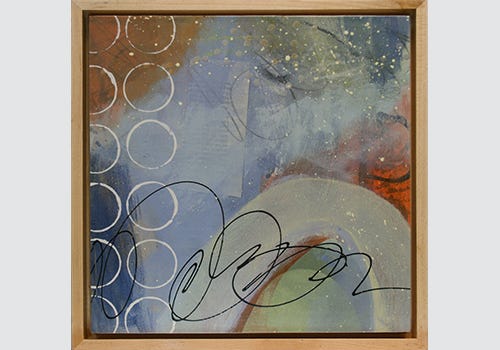 Blue Mesa Trail
Abstract painting inspired by Arizona's Petrified Forest
Q: What piece of advice would you give to artists reading your story today?
A: Begin. Don't wait to be good or for perfect conditions—they don't exist. Make art that makes you feel happy while you are in the process of creating it. Then, learn how to make it better and better. People will notice, and when they are ready to buy it, there will be two happy people: the buyer and you.
To see more of Claude Larson's work, visit ClaudeLarsonArt.com, follow @claudeblarson on Instagram, check out Claude Larson on Facebook, or head to The ARTery Gallery in Milford, PA.