Artist Profile: Jessica Mia Vito
Jessica Mia Vito is an emerging artist specializing in both traditional and contemporary approaches to oil painting and drawing. Originally from the Cleveland, OH, area, she knew from a very young age that she wanted to be an artist.
Jessica completed her Bachelor of Fine Arts degree at Bowling Green State University in Bowling Green, OH, with a major in 2-D painting and drawing, as well as a minor in fine arts instruction. She went on to attend Southern Illinois University Carbondale, where she received her Master of Fine Arts degree in painting and drawing.
At Bowling Green State University, Jessica studied under Dennis Wojtkiewicz and later became his studio assistant. She has also studied with Alyssa Monks at the New York Academy of Art in New York, and with Gregory Pelizzari at the Atelier Neo Medici in Villeneuve-sur-Lot, France.
Jessica has taught as an adjunct professor of painting at Bowling Green State University, and as an adjunct professor of drawing at the College for Creative Studies in Detroit, MI. She currently resides in Michigan with her husband, Cody, and her cat, Phantom.
Some of her recent exhibitions include:
2022 TFAS 100+5 Juried Regional Exhibition, University of Toledo, Department of Art, Toledo, OH
2021 ICADE "Ask Our Diverse World," Tsinghua University, Beijing, China
2021 92nd Michigan Contemporary Art Exhibition, Muskegon Museum of Art, Muskegon, MI
2021 Disrupted Realism, Buckham Gallery, Flint, MI
2020 MASTERPIECES, Manifest Gallery, Cincinnati, OH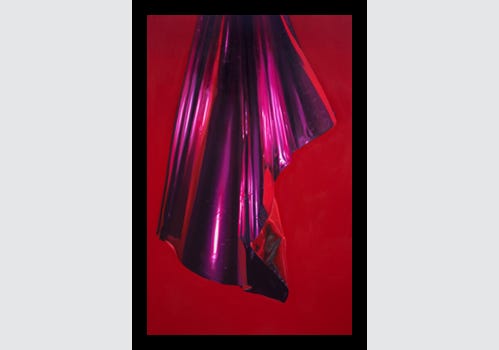 Desire, oil on canvas
Jessica also happens to be one of our talented team members at American Frame, and she has shared some insights about her career, inspiration and thoughts as an artist. Our insider Q&A provides a closer look at Jessica's work, artistic approach and personal experiences.
Q: What is your genre?
A: Representational (Realistic) imagery with abstract compositional themes, such as emotion and movement.
Q: What is your medium?
A: Oil paint is my main medium. However, I have been working in pan pastel drawings lately.
Q: Is your art your occupation or a hobby?
A: I am a professional artist outside of teaching and working for American Frame.
Q: How do you make time to create?
A: I take off one day a week to work in my studio. You must actually schedule time to work. Otherwise, it will never happen.
Q: Who is your biggest influence as an artist?
A: It's too hard to choose just one influence, so I will list a few! For art history, I am influenced by Mark Rothko, Franz Kline, Eugène Delacroix, Roy Lichtenstein and Sol LeWitt. I am also influenced by living artists like Alyssa Monks, Gregory Pelizzari, Dennis Wojtkiewicz and Kehinde Wiley. This list is by no means an exhaustive one. I have artist peers that influence me as well.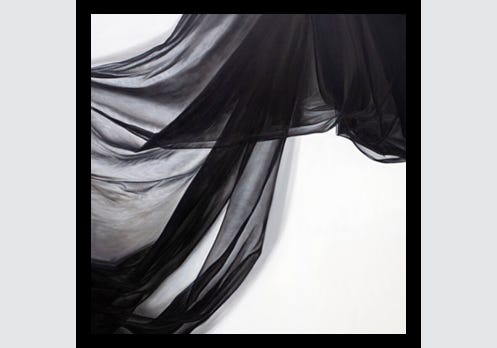 Exhume, Resume, oil on canvas
Q: If you could meet any artist in the history of the world, who would that be, and why?
A: The artist I would love to meet is, of course, Mark Rothko. His color theory experimentation and his implementation of color to engulf the viewer in emotion is so inspiring. I always say that I want my paintings to function almost like an installation that gives the viewer a relatable experience.
Q: What is your biggest challenge as an artist?
A: My biggest challenge as an artist is the system. As many artists are, I am forced to juggle between making a stable income and continuing my pedagogical artistic research.
Q: How do you break through creative blocks?
A: Man, creative blocks are the worst! Sometimes they can last for a long time. My advice to conquer creative blocks is to keep making work. Even if the work is bad, there is usually at least one idea that leads you to the next, and the next after that. Those ideas eventually add up to become your next body of work.
Q: What are you most proud of?
A: I think I'm most proud of the growth and evolution that my work has taken on over time. My work is always changing because it is fueled by my emotions, which represent different times in my life.
Q: What is your favorite frame that we carry?
A: This is going to sound strange, but I don't have a favorite frame. The reason is that each piece of art is unique and therefore requires a different frame to look its best.
Q: What piece of advice would you give to artists reading your story today?
A: Follow your gut. If something feels natural, go with that. If you have any reservations or red flags, run!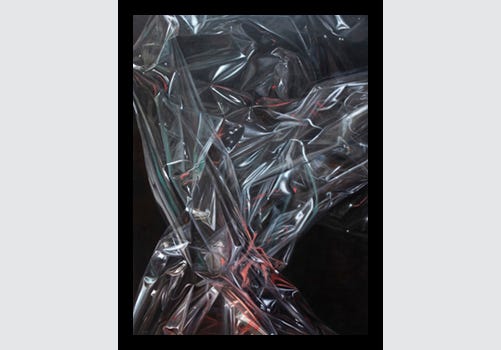 Interconnection, oil on canvas
Q: Can you share what you do at American Frame and what it means for the company?
A: I am the Showroom Attendant at American Frame. I love implementing my expertise in color theory and design with my everyday customer interactions. It's the best feeling when a customer's eyes light up because their art has become enhanced by a frame.
Q: What is your day-to-day workload like?
A: My workload at American Frame varies quite a bit. Sometimes I'm very busy in the showroom with in-person customers. Other times I am designing for customers who either sent in their art for framing or would like an Art Assistant™ to help them place their order from home.
Q: What do you want customers to know about American Frame?
A: I would like customers to know that American Frame is a family-run company that really cares about getting you the best-quality product for the best price!
To see more of Jessica Mia Vito's work, visit www.jessicamiavito.com or follow @jessicamiavito on Instagram.