Artist Profile: Debra Buchanan
Pictured above: Chuckie, 17" x 24" Pastel on 100% black rag paper
Accomplished artist Debra Buchanan infuses keen observational skill, attention to detail and compositional acumen into her work. Whether she's wielding oils, pastels, graphite or charcoal, she works to garner aesthetic ingenuity and exquisite rendering. Mastering old-world techniques and ardently carrying on the still life and portrait traditions established by seventeenth-century masters, she imbues her own modern spin and propels her work into the contemporary realm of design sensibility.
Debra was born and raised in East Toledo, where she resides today. It is here, on the "wrong side of the river," where she established her understanding of community. Her first exposure to arts and crafts manifested at The Neighborhood House, now the East Toledo Family Center, where she and her siblings spent entire summers as children—from painting ceramics to weaving boondoggles.
In the fifth grade, she was actively encouraged and supported by her teacher to pursue artistic endeavors like illustrating reposts and creating an illustrated book of poems. In high school, she had two dedicated art teachers, one of whom procured her a scholarship to the Columbus College of Art and Design. Debra pays the gesture forward by sponsoring an annual art award at the high school for one senior, encouraging them to continue creating art even if they don't pursue a career in it.
Debra earned a Master's in Education from Bowling Green State University and a B.F.A. from Columbus College of Art and Design. She also studied in Italy for a summer with renowned painter Patrick Betaudier.
Coming from a family in which storytelling was a valued form of entertainment, Debra is a lover of stories, and there's almost always a story behind her pieces. Her works have been exhibited in numerous galleries, including The Toledo Museum of Art's Collector's Corner. She's been awarded a plethora of awards nationally, regionally and locally, including:
Best of Show, Roots of Diversity Multicultural Exhibition, Toledo, Ohio
Third Award, Purchase Award and the Molly Morepeth Award for Painting at the Toledo Area Artist Exhibition, Toledo Museum of Art, Toledo, Ohio
First Place Works on Paper, 71st Annual Ohio Exhibition, Zanesville Museum of Art, Zanesville, Ohio
American Frame connected with Debra Buchanan to find out more about her career, inspiration and thoughts. Our insider Q&A provides a closer look at Debra's work, artistic approach and personal insights.
Q: What is your genre?
A: I don't like to pigeonhole my style and work; I take an eclectic, multi-faceted approach to creativity. I love to experiment and push the limits of my skills. My path of discovery in art was not a straight line, and I make no apologies for that. I believe it has made me a better artist, allowing me to think outside the box and have the freedom to experiment with a variety of materials. My first love was—and still is—drawing. While attending Columbus College of Art and Design, one of my instructors, Dennis Drummond, removed a pencil from my hand and replaced it with a stick of charcoal. I was horrified. I was going to make a mark on paper that everyone could see and judge me for. I owe him a debt of gratitude, as he (like Mr. Wheeler, my high school art teacher) recognized something in me that I failed to see in myself. I love charcoal and continue to work with it today. In my naïve teenage years, I believed the epitome of artistic achievement was to create photo realism, which I had achieved by age fourteen. I have evolved. I now create in a variety of styles and mediums. I wouldn't say my drawings and paintings are photo realism, but rather my vision of realism.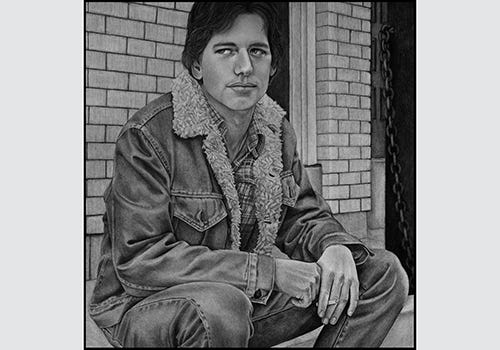 Nick on High Street, 32" x 34" Charcoal
Q: What is your medium?
A: I love to paint. Most of my paintings are painstakingly detailed, requiring tenacious dedication to complete the work. If I paint a portrait or still life that I wish to imbue with intricate detail, I use a glazing method of painting. I begin with a detailed drawing, then build a monochrome using white. Next, I umber over a metallic gold gesso support. After that, I glaze colors onto the image. There is a significant thought process involved with glazing, as it is based on the optical properties of the visual (rather than physical) mixing of colors. Using this method allows me to obtain vibrant color, much like that seen through a stained glass window. I actively seek to blend contemporary design sensibilities while mastering old-world techniques.
When I need a break from working in that style, I move to a drawing or pastel. With pastel, I can be more expressive in technique. I paint alla prina at times, which is the yin to my yang of glazing, again allowing me a more expressive approach to painting. I have transitioned through working in a variety of techniques and mediums. With each style, I have learned something about myself as an artist, exercising the muscles of my creative expressiveness. While working in handmade paper, I broke free from the constraints of ridged work. In this medium, I had limited control and learned to create with what I had. With painting, I learned to combine styles to achieve desired results and understand the difference between physically mixing color and optically mixing color. Pastels enable me freedom of expression through color and making marks on paper. In drawing—whether with graphite, charcoal or a combination of both—I return to my first love, and understanding value improves my work with color. I allow myself the freedom to paint whatever I want, not limiting myself to one style or subject.
Q: Is your art your occupation or a hobby?
A: My art started out as more of a hobby, but for the past ten years, it has been my occupation. I support myself completely as an artist. That ability comes in many forms; I don't just sit at an easel and paint. I teach classes. I use my illustrative skills to design and illustrate projects for an artist, and work as an assistant to another local artist. Finally, I sell and exhibit work.
Q: What is your creative process?
A: There is always a spark of an idea that ignites into work. I see something that strikes me and begin thinking about the image. In my mind (I have a vivid imagination), I begin to organize elements and revamp compositions and color schemes. Once I have a clear map of my vision, I begin working. I work on drafting velum or tracing paper. I rely on T-squares and triangles. I have astigmatisms in both eyes, which distorts how I see things, so working on a semi-transparent paper allows me the ability to fold a paper in half to check proportions. I can use smaller pieces with sketches and move them around a composition before placing them permanently in a drawing. Once satisfied with my drawing, I transfer that to paper or canvas (depending on what medium I'm working with) and begin. If I am working in pastels, I tape my substrate to a wall and have fun. It's almost like I'm a kid again, fingerpainting. I love it. When painting alla prima (direct painting), I just begin. I lay out shapes with a brush, using it like a pencil. I select a limited palette of color and begin mixing paints and applying them to canvas. Glazing in painting is a much longer, slower process with intense concentration on color application.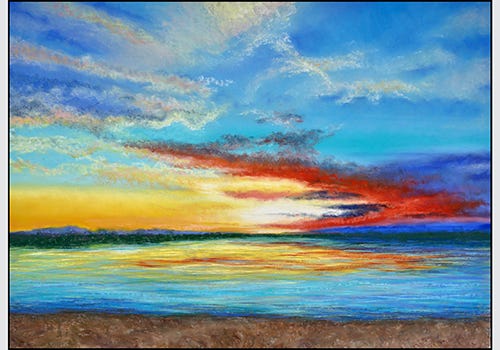 Lake Erie Sunrise, 25" x 35" Pastel
Q: Who is your biggest influence as an artist?
A: I love so many artists for a variety of reasons: Da Vinci for his fearlessness in pushing the limits, his experimentation and his lust for knowledge; Gustav Klimt for his expressive organic style and use of gold leaf; Van Gogh for his sensual, lush brushwork; Monet for his color palettes and use of light; Caravaggio for his fearless attention to human realism, not flowery, pretty pictures; Picasso for his black and white prints; Dalí for his impeccable technique. I am always researching artists and their work. I admire Max Ginsburg for his expression of daily life and use of art as a statement of the human condition; Dean Mitchell for his exquisite renderings in watercolor and ability to capture the essence of a person's soul; Takács for her painterly style and courageous dedication to women's issues; Wolf Kahn for his use of brilliant colors and graphic sensibilities. I also love the soft color palettes and visual peace in Japanese works. Honestly, I could go on and on, expounding on elements I love in individual artists' works.
Q: If you could meet any artist in the history of the world, who would that be, and why?
A: There is no way I could select one artist to meet from history; I want to meet them all.
Q: What is your biggest challenge as an artist?
A: Exposure and self-promotion are most definitely my biggest challenges.
Q: How do you break through creative blocks?
A: I can honestly say I never have creative blocks. That might be because when I tire of working on one project, I switch to another project or medium. I have ideas constantly running through my mind, and I know I will never have time to get them all done.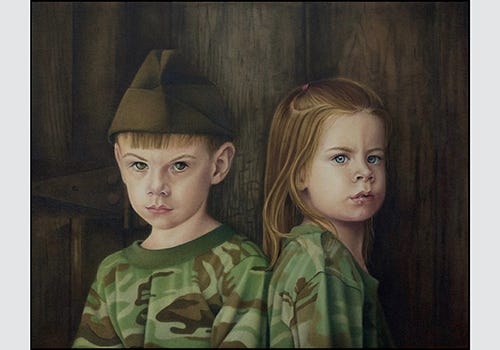 Toy Soldiers I, Oil on Belgian portrait linen
Q: What are you most proud of?
A: That's a tough question, but I am always proud when I am accepted into an exhibition or win an award because it validates my choice to be an artist. I am also proud of myself for sponsoring an art award for one high school senior each year. And lastly, I'm proud that after a long, twisting path, I am finally supporting myself with my abilities in art and don't have to work another job in order to do so.
Q: What is your favorite frame that we carry?
A: There is absolutely no way I can select one favorite frame. Every frame I choose to complement a piece of artwork is my favorite, and I select different frames for each piece of work I do. I will admit to not liking change, being technologically challenged, and was frustrated with the revamp of the website. However, the showroom employees took the time to give me a tutorial on how to use the site, and now I love it. The ability to upload my images and put them into a variety of frames prior to selecting a frame is amazing. I have been a customer for close to 30 years. I can't even remember who first recommended American Frame to me, but I am so grateful they did. I show and sell work at the Toledo Museum of Art's Collector's Corner Gallery, and all work—including framing—must always be of the highest standards. That's why I rely on American Frame, and it never disappoints.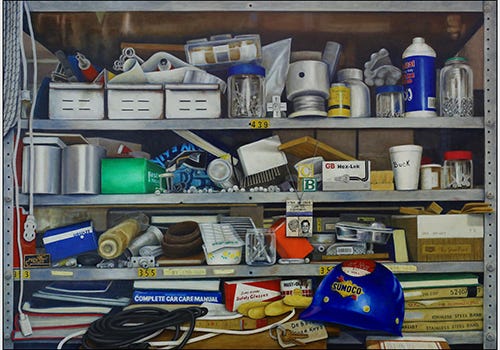 Story of a Man, Chapter 7: The Collection, 30" x 21.5" Oil
Q: Why do you choose to work with American Frame?
A: When you need and want quality, you need American Frame. There is no other option for a quality product at unbelievably reasonable rates. I educate my students about American Frame and all the available services, like photography and printing as well as framing. Your people are amazing; they are kind, helpful, professional, knowledgeable and friendly. I have come to rely on their opinions regarding framing choices. For anyone who wants quality prints, it must be American Frame. For photographing work, American Frame is the best choice, as they understand how to photograph art and specialize in professionally doing so. I am absolutely one of your biggest fans and promoters.
Q: How does American Frame help your business succeed?
A: American Frame puts the finishing touch on my work. Frames I select and purchase show my work to its best advantage. Work that's framed properly has a more professional look. It's like the last chapter of a book. A book is unfinished without a great ending, and a piece of artwork is unfinished without a professional frame to enhance it.
Q: What piece of advice would you give to artists reading your story today?
A: You must be willing to open yourself up to potential opportunities as they present themselves, ones that allow you to continue to be creative and never give up. Just keep painting.
To see more of Debra Buchanan's work and learn more about the stories behind her pieces, visit www.debra-buchanan.squarespace.com.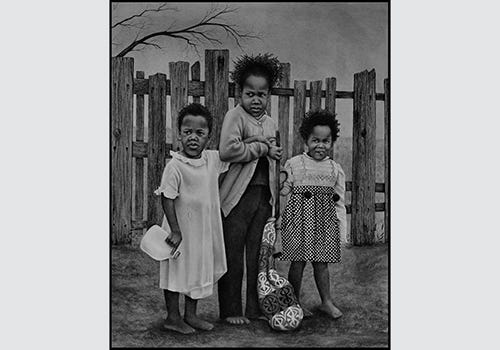 A Piece of the Way Home, 29" x 37" Charcoal