4 of the Most Meaningful Framed Gift Ideas for New Parents
Pregnancy and the process of raising a child are deeply emotional, important parts of the human experience. The old adage "it takes a village" speaks to the fact that it's the work of an entire community to provide positive interactions for children and help out when needed. This is one of the reasons we gather and give gifts to new and expecting parents.
But finding the right gifts to celebrate a baby shower or birth is no easy task. Did you know that 40 percent of all family households in the United States have children living in the home? That leaves another 60% of us who are probably clueless about what a new parent really needs for their child!
The truth is some gifts are more meaningful than others, and there's simply no substitute for a heartfelt present that captures the magic of the moment to be remembered for years to come. Some of the most precious gift ideas for this type of occasion come in the form of framed mementos.
In the spirit of celebration, following are four creative and unique gift ideas for commemorating a pregnancy, baby shower or birth. Use these helpful insights and tips to deliver the perfect present.
1. Custom-Framed Birth Announcement
Many parents proudly mail out birth announcements sharing a photo of their little one and all the need-to-know details, like full name, date and time of birth, gender, weight and length. If your gift recipients opted for a birth announcement, consider having it framed to honor such an important memory in their lives. For a truly beautiful display, use these framing tips:
Choose a framing treatment that complements the colors and style of the announcement itself.

Custom framing

gives you the most options from which to select just the right look.

Use

matting

to create a visual transition between the announcement and the frame, as well as a nice separation between the paper and the acrylic.

Note the announcement's dimensions so you can order a framing treatment tailored perfectly to the size of the paper.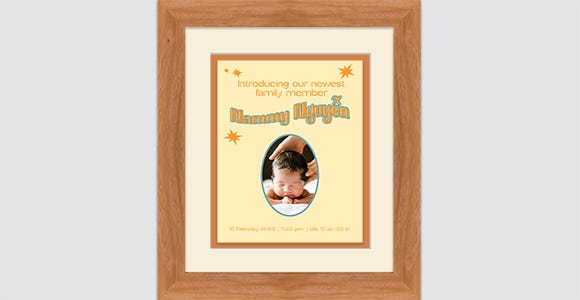 Framed baby announcements are wonderful gifts for new parents to honor an important memory in their lives.
2. Custom-Framed Newborn or Maternity Photos
It is said that one of the main purposes of maternity photos is to provide a glimpse into this special time so the child can appreciate it once they get older. And, of course, newborn photos capture those first precious moments or days in the life of the baby, including the joy felt by the new parents and siblings. For these reasons, one thoughtful gift option is a framed collection of newborn or maternity photos so they can be displayed and enjoyed for a lifetime.
An interesting and effective way to showcase more than one maternity or newborn photo in a single display is through the use of a multi-opening mat board, or a mat board that features more than one cut. You can customize this option with as many openings as you like, and size both the frame and mat board openings to the specifications of your photographs.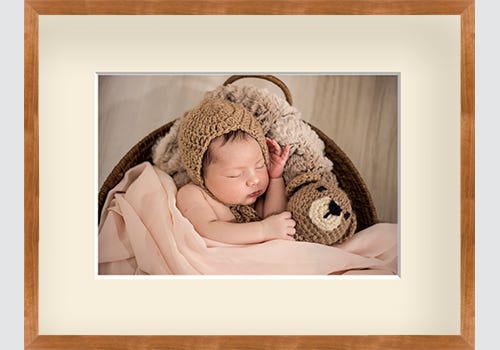 Newborn photos capture the first precious days in a child's life and can be custom framed to cherish forever.
3. Custom-Framed Baby Shower Guest Book Notes
It's relatively easy and cost-effective to set up a table at a baby shower or birth celebration with stationary and pens—a spot where family and friends can write notes and well wishes to the parents and future child. This is a golden opportunity to create a thoughtful custom-framed piece that commemorates those incredibly important and meaningful expressions of love and advice.
There are a number of ways to create this memento, from having guests write directly onto a mat board to attaching individualized notes along a series of well-placed strings that are framed in place. Let the theme of the event or the decor of the nursery guide your creative efforts for this custom-framed gift.
4. Custom-Framed Shadow Box
A shadow box is an enclosed case with an acrylic front that is typically made of wood and deep enough to display items that take up more volume than a flat photograph. Our Infinity frame collection is a favorite for shadow box displays, as its deep sizes and striking contemporary styles offer an infinite number of ways to create the look you want.
Some creative and meaningful ideas to include in a beautiful shadow box gift for a baby shower or birth include:
A baby dress or outfit

Rattles or other childhood items (shadow-boxing a family heirloom can help ensure it lasts for generations to come)

Custom family tree with photos and descriptions

Pressed flowers and mementos from the baby shower or party

Anything else worth remembering
Creative shadowbox displays could include baby's first shoes or the outfit they left the hospital in.
Ensuring Clarity & Protection for Life's Most Important Memories
Memories commemorating the birth of a child are deeply personal, which means you'll want to ensure they are fully protected from the elements. One of the most fundamental ways to do this with a custom-framed gift is by opting for the right kind of acrylic.
Tru Vue Optium Museum Acrylic is the absolute best protection and preservation option for any situation—whether you're framing an announcement, displaying a collection of photographs or shadow-boxing priceless family heirlooms. It filters out 99% of harmful UV rays and is lightweight, acid-free, shatter-resistant, anti-static and anti-reflective.
Give the new parents in your life a gift that will last for years to come by ensuring it is preserved with Tru Vue Optium Museum Acrylic.