How to Frame a Diploma: A Great Graduation Gift
At graduation ceremonies, diplomas are typically presented in leather diploma covers embossed with the school name. These covers include a protective acetate sheet to protect the diploma. Unfortunately, these materials contain potentially harmful acids that can turn the diploma paper yellow over time. Not good.
You've worked so hard for your diploma. How do you protect it for the long haul?
By presenting it in a custom frame with conservation materials, that's how. This allows you to display your achievement proudly, rather than it sitting on a shelf or in a storage box collecting dust.
Recently, we worked with a customer to frame a pair of diplomas–one for an undergraduate degree, the other for a graduate degree. The first diploma was in its leather cover case and had suffered some acid burn (see image), so we made sure to use acid-free, conservation materials in our framing process.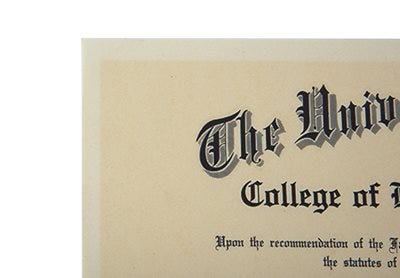 Diploma with acid burn
Since the two diplomas will be displayed together side by side on an office wall, we framed them in similar styles. For the bottom mat board (the mat that touches the paper) we chose 905-4 Black from our Peterboro Museum Collection, composed entirely of 100% virgin cotton rag and naturally acid- and lignin-free. Our middle mat is 8003 Metallic Gold from our Conservation Collection, which complements the gold seal on the diplomas nicely. This mat also features Artcare™ technology which traps any acids or gasses that the diploma's paper might still be emitting. Our top mat is 8462.6 Wheat from our Conservation 6-Ply Collection, which also features Artcare™ technology. The color of this mat board complements both tones of paper in the diplomas.
To mount the diplomas to the acid free mounting board, we used clear, archival polyester corners. They're pressure sensitive and attach easily. The diploma slides in without coming into contact with adhesive. If the diploma is printed on paper, linen tape (one of many useful picture framing supplies we carry) can also be used. If the diploma is printed on vellum or parchment paper, adhesives should be strictly avoided. We strongly recommend the polyester corners.
For the undergraduate diploma, we chose our 236350 Black Wood Frame for its subtle bevel detailing on the edges. The look is more traditional and sophisticated.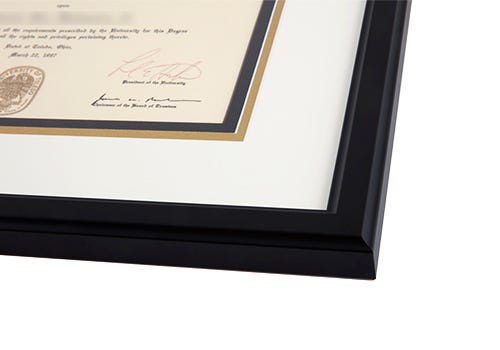 236350 Black Wood frame
For the graduate diploma, our 96604 Black Wood Frame for its similar bevel detailing and for its slightly greater scale than the undergraduate diploma's frame.
See other diploma frame options here.