How to Frame a Diploma: A Great Graduation Gift
Graduation season is upon us, and soon-to-be-grads everywhere are gearing up to celebrate their hard-earned academic milestones. If you're a loved one of the honoree, you may be seeking the perfect gift. A diploma framing treatment hits just the right note, given the beauty, sentiment and usefulness it embodies for such a momentous occasion.
Your loved one has worked hard for their diploma, so it shouldn't sit idly on a shelf or collect dust in a storage bin. The proper framing treatment enables them to display and protect their shining accomplishment for many years to come. For a truly special graduation gift, consider giving the graduate a custom frame that comprises conservation materials to present their diploma proudly and professionally.
Why Conservation Quality Matters
Diplomas are typically presented at graduation ceremonies in leather diploma covers embossed with the school name. These covers furnish the iconic aesthetic for receiving one's documented credentials, and they include an acetate sheet to help protect the diploma. Unfortunately, these materials contain potentially harmful acids that can turn the diploma paper yellow over time. Obviously, that is not a well-deserving way to preserve and display such a worthy accomplishment.
When choosing a custom diploma frame for the graduate in your life, be sure to opt for archival materials, such as conservation mat boards that are acid- and lignin-free. At American Frame, we feature mats with Bainbridge ArtCare™ Technology, which traps any acids or gasses that the diploma's paper might still be emitting. ArtCare™ products actually absorb acids and secure them away from the diploma, offering maximum protection. This is different from products simply labeled "acid free," as these offer only passive protection—meaning that although they won't contribute to the acid mix of the frame treatment, they won't resist it either.
To mount a diploma to an acid-free mounting board, we highly recommend using clear, archival polyester corners so the diploma can slide in without coming into contact with adhesive. If the diploma is printed on paper, linen tape can also be used. But especially on vellum or parchment paper, adhesives should be strictly avoided.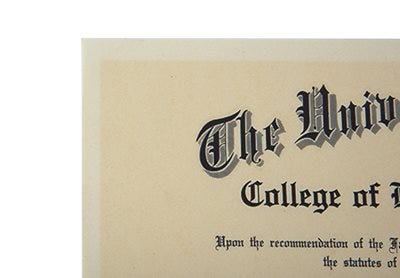 Diplomas can get acid-burn when framed in the incorrect materials.
Weighing Your Acrylic Options
Acrylic is an essential component of the diploma framing treatment, as it finishes the framed look and offers exceptional qualities. With custom framing, you have the freedom to choose from different variations of acrylic (aka plexiglass) sheets—from framer's grade and acid-free to lightweight and archival quality. Each type of acrylic comes at a different price point and features varying attributes.
Because different environments pose different challenges, it's necessary to consider where the diploma is likely to be hung. For instance, in a room with lots of sunlight and a high risk of fading, it's smart to invest in a high-grade UV acrylic glazing for maximum protection. Unlike glass, it is lightweight, acid-free, distortion-free and shatterproof. It's also porous and allows for air flow. Keeping circulation within the framing treatment is essential to slow down the acid buildup that can occur over time and negatively affect the diploma.
Valuing the Ultimate Investment
The graduate in your life has made the ultimate investment in themselves by putting in the time, work and financial resources to achieve their diploma. This seemingly simple piece of paper is a powerful symbol of all the hard work and sacrifice required to achieve their academic goal. That makes it highly valuable—and highly deserving of a framing treatment that will not only protect their diploma for years to come, but also elevate its appearance and worth as it's placed proudly on display.
So as you shop custom frames and framing options for their prized diploma, consider selections that will respect the investment they've made. Six-ply mats, metallic mat boards or double mat board treatments, for example, often complement diplomas really well.
Opt for high-quality frames and products that speak to the quality of the achievement at hand, and keep preservation at the forefront of your framing decisions. Infuse colors that highlight the school's emblematic shades, or go with classic whites, blacks and neutrals that support a professional, sophisticated aesthetic.
To start browsing American Frame's wide span of diploma framing options, check out our full collection of wood and metal selections. As always, you can get in touch with our experts for any help you may need with your diploma framing project, including design assistance, samples, instructional information and more.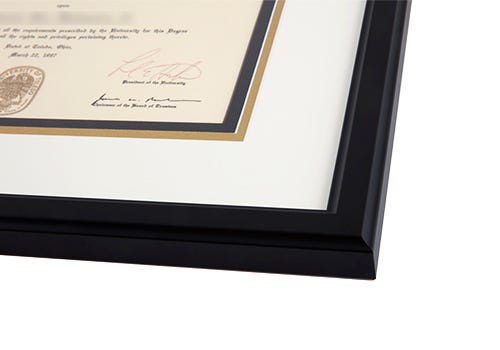 Diplomas framed with a triple mat board treatment creates a sophisticated elegance.