Meaningful Insights for Gifting Children's Art on Mothers Day
For all that moms do and all the ways they care, they certainly deserve more than an annual holiday to show how much they're appreciated. That's why Mother's Day is such an important celebration—and why personal, meaningful gifts are often the most cherished ones of all. For mothers of young children, nothing quite compares to receiving something specially made by their little ones. The gift of children's art can be as beautiful and priceless as the sentiment itself.
The real key to gifting Mom with children's art is doing it in such a way that it can be displayed and enjoyed for years to come. Often, that means capturing the essence of the child's creativity and personality by framing and preserving it with just the right treatment. For anyone considering the best way to gift children's art for Mother's Day, following are some helpful tips and ideas for a precious presentation.
Focus on the fun.
One of the most rewarding parts of being a mom is experiencing life through their child's eyes—and children have that special way of honing in on fun. The playfulness they bring to their art should not only be framed by the treatment used to display it, but also complemented and enhanced by it.
So as you look for frames and mat boards to perfectly suit the child's art, don't overlook the fun factor. Play with colors and characteristics that make this aspect of the child's art truly shine.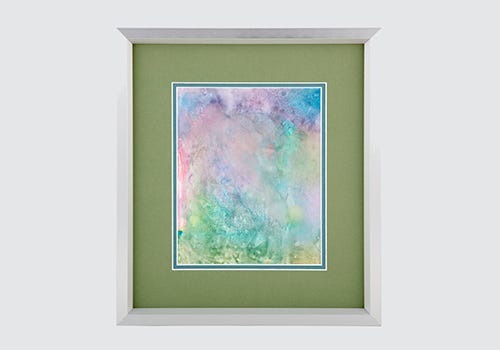 Colored mat board can enhance colorful artwork.
Watercolor, Leo age 2
Consider a gallery presentation.
Maybe there's more than one piece of children's art you think Mom would love to see on display. Or perhaps you'd like to showcase a span of artistic creations the child has cultivated through the years. Either way, you may want to consider framing multiple pieces of children's art for a gallery presentation.
For an aesthetically pleasing gallery wall, you can opt for matching picture frames that cohesively tie each work of children's art together, or choose purposefully mismatched frames that add interest and personality to the display. Whatever suits the situation, be sure to check out this helpful article with tips on effectively executing a gallery wall.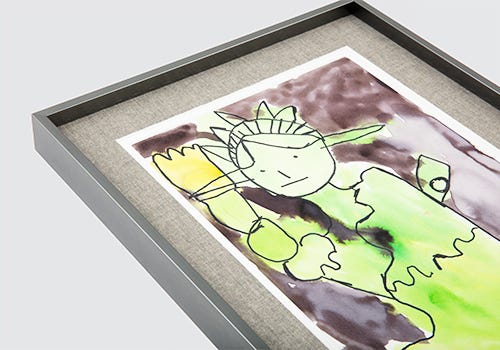 Add some texture and sophistication with a linen mat board.
Watercolor and marker, Ella age 6
Work the color palette.
Children's artwork is often defined by a celebration of color, a characteristic that should not be overlooked in the framing process. Think about applying a colored metal picture frame and/or a fun-colored mat board. Or opt for neutral shades that bring the artwork's defining color choices to the forefront. Let the colors in the artwork pop and be your guide.
When it comes to color, frames run the full gamut, supporting seemingly endless possibilities. Select from colored metal picture frames in a variety of shapes and finishes, or play with color on a dynamically shaded mat board, color core or double mat application.
Protect the art.
The gift of children's art is more than a simple gesture; it's a highly personal and meaningful token to be displayed and appreciated over time. That's why it's important to choose framing products that will protect such a precious creation over the long term. If preserving the longevity of this gift is a factor, go with frame and mat board selections that are archival in quality.
In addition, it's necessary to make sure you consider the effect of lighting and glare, and choose an acrylic accordingly. If the child's artwork will be hung in an area that's exposed to sun, you'll need an acrylic with UV protection. If it will hang on a wall with direct light shining on it, your best bet may be an anti-reflective acrylic.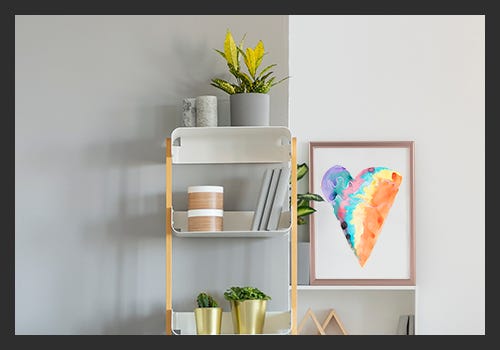 A colored metal picture frame can add a fun pop to artwork.
Watercolor, Ella age 6
Cultivate a positive sense of self.
There are few more powerful ways to make a child feel proud of their work and encouraged in their effort than by memorializing their work(s) of art. Much more than a meaningful gift for Mom, it's a true booster for the child's self-esteem.
So as you curate the ideal framing treatment for a Mother's Day gift, stay true to the child's sense of self. Let their own images, colors and choices do the talking. Consider captioning it with the name or signature of the child and their age. If the tradition continues over the years, this makes for a timeless, heartfelt display that both Mom and child are sure to cherish.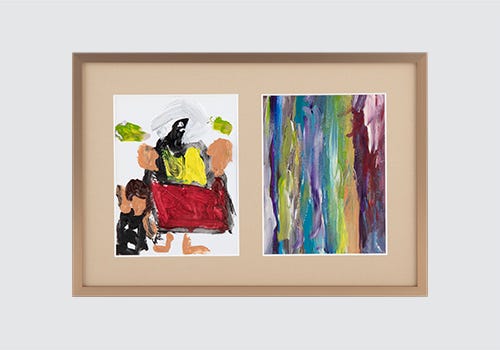 By using a multi-opening mat board, you can create a special piece that includes artwork by mother and child.
Acrylic, Ella age 6 and Dana age 32
At American Frame, we're here to help present all types of art in the best possible light. If you'd like some assistance with choosing custom framing products that will display a child's artwork beautifully for Mom, get in touch with our experts.
And to receive more valuable information on custom framing, as well as news, offers and announcements from American Frame, be sure to sign up for our newsletter.