Five Creative Ways to Commemorate Your Wedding Day
by Tru Vue
Tru Vue® manufactures high performance glass glazing and acrylic glazing products for the custom picture framing, museum and technical glass markets.
For more than a year of the pandemic, ceremony halls and event spaces were dark and quiet. Now, weddings are happening again. Typically, these big events involve at least a year of planning, right down to the smallest of details. Many brides and grooms will tell you that the ceremony happens in the blink of an eye. Creating lasting memories of this momentous occasion is important. Many newlyweds want to transform memories from their wedding into treasures they can display for a lifetime. Here are five ways to make sure your most precious images from the special day are preserved for years to come.
1. Arrange and frame your vows, Invitation, and save-the-date
From your handwritten vows to your invitations completed by a calligrapher: Each element of your wedding was planned right down to the smallest detail. What better way to remember this special milestone than by keeping all your most sentimental items in one place, displayed in your home for all the family to see.
Since these important items are most likely one-of-a-kind, they may be subject to UV damage, which can cause them to fade over time. Consider protecting them by incorporating Tru Vue Optium Acrylic into the frame treatment.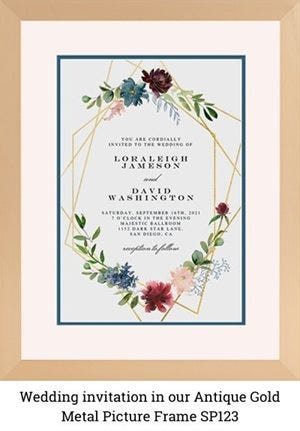 2. Protect and preserve important guest notes from the reception
Family and friends play an important role in the most successful marriages. They offer support and community during the good times and the challenging times. Most likely, the guests at your ceremony are important in both of your lives. That's why it's a great idea to have a table with stationary for guests to write a note of encouragement on your special day. Afterwards, consider framing the most memorable ones to display and remember forever.
3. Create shadow boxes with keepsakes
For a more creative and unique display piece, a shadow box with some of the one-of-a-kind items featured during the ceremony and festivities can be quite interesting. The keepsakes could include flower bouquets, shoes, gloves, garters, bow ties, and table numbers. Creating stylish and lasting shadow boxes takes experience and technique. It's best to consult the experts, since your keepsake items cannot be replaced.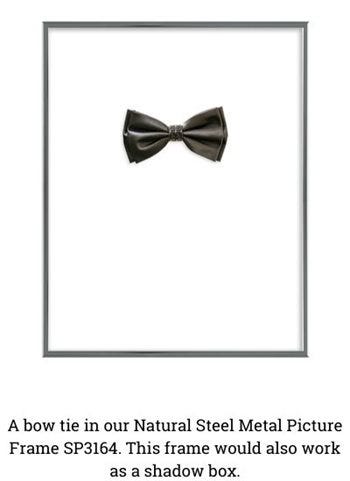 4. Design a gallery wall to showcase your professional wedding photos
Don't forget: Your professional photographer will certainly capture and commemorate many special moments on your big day. If not, have a friend or family member capture the most special moments such as the first dance and first kiss. Don't let these incredible memories collect dust. Consider displaying your wedding photos in your home, front and center, for everyone to see.
Gallery walls are a great way to arrange and show off a number of wedding photos in a well-organized fashion.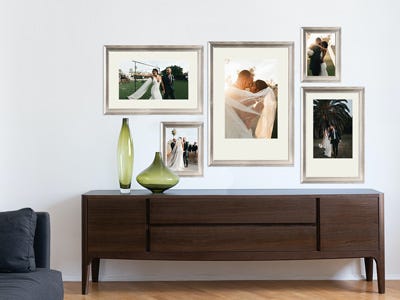 5. Accentuate your wedding photos with the perfect frame choices
Custom framing can add the perfect touch to your wedding photos. Don't forget to include engagement photos, too. Here are our top tips for the perfect custom framing combination:
The best wedding photo frames are gold, silver, white and beige

Avoid design elements on frames such as flowers or hearts, which can distract the eye from the photo

Use matting to create more space and volume

Use anti-reflective museum acrylic, which enhances clarity and protects your photos from long-term sunlight damage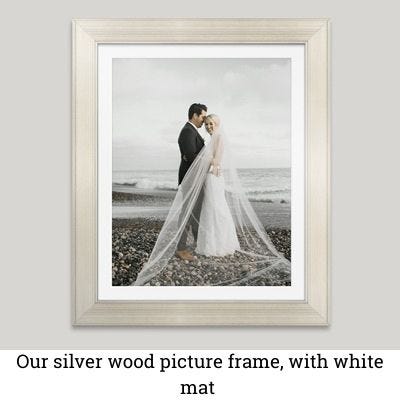 After investing so much time and energy planning your wedding, it can be a challenge to sift through photos to pick the perfect ones. We suggest doing it sooner than later, before the memories begin to fade. Start with a posed portrait, family photo, or group shot. Don't forget to incorporate some more unexpected photos. Your wedding is an important milestone in your life. Be sure to give it the attention it deserves. And frame it like you mean it.