The advantages and limitations of metal and wood picture frames.
Both have aesthetic and functional strengths and can be used for a wide range of projects, from museum-quality framing to the presentation of family heirlooms in private homes.
They also have their shortcomings.
Wood vs. metal: How do you know which one is right for your framing project?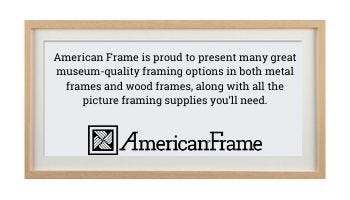 At American Frame, we offer many metal frames and wood frames, and all the necessary picture framing supplies for any project. Determining which frame type is right comes down to the artwork being presented, and to personal taste.
Here's a helpful look at both.
What's so great about metal frames?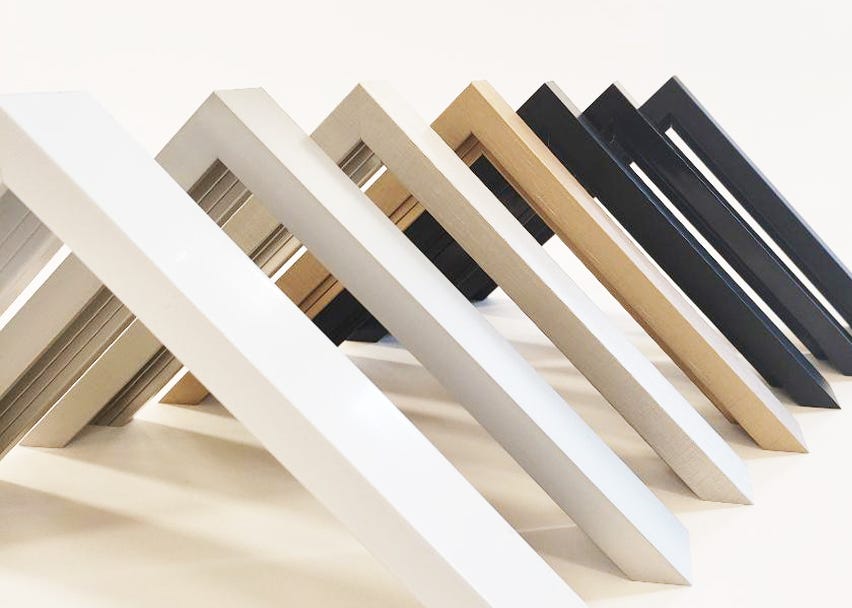 Metal frames
Its narrow visual outline offers a great minimal look.
Metal frames, or mouldings, are extremely durable and strong, stronger than wood. Metal frames don't warp or twist, and are quite resistant to chipping. Its corners will not split or break, even with a relatively heavy frame package.
The look of a metal frame is, well, real metal (compared to certain wood frame styles that present a faux metal finish).
Because no glue or v-nails are required, adjusting the corner joins on metal moulding is easy and safe.
The hardware joining the corners of a metal frame can be adjusted with a screwdriver. It couldn't be easier.
A single side of a metal moulding stick length is consistent at 10' or 12' because it is not composed of finger-joined sections and does not have the organic flaws that can limit the length of a stick of wood moulding.
Aluminum is an inert material, which means it will not change over time. Humidity and moisture have no effect on metal moulding (but it does on wood; see below). Metal is ideal for warm-weather locales and in moist, humid environments, including bathrooms.
The rabbet, or depth, of an aluminum frame does not have to be sealed. This makes it particularly suitable for archival framing.
With metal frames, the hanging hardware is fully adjustable. It can slide up and down the moulding channel. This makes adjusting the hanging height easy, which is especially beneficial when hanging groupings and galleries.
Metal frames are perfect for do-it-yourselfers because assembly requires no special tools or equipment.
What's not so great about metal frames?
Metal moulding cannot accommodate deep embossing or gesso, so the styles achievable with metal frames is limited.
Metal frames are limited in their dimensions, both width and height. Because they're extruded from softened aluminum, maximum lengths are reduced.
Metal moulding, unlike wood moulding, requires a "side load" method for inserting the art package. Three sides must first be joined before the art can be put in place within the frame. Only then can the fourth and final side be secured. This can present a challenge not normally presented by wood frames, which are typically back-loaded.
Many metal mouldings cannot accommodate a dust cover, so the back of the frame can look unfinished and vulnerable to airborne particles and dust.
Wood frames: What are the advantages?
Oak wood frame
Wood is the more universally expected, and accepted, material for picture frames. Wood has a wider appeal than metal.
Wood can be treated with an infinite variety of finishes:
- Unembellished, with the natural wood grain highlighted
- It can be embellished with paint, laminates, or compo
- It can be treated with gesso
- It can be embossed
- In can be carved and shaped in a variety of ways, from simple and subtle to elaborate

Wood moulding can come from a variety of tree species, with unique grains and physical properties that affect the way finishes appear
Wood moulding can be milled to almost any width and is easily stacked to create unique aesthetics
Assembly of wood frames is easy because the art package is placed in the open back of wood moulding
What are the disadvantages of wood frames?
Wood mouldings that are treated with paint, compo or gesso can chip during the cutting and handling of the frame components.
Wood frames must be wide enough to have a base adequate enough for easy v-nailing, so narrow wood frames can present significant challenges.
Wood moulding sticks are likely to have natural flaws that need to be avoided; this makes the usable portion of each stick questionable.
Wood moulding can warp or twist, especially thinner and non-finger-joined profiles.
Wood mouldings are vulnerable to moisture and humidity, so joined frames can be deformed or their finishes compromised.
The corners of wood moulding are joined using glue and nails; this can make them difficult to adjust, if necessary.
Wood mouldings will off-gas natural substances that can be harmful to artwork.
So which frame material is right for you? Ultimately, the decision is driven by the artwork itself, and by personal taste. American Frame is proud to present many great museum-quality framing options in both metal frames and wood frames, along with all the picture framing supplies you'll need. You can order samples of metal or wood frames on our site, and our customer service team is available to answer any questions
here.
.