Your Canvas: What's the Right Frame for It?
The process of choosing the right frame for your canvas is an essential one, as the ideal frame serves to accentuate your art and the environment in which it will reside. It's the finishing touch that elevates the value and overall aesthetic of your piece. But canvases come in a wide variety of shapes and sizes, so selecting the frame that best suits your specific piece can be a daunting effort. Rest assured, we're here to simplify it for you.
From canvas float frames to canvas depth frames—and even traditional options for framing your canvas, there are lots of offerings to consider. To help narrow down your options and choose the best DIY custom frame for your canvas, following are some tips and information on making this process an easy one.
Ultimately, determining the right choice of frame for your canvas painting, photo or other style of artwork will depend on several factors, including the type and size of canvas, the composition and style of the piece you're framing, your personal tastes and preferences, and your budget. Let's break down a few of these elements for further clarification.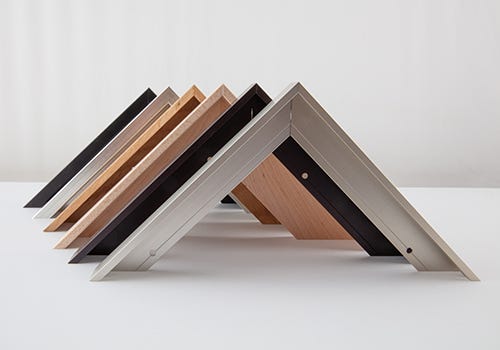 Determining the right frame for your canvas depends on several factors including the type and style of your artwork
3 Types of Canvas
Canvas types generally break down into three different categories, an understanding of which will be extremely relevant for framing your piece:
A stretched canvas comprises fabric stretched around and stapled to stretcher bars (also referred to as strainer bars). Stretched canvases are available in various thicknesses, from dramatic depth to a rather thin bar.
An unstretched canvas contains no stretcher or strainer bars. It consists simply of the canvas by itself, with no physical support.
A canvas panel is a lightweight alternative to a stretched canvas, wherein the canvas is mounted to a stiff board. Panels are sturdy without requiring the use of stretcher bars.
Deciphering Frame Dimensions
Canvas works can vary widely by dimension, from the height and width of a piece to its overall depth. The dimensions of a frame are indicated by the following formula:
H x W x R
In this measurement, the abbreviations indicate as follows:
H = Height
W = Width
R = Rabbet, or Depth
As for height, this refers not only to the height of the profile, but also the projection your frame will be from the wall.
Width denotes the measured width of the face of the frame.
Rabbet, or depth, indicates how much material the frame can hold. If you want to frame a canvas that measures ¾ inch deep, for example, you'll want a frame with a rabbet of at least ¾ inch.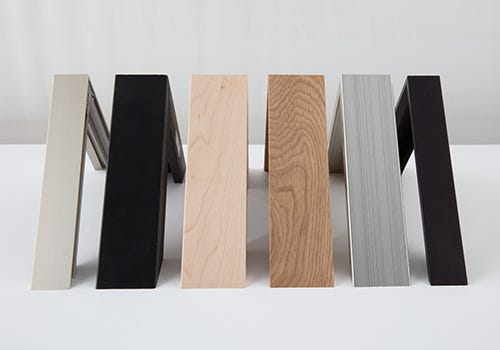 The rabbet depth of your frame should be deeper than your canvas
Consider that for stretched canvases, stretchers come in a variety of thicknesses. The thickness of the stretcher bar will impact the canvas's depth and play an important role in determining which frame to choose.
Taking accurate measurements and deciphering what framing dimensions your canvas will require is a fundamental aspect of choosing the right framing treatment for your piece.
The Element of Style
Do you want the edges of the canvas to show, or would you rather the edges not be visible? Is your art deep enough for a float frame, or is it so thin that such a frame would appear "forced?" Your personal preferences regarding how you expect the canvas piece to appear on display are integral to establishing the style of frame you should choose.
For deep, stretched canvases, there is the option of selecting a float frame. Also referred to as a front loader or floater, a float frame receives the canvas from the front of the frame and is typically held in place by screws inserted through the back of the frame and into the stretcher bar. The name is derived from the space, or "float," that exists between the art and the inside edge of the frame without making any visible contact, giving the canvas the appearance that it is floating. Float frames allow for 100% of the artwork to be visible to the viewer.
If your preferences lean toward a traditional frame that can still accommodate a stretched canvas, you may opt for a style in the canvas depth category. Spanning both wood and metal varieties. American Frame's assortment of canvas-depth frames push your art into the conversation, making it an active element in the room.
If your artwork resides on an unstretched canvas and you want to keep it that way, feel free to frame it as you would a work on paper—with, backing board, and any selection of frame other than a floater. When framing a canvas panel, consider giving it greater presence and substance with a deep, traditional frame.
In the end, the style of your piece, the style of the room in which it will be displayed, your own personal sense of style—and the budget you have to accommodate these various elements of style—will all impact the choice of frame that's right for your canvas.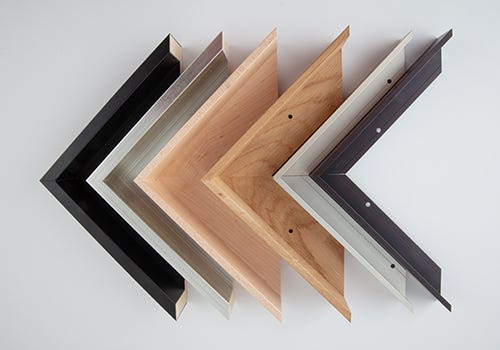 Canvas float frames are available in a variety of colors for stretched canvas
Frame Selection Support
With the help of the tips and information provided above, hopefully you're more prepared to choose from our wide variety of frames for canvas pieces. If, however, you have additional questions or desire more direct support, we're always here to help.
Feel free to call our customer service team at 800-537-0944, or contact us to speak with an expert. You can also schedule free one-on-one frame design assistance through our Virtual Showroom.