How to Find the Best Custom Frame for Your Next Project
Material, color, finish, size, aesthetic, strength, protection, price and more—there's much to consider when choosing a custom frame for your project. But the process can be a simple, effective, and even enjoyable one when you follow some basic steps and focus on a few key fundamentals. From home wall hangings to professional gallery presentations, begin the custom frame selection process with the help of these expert tips and insights.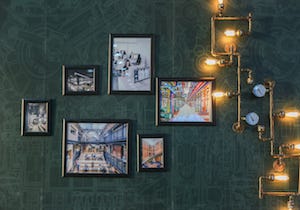 Black wood picture frame L989 in an asymetrical gallery grouping.
3 Fundamental Questions for Setting the "Frame"work
Every custom framing decision should begin with three main areas of focus: purpose, style and budget. These elements help set the foundation for choosing just the right frame for your piece.
What is my purpose?
Before jumping into the many offerings available for custom framing, it is essential to align your purpose for framing the piece with the product you'll ultimately choose. Because the same piece of art or photography can be framed in a multitude of ways, having a clear understanding of what you're trying to accomplish is the best starting point. Think about whether this piece will be a gift, a home display, a client product, a gallery addition or some other application. The underlying purpose will guide how much of the framing decision is based on personal taste, client preferences or the aesthetic of where the art will be displayed.
What is my ambient style?
Based on the medium with which you're working, the genre of the piece and other influential elements, be sure to approach the framing of your piece from a stylistic lens. For example, canvases are not framed the same as watercolors, and a photograph requires a different approach than a charcoal drawing. You'd likely choose a certain type of frame for a modern piece, which may not be suitable for a classical one. Also consider: Are you a minimalist, or do you like to play with colors and designs? Will you need to match the style of a furnished home, cater to the stylistic preferences of a client or consider the ambience of a gallery setting? Are you looking to magnify your piece with matting specifications, or minimize proportions based on the presentation space? All of these style-related factors play an important role in identifying the best frame for your piece.
What is my budget?
Budget is certainly a driving force in determining which framing options are on the table. Often the context of the piece itself impacts the budgetary considerations (i.e., framing an original versus a reproduction, supporting long-term conservation versus short-term display, etc.). These elements will help to move your decision in the direction of, say, rich wood frames or standard metal ones, and point you in the direction of grades of acrylic based on price. Ultimately, there is a wide variety of frames and framing options to suit a large span of budgets and corresponding needs.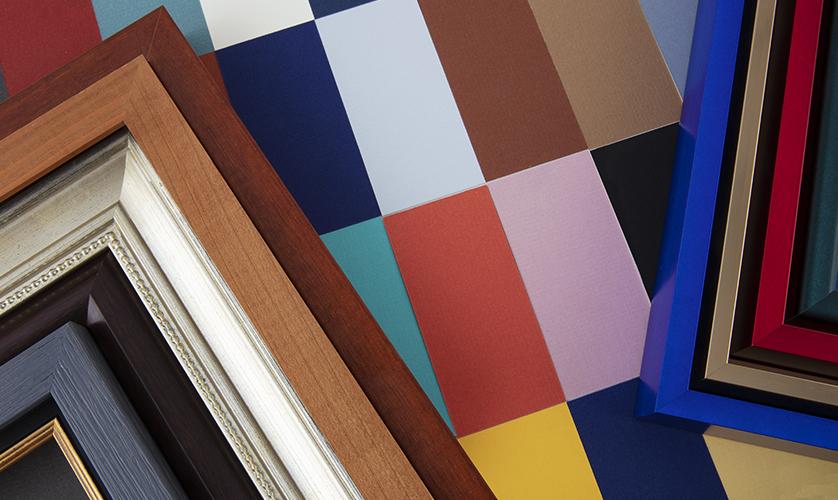 American Frame carries a wide variety of frames and framing options to suit a large span of budgets.
Once you have spent time delving into these questions around purpose, style and budget, you can move on to some of the finer details of custom framing projects.
Key Considerations for Matting, Mounting & Assembly
With a number of framing projects, matting will come into play. It is a popular option for photography and watercolor pieces, for instance, where a visual "break" between the work and the frame creates a desirable effect. Matting comes in a variety of thicknesses, colors, styles and properties, all of which help emphasize your particular concerns for purpose and style.
In addition, a mounting or backing board is placed behind the piece to help stabilize it within the frame, and it can enhance the overall look and longevity. For conservation purposes, you'd want to choose an acid-free option to protect the piece. And depending on whether you're going with a wood (acidic) or metal (non-acidic) frame, you may need to line the inside of it with frame sealing tape.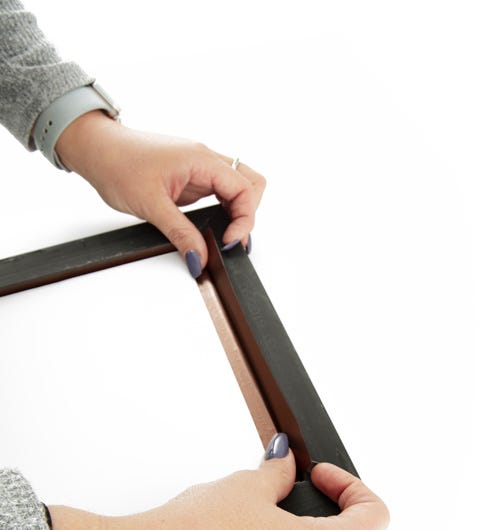 Lineco Frame Sealing Tape being applied to a wood frame rabbet to protect the artwork from acids.
At American Frame, many frames come with everything you need to put it all together, including the hardware. This makes it possible for you to complete your project in a DIY capacity. Or, you can rely on the professionals to assemble everything for you. There's even an option to have a photo uploaded, printed, framed and shipped directly to you or a customer, if that service works best for your purposes.
Playing with Options to Visualize the Perfect Fit
With a narrower focus on what you need to support the specific requirements of your project, it's time to browse the many products available to you. Fortunately, you don't have to do this blindly. In fact, you can play around with options and test out some products by leveraging the resources at your disposal.
American Frame features an easy online design tool that actually enables you to preview a frame selection from your screen. Simply upload your image to preview it within the frame treatment as you browse frames and mat boards. Your choices will be displayed as a virtual mock-up of the finished treatment, including the specified art sizes and mat borders. You can play with endless possibilities before you commit to just one, which ensures you get the treatment you want at the budget you've set.
And don't overlook the advantage of ordering free samples, one of the best-kept secrets among professional artists and photographers. At American Frame, samples are free, aside from a small shipping fee. Having samples of various framing options avoids a potentially lengthy process of ordering, assembling and then returning products that don't end up working out for your project. Plus, it can save you a 20% restocking fee and the cost of any non-returnable pieces (like acrylic that has the protective coating peeled off).
As you embark on this effort to choose the best custom frame for your project, be sure to rely on your own personal tastes and interests while leveraging the tools and resources that help inform and streamline the process. For additional support and a plethora of ideas on how to turn your artistic vision into a reality, check out American Frame's Art Assistant™. With this personalized custom frame service, you can tell us all about your project. Then, based on your needs, we'll assign a design and framing expert to be your guide and ensure your satisfaction from concept stage through completion. Together, we'll create the perfect piece.