How To Order a Custom Frame at AmericanFrame.com
Step 1: Create an Account
Why? It's the best way to save your work, name it, reference order information, work from any device and receive expert assistance from the American Frame Customer Service team. Look for the 'Sign-in' option in the grey navigation bar.
Then create your account.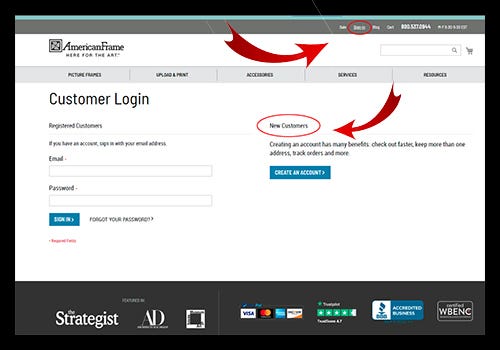 Start by creating an account and signing in. This allows you to save your designs, work from any device and easily receive assistance from customer service.
Step 2: Shop Your Frame
Browse by type, color, style or collection. Choose what speaks to your purpose and taste.
If framing a stretched canvas be sure to shop from the Wood or Metal Canvas Frames category or browse our selection of canvas float frames.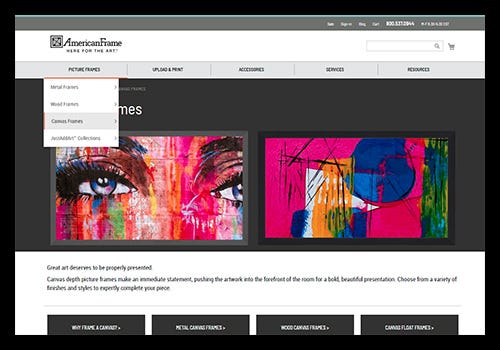 Browse picture frames by color, style or collection.
For pre-designed, coordinated frame treatments, Try our JustAddArt™ series, customizable for your unique needs whether DIY framing, Send-In-Art custom framing or Print & Frame.
When you find the frame of your choice, click the 'Customize' button.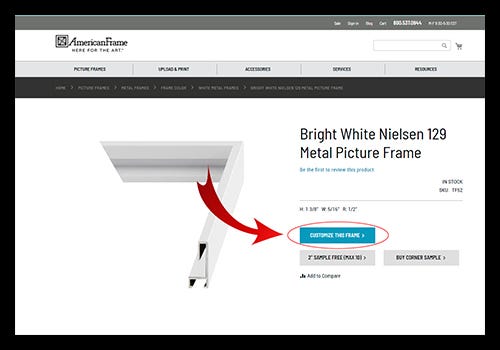 After choosing your frame click the customize button to choose additional framing components.
Step 3: Select Your Service
Upload an image to preview in your frame design or create a DIY kit without a preview (in which case, select 'No, I will design my frame without a preview'. Use the 'Back' button to backtrack on steps and the 'Next' bar to move through the process.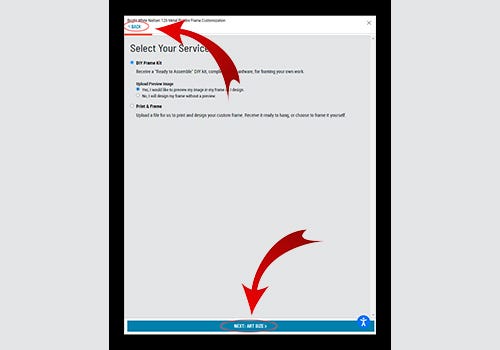 During the design process you can go back to the previous step or move to the next step easily.
Step 4: Start Designing
As you enter our frame design tool, you will notice it priced as a complete DIY kit, with a default 8"x10" art size, complete with 3" wide white archival mat board, acid-free backing board, and professional framer's grade acrylic glazing.
To customize, enter the exact size of your artwork, photograph, poster or canvas painting. If you're uploading a digital file for preview, please make sure your art measurements are accurate. If you're using our Print & Frame service, the art size will be determined by the file size you upload.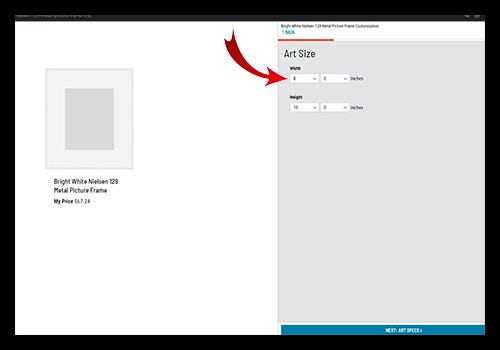 Enter your art size to the nearest 1/16". Your package starts with a white mat, acid-free backing board and framer's grade acrylic but you can customize to your needs in the next steps.
Next, follow the steps to customize your materials or purchase our default selections. Needing a frame only? Choose 'none' for mat board, backing board and acrylic glazing options. Likewise, if you're framing a pre-matted work and would like to reuse the mat, use the matted size as your art size and select 'none' at the mat board design step.
As you move through the steps, selections will show under the frame design and the pricing related to each component will appear at the review page.
Step 5: Name Your Purchase and Place In Cart
After designing, give it a name that means something to you for easy reference and possible reorder.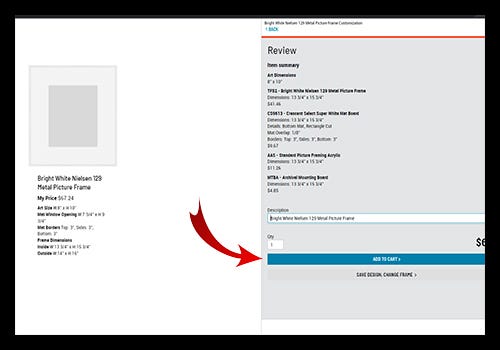 Once you have customized your frame treatment to your specifications add it to your cart.
Thank You for Choosing American Frame.