6 Steps to Find Premium Custom Frames Online
Sourcing just the right custom framing treatments for your art or photography is now an effort that can be handled right from the comfort of your home or studio, as there are so many online options available. But even with easier access to framing materials, there are still challenges for art professionals and hobbyists to navigate in this arena, particularly as they pertain to product quality and buying experience. To help ease and inform your search for premium custom frames online, here are six important steps to follow.
1: Research Your Options
You'll want to do some preliminary homework as you start the process of finding custom frames online. While it might be instinctive to head straight to the big box-store sites, it's crucial to understand that these are rarely the best option for custom framing treatments. They don't typically offer a wide range of options or focus on high-quality materials designed to elevate and preserve the value of your piece.
Look for a framing partner that has articulated their reason for existing—one that aligns with your own efforts and purpose. Ask yourself whether their presence exudes genuine concern for you and your art. In general, you're bound to find that local or independent businesses are more inclined than national chains to carry professional-quality frames and framing products. They also tend to have more experience working with art enthusiasts, professional or otherwise, so they understand what you do and what you're looking for in a framing treatment.
Above all, emphasize quality and transparency in your search. When you're viewing options online, appearance may be deceiving. So as you research various frame selections, make sure you fully understand the type of materials and their level of quality. In fact, many stores don't even list the brand of frame or mat you're purchasing. Especially for artists and photographers who prefer particular colors and brands, it's essential to ensure you're getting exactly what you expect. Big box stores can swap out products based on inventory and sales. You want a partner that is extremely transparent about what they're offering and what you'll be getting.
2: Read the Reviews
Don't overlook the value of getting first-hand feedback from other customers. Take the time to read reviews of various companies and their individual products so you can find a partner that feels like the right fit for you and your needs.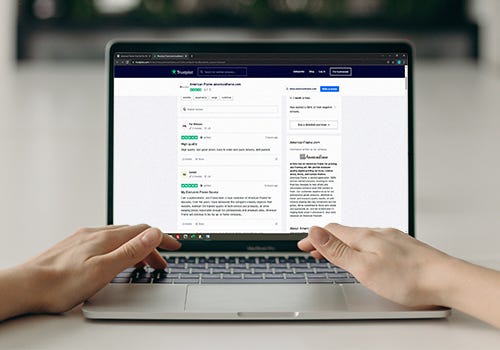 Take the time to read product and service reviews from companies. First-hand feedback from other customers can prove to be very valuable.
Of course, be discerning about the places you visit to find these reviews. On certain sites, reviews can be posted by anyone, including internal personnel. Look for verified reviews at a reliable source like Trustpilot so you can be confident the feedback you're getting is from real customers who've actually purchased from the company they're reviewing.
You may also run into a number of startups advertising custom frames online. But know that reputation is important. Startup framing companies don't usually have a strong reputation and are largely transactional. In other words, you probably can't expect to see reviews touting a high level of customer service or expert support and guidance on custom framing projects.
Seek out framing providers with reviews that speak to the quality of frames and framing materials, a wide variety of options and customization opportunities, and a commitment to supporting artists' visions and needs.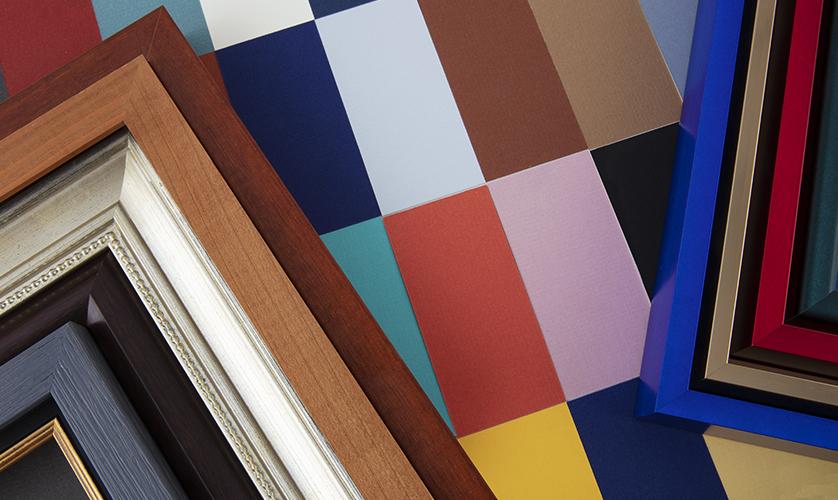 Choose a framing partner that offers a variety of options and customizations to meet your needs.
3. Carefully Vet Coupons & Sales
While price savers like special coupons and limited-time sales can be appealing, particularly when you're trying to meet a set budget, be cautious about them. At the end of the day, a price drop may not be worth it if the quality of materials or offering is not up to par. Make sure you know exactly what you're buying, with extra focus on product quality and custom fit for your project.
For artists and photographers who purchase in quantity, volume discounts should be built into the pricing scheme. So if you're shopping for a larger project or gallery wall, expect to see these discounts show up. At American Frame, we pass the production efficiencies from large orders of identical, same-size products onto the customer.
4. Screen the Shipping Details
As you're examining all available framing partners, as well as their range of products and services, get a complete understanding of the shipping standards and timelines involved. Custom framing materials take time to be shipped, and it's paramount that these schedules and details can be worked into the scheme of your own project needs.
Also consider whether you have a need for white-label shipping (i.e., shipping to customers without any of the framing company's branding or signage on the box). This may be a particular concern for professional artists and photographers delivering printed or framed artwork to clients, and stores who provide this option are focused on the nuanced needs of their customers.
At American Frame, we've even upgraded the integrity of our boxes to support customers with a need for gifting or re-shipping their framed pieces. This means our shipping boxes offer greater ease of opening, reusability and thickness, which makes it that much simpler and more cost-effective for artists to send their framed work on to the intended recipient.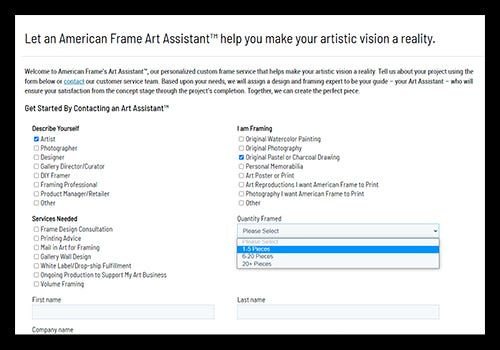 Use American Frame's exclusive ArtAssistant service for personalized help with your next custom framing project.
5. Tap into Available Resources
Acquiring high-quality frames online doesn't have to be an effort that goes unsupported. It's best to use all of the resources at your disposal, and to opt for a partner that provides support in a myriad of ways—from phone and email to online tools.
Take, for example, services that streamline the process and offer expert guidance, like American Frame's Art Assistant™. This is our personalized custom frame service that helps make your artistic vision a reality. You tell us about your project using an online form or by contacting our customer service team, and we assign a design and framing expert to be your guide. Your Art Assistant ensures your satisfaction from the concept stage through the project's completion.
You might also look for preview tools that make choosing your framing treatment a more tangible process. Find an option that enables you to upload your image and preview it within each frame treatment as you browse the selection of frames and mat boards.
And don't take for granted the opportunity to order samples of frames and mat boards, especially while you're still preparing your artwork. Simply go online and see what direction you want to go in. Framing samples should be free, aside from a small shipping fee that's well worth it in the end.
6. Watch Out for Red Flags
There will be some clues that can signal a particular store is not the right fit. One such example would be any company that only provides approximate sizes, as opposed to precise ones. Or that implements an upcharge for materials that don't fit. It's paramount to work with a partner that takes your measurements—and theirs—very seriously. American Frame cuts to 1/16th of an inch for the most precise fit.
Another red flag might be the fact that a company doesn't specify exactly what product you're purchasing, instead generalizing with a term like "white mat." Premium framing specialists will carry in the ballpark of 30 different white mats and indicate exactly which one you are buying.
In the end, it's about getting a feel for each partner and seeing whether they are the type of company you'd like to do business with. Are they relying on an outdated website with old technology? Does their lack of selection and/or transparency make you feel limited? Do they seem more transactional than attuned to the unique needs of artists? Is the browsing and shopping experience an unpleasurable one? Or is it one you can really enjoy?
Get comfortable with asking these types of questions to steer clear of red flags and find the premium custom framing partner that truly speaks your language.