Priceless Pieces of Advice for First-Time Custom Framers
If you've just been introduced to the concept of custom framing or you're interested in trying the DIY route, there's lots to know and plenty of ways to get discouraged. Rest assured, however, that American Frame has dedicated itself to making this experience as accessible and pleasant as possible. To support first-time framers in navigating the process so you can feel confident and satisfied with the outcome, here are some valuable pieces of expert advice.
Start simple.
When it comes to custom framing, the options are wide-ranging and the steps multifaceted. So it's not uncommon for the process to feel overwhelming at the start. But try not to get intimidated or overthink it too much. Ultimately, this can be a streamlined effort when you avoid overcomplicating things.
In fact, we've designed the process at American Frame to help simplify custom framing for first-timers. For example, we automatically add an allowance into each frame for giving materials the room to shift over time—building in the necessary wiggle room so you don't have to over-engineer the process. By trusting the experts, you can keep things simple and attain just the look you're seeking from your custom framing treatments.
Find a one-stop shop.
As you hunt for high-quality custom frames at the best price point, be sure to set your sights on a one-stop shop that can offer you everything you need, all in one place. That doesn't just mean the products you'll purchase for your framing application, but also the expertise and services you'll need to optimize the experience and results.
American Frame provides you with all of the materials, tools, and hardware you'll need to complete and assemble your customized framing treatments, which means you don't have to worry about anything extra. Plus, you have access to our experienced team of design and framing experts for consultative guidance throughout the process, as well as the option to use any of our helpful framing services like our convenient Print & Frame option, personalized Art Assistant™, or predesigned kits from the JustAddArt™ collection.
Having all these levels of access and support from one reliable source makes the custom framing process a simpler, more enjoyable one.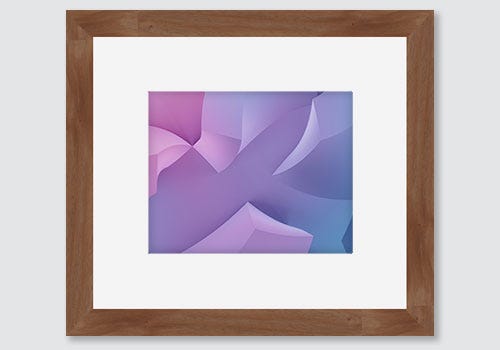 A one-stop shop can save you money and time because they have all the elements you need including a variety of wood and metal frames, mat boards, acrylic glazing and more.
Ensure accurate measurements.
Precise measurements are paramount in any framing application, so understanding exactly what and how to measure is highly important. Our PrecisionCut™ technology enables us to cut materials to the nearest 1/16 of an inch in order to achieve just the right fit for your framed pieces. Check out this valuable article for helpful information on how to take accurate measurements.
Keep in mind that if you're ordering a poster or art print, it's best to wait until you actually receive it before purchasing your custom framing treatment. All too often, someone thinks they are ordering an 8x10 piece when they're actually set up to receive a 7⅞x9⅞. Certain online design and product marketplaces are notorious for this type of loose estimation, so it's best to assume that the seller's measurements are not as accurate as ours—and wait until you have the item in hand to get the exact numbers.
Get your hands on samples.
If you're not sure about how you think the finished product will look or which colors and materials will best suit your piece and its setting, order samples. An in-person visualization is always more adequate than an online product photo. Sometimes a frame looks different hanging on your wall than it does on screen, and not all monitors are calibrated perfectly to see the color as it is in real life.
Therefore, it's worth it to order samples of frames and mat boards based on the direction in which you're looking to go. They can save you dearly on the potential time and hassle of ordering, assembling, and then getting stuck with products that don't end up working out.
At American Frame, framing samples are free, aside from a minimal shipping fee. And if you add samples to an active order, there's no additional shipping charge.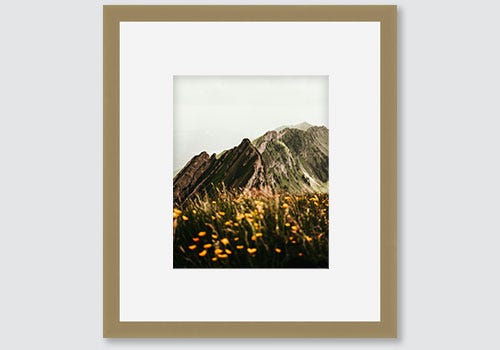 Ordering samples of frames, mat boards and acrylic ensures you are making the correct choices for your art and photography.
Think about your purpose.
In terms of general-purpose versus archival materials, this decision matters. So consider whether your piece is one that can be easily replaced. Is it a unique work of art, a family heirloom, or a rare poster that requires UV protection? You don't want to opt for general-purpose products only to find out later that you should have gone for better protective properties.
In this context, also be sure to contemplate the lifetime of the piece. Even if you're housing it in a basement today, where might it end up down the road? Plan ahead for future uses as you go about the process of selecting your framing treatment materials.
Consider the element of style.
Your choice of frame can actually alter the entire style of a piece, so it's important to be aware of what look you ultimately want to achieve. Timeless options are the way to go to ensure your framing treatment never goes out of style and that you won't have to reframe your piece years down the road or when it changes location from one type of setting to another.
Metal frames are sophisticated, sleek, and modern, while wood frames exude more of a natural, rustic, and traditional ambience. Various colors, finishes and depths also have an impact on a framing treatment's overall style, so consider these elements as you navigate the process.
Seek out framing resources.
Whatever your tastes, specifications, or level of comfort, remember that you don't have to manage things alone. There is a wealth of valuable guidance and advice from professionals who focus on custom framing all the time and understand this process from the inside out. There are loads of tools and resources to support your efforts if you know where to look.
You can start by checking out American's Frame's informative blog, which is full of insider tips, framing techniques, and artistic insights. Or leverage our other framing resources, like our assembly instructions, how-tos, video library, and more.
At American Frame, we're always here for you. You can receive one-on-one frame design assistance from anywhere in the country through our virtual showroom. Simply schedule an appointment and tell us a little about your project so our experienced team can curate personalized design choices just for you.