Profile 93: Contemporary, Minimal, Metal Frames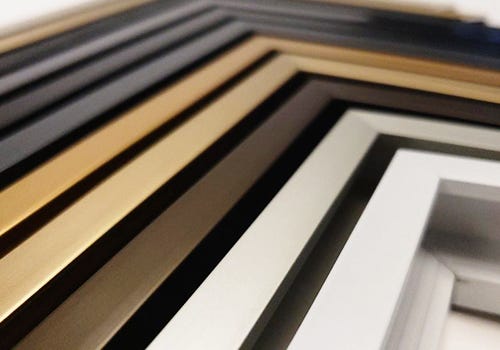 Nielsen Profile 93 comes in a variety of finishes
Introducing the newest choices in the American Frame metal frame gallery: Profile 93 from Nielsen. These aluminum frames feature clean edges and a slender face, for a contemporary, minimalist aesthetic, a look that's a bit more difficult to achieve with wood. Profile 93 is particularly appealing for the presentation of photography and modern art. These frames can also be used inside wood moulding to provide enhanced structural support, and as a "pinstripe" for larger images.
Why aluminum?
Generally, aluminum frames provide strength and superior corner joins. It's an inert metal (it won't change compositionally over time, like wood does) and it's flaw-free. Nielsen's Profile 93 aluminum frames have no grain variations, knots, or surface variability.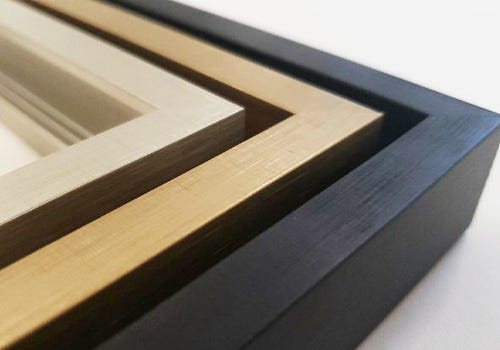 Linen textured frames
Nielsen frames: Superior metal frames
The manufacturing of Nielsen metal picture frames includes an anodization process that makes them extremely durable and mar-resistant. And Nielsen's unique electrostatic paint system applies multiple coats to each frame so that coverage is exceptional and resistance to both scratches and scuffs is great.
As with all American Frame options, selections from the Nielsen Profile 93 line can be cut to within 1/16" thanks to our PrecisionCut™ technology. They'll arrive at your door with the hardware you need to assemble easily and quickly. All you need is a screwdriver.
Available in 14 rich colors
Silver Linen. Black Linen. Amber Linen. Raw Steel Linen. Caramel Linen. Pewter Linen. Slate Linen. Antique Gold. Frosted Umber. German Silver. Frosted Walnut. Bright White. Matte Black. And Black. See all 14 colors in the Profile 93 line here.