Laura's Favorite Frame
Before I declare my favorite frame, a bit of history.
In custom frame design, minimalism has long been an enduring aesthetic. Today, metal frames – specifically, those from the Nielsen company, the world's premier maker of metal picture frames – still lead the way in minimalism.
But metal frames haven't always been so commonplace.
Birth of a frame.
Presenting the artwork of Abstract Expressionist artists of the 1950s and creators of pop of the '60s required restraint. The works were oftentimes large, vivid, graphic and contemporary. The frames that held them needed to be strong, well-structured, and simple. They should never compete with, or upstage, the art. For abstract expressionist works as well as pop art, metal frames fit the bill perfectly.
Before the sectional picture frame was made popular by the Nielsen company, aluminum frames were custom-molded by individual framers. The most renowned of these framers was Robert Kulicke, of the MOMA in New York, whose "Kulicke frame" featured a tasteful welded design. Generally, however, aluminum frames were exclusive and expensive, more of a specialty item than a consumer product.
Add screws and brackets, and an industry was born.
Then in the 70's, Donald Herbert, an inventor and member of Kulicke's team, created metal frames by joining sections together with screws and simple corner brackets. As a result, the custom metal frame industry began to flourish, and the Nielsen metal frame company drove the burgeoning industry.
American Frame: Proud source of Nielsen metal frames.
At American Frame, we're proud to have been the first company to offer what's now known as the Nielsen #11 frame directly to artists. At the time, our company was called ASF Sales – ASF stood for "Aluminum Sectional Frame." Nielsen #11 was a simple, DIY custom picture framing solution ideal for preparing art for exhibition. It has an elegantly square profile, significant tensile strength, was priced reasonably, could be cut precisely to within 1/16", and was easy to assemble.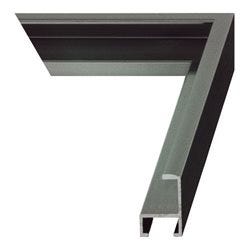 Nielsen #11
It's an excellent product on which our company was built.
In the years since, we've offered hundreds of Nielsen metal frames in various profiles and styles, depths, dimensions, colors and textures. All possess the minimalism and modern design that ideals for framing art and photography.
So….what's my favorite frame?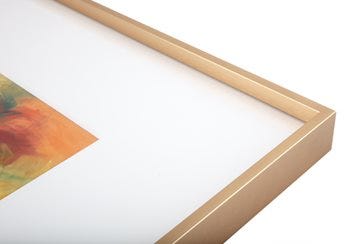 Nielsen #129
I absolutely love this profile. With a 5/16" face, it's minimal from the front, sleek from the sides, deep enough for multiple or extra-thick mats, and it possesses one more significant, high-impact design feature: a deep dimensional inset from the top of the frame to the acrylic, which recesses the artwork into the frame. The Tiffany Collection includes several beautiful finishes: Silver, Amber, Contrast Grey, Black, Matte Black and Bright White.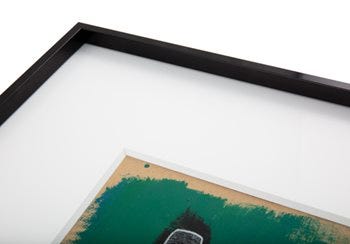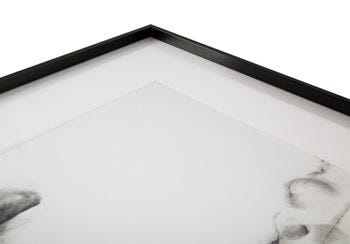 Close-ups of Nielsen #129
My go-to materials for framing works on paper like those shown here: White 6-ply or 8-ply mat boards (with wide mat borders and drop bottoms); UV or Tru Vue Optium Museum acrylic; and an acid-free foam core backing. This entire framing package is museum-quality, modern, and easy to DIY.
Check it out. Take advantage of our free samples if you need, and please show us what you've done.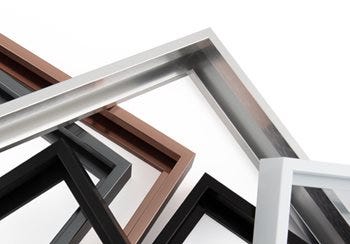 Nielsen #129 color options