DIY Custom Framing: 6 Tips for Creating a Museum-Quality Presentation
The application and process of custom framing has never been more accessible, thanks to technological strides made over the last few decades. American Frame was built on the concept of providing easy custom framing access to all, and we stand at the forefront of ensuring seamless custom framing products and services for our diverse art community. Whether you're a seasoned professional or a budding artist, a designer with an eye for aesthetics or an art enthusiast keen on showcasing your prized pieces, the realm of DIY custom framing now offers unparalleled ease and convenience.
From intuitive, user-friendly online tools to readily available customer support, expert design assistance and the flexibility of framing from virtually anywhere, the process of DIY custom framing has been refined for maximum accessibility—even for those new to the process. It's also a much more cost-effective solution than big box stores or local frame shops.. Perhaps even more compelling is the creative autonomy it affords. Whether it's a masterpiece in the making or a cherished diploma, taking charge of your presentation allows for a deeply personal touch in showcasing your work.
It should go without saying that no matter the type of piece you're looking to present, every display deserves a high-quality framing treatment that elevates its presentation for maximum impact. In that vein, we're offering six indispensable DIY custom framing tips to help you achieve a museum-quality look for your next project.
1. Leverage online resources.
Regardless of whether you're venturing into DIY custom framing for the first time or you've been in the game for a while now, it's crucial to work with a reliable partner that affords valuable support options, like accessible online resources. This includes preview tools and design wizards that allow you to visualize how your framed piece will look before you commit.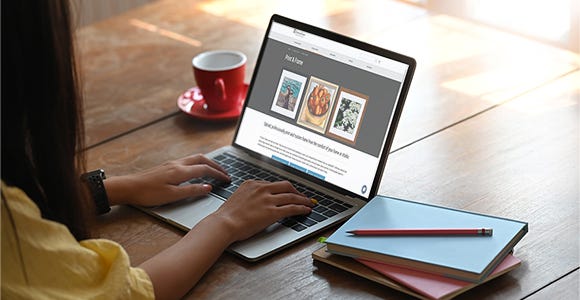 Leverage online resources such as design preview tools or virtual design assistance to choose the best framing treatment.
You should be able to ask questions in real time and contact a knowledgeable customer service team consistently available through various channels like phone, chat and virtual face-to-face appointments. This support will be invaluable for creating a high-level presentation, especially when you have questions or need advice on materials and techniques. The DIY custom framing process is an easy one once you have the support, knowledge and tools in place to streamline your efforts.
At American Frame, we proudly offer the services of our Virtual Showroom, which enables users to reserve time with a professional framing and design specialist. This type of online resource is immensely advantageous in garnering museum-quality outcomes with your DIY custom framing projects.
2. Order product samples.
Seeing and feeling your custom framing materials in person can make a significant difference in your project's presentation. Products like frame mouldings and mat boards may have textures and subtleties that you're not able to see clearly online. This is why it's so important to order samples of frames, mats and other components, ensuring they match your vision.
Different shades may not always translate accurately on a screen, and having physical samples on hand will give you confidence in the true colors of your choices. There are many different variations of white, for example, and if your computer monitor isn't calibrated correctly, it can be tough to tell the difference between slight distinctions in hue.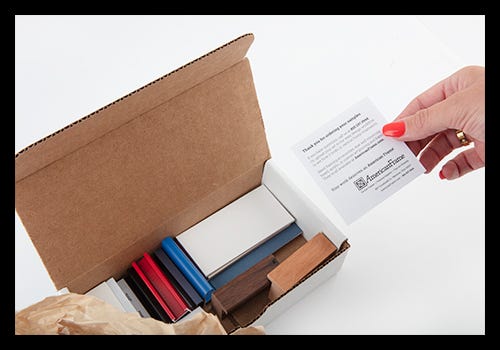 Order samples of frames or mat boards to aid in your selections.
American Frame generously offers two-inch samples of every frame, mounting board, acrylic and mat board, allowing you to make informed decisions. You can order up to ten of them—as either a standalone order or part of a purchase. When requested as a standalone order, there is a nominal shipping charge, but that fee is waived if the samples are added to an existing order (shipping is paid strictly on the overall order).
In addition, there are corner samples of any frame or mat board in our collections, available for purchase. For professional artists and designers, those selling framed work to clients or those working with larger projects—who may desire more than two inches of sample material to get a better feel for the product—these larger samples are an ideal resource. You have the opportunity to hold them up to a wall surface, see how they present in various lighting, get an idea of how they work with other pieces, designs, colors, and settings, and experience a more tangible vision of what the finished piece will look like.
3. Purchase the proper elements.
Don't overlook any essential components when ordering your custom framing supplies, such as matting or mounting materials. American Frame's online store includes an engine to make this easy for you. Simply enter your art size, for instance, and our technology does all the work of calculating the proper mat size based on your dimensions.
Remember to include finishing touches like tape and wire for mounting and hanging. Ensuring you have all the necessary elements upfront will prevent poor presentation and other challenges that can detract from the quality of your framed piece.
4. Create a clean workspace.
When it comes to achieving that museum-quality presentation with DIY custom framing, a clean workspace is paramount. This tip might seem obvious, but you'd be surprised how many would-be projects end up ruined and in frustration as a result of dirty or sticky surfaces. Avoid common pitfalls by starting with a clean and dedicated work area every time, ensuring it's free from dust, dirt and other potential hazards.
Keep in mind that acrylic is a static-y material, so it can easily attract particles. Choose a space away from pet hair and other similar types of contaminants in order to prevent these unwanted elements from invading your framing treatment. Additionally, avoid laying down newsprint for your work surface, as it can transfer ink onto you, your mat board and your artwork. A high-quality presentation requires a pristine working area to assemble your framing treatment.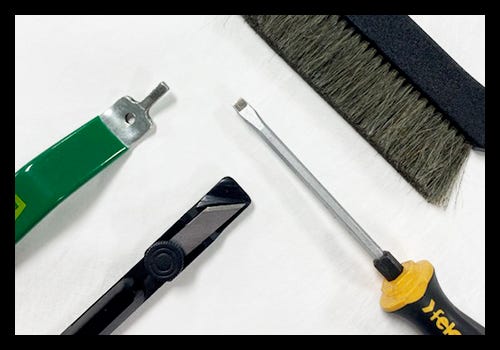 Gather your framing tools and create a clean workspace for a quick and wasy framing process.
5. Use the right tools.
Having the right tools on hand makes a big difference in the ease and outcome of your DIY framing project. At American Frame, we simplify this process with framing treatments that require merely a screwdriver. When you unpack all of your materials and start assembling your art stack to place into your frame, that is the only tool you'll need. It's another way we've helped to ensure that DIY custom framing is accessible to nearly everyone.
If you're a frequent framer, we recommend investing in some specialized tools that make the effort even simpler, quicker and more effective. Consider, for example, using a SpringMate tool for assembling metal frames, or a point driver for use with wood frames. While you can certainly handle either type with just a screwdriver, these types of tools make volume framing much easier. For added convenience, you might even think about opting for the Essentials Picture Framing Tool Kit, a pre-packaged kit that includes tape, a static whisk, acrylic cleaner and an acrylic cleaning cloth.
To curate the best DIY custom framing experience, be sure to gather your materials ahead of time. If you plan to hang your finished piece, you may also want to have a level, measuring tape, pencil, hammer and nail on hand.
6. Keep it looking great.
Preserving the quality of your framed artwork is essential for long-term enjoyment and a continuously high-quality presentation. There are some steps you can take to ensure you keep your framed piece in top condition for years to come.
For starters, know that there is a "right" way to clean acrylic. Avoid using cleaners with ammonia (like Windex), as these can cause haziness or fogginess on the plexiglass. Instead, opt for acrylic cleaner and polish, or simply apply a mixture of vinegar and water to keep your acrylic looking flawless. Use a soft cloth (not a paper towel) to prevent scratching the surface.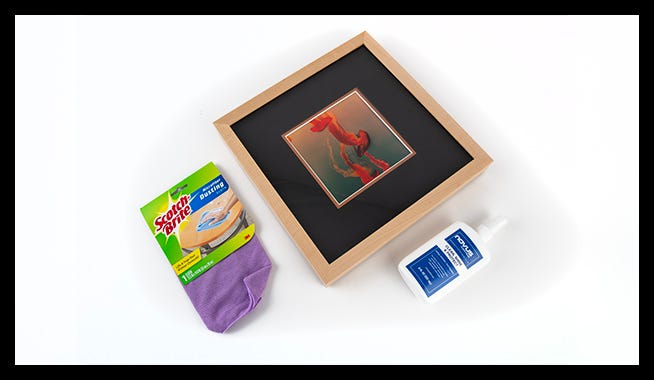 For proper cleaning of acrylic, use a soft cloth and acrylic cleaner.
For maximum protection and to keep your artwork looking its best for the longest amount of time, invest in conservation-grade materials like UV-resistant acrylic and conservation mat boards. This is an ideal way to safeguard your artwork against fading and deterioration.
DIY custom framing empowers artists, collectors and enthusiasts to take control of their artwork's presentation. By leveraging online resources, ordering samples, choosing the right elements, maintaining a clean workspace, using appropriate tools and employing proper maintenance techniques, you can achieve a museum-quality finish that showcases your artwork in the best possible light. With these tips in place, you're on your way to creating stunning, professional-looking frames that enhance the beauty of your cherished pieces.