Top 7 Product Recommendations for a Museum-Quality Presentation
Museums rely on DIY custom framing to meet the highest standards of quality and preservation while maximizing donor dollars and budgets. This option enables curators and museum professionals to source framing treatments that support a level of extra care and security, which simply must be prioritized when managing valuable works of art.
Because we deeply understand museums' attention to quality, presentation, preservation, value, precision sizing and ease of application, we recommend these seven top custom framing products for museum-quality applications.
1. Metal Frames
A long-time staple in the museum and gallery world, metal frames have been recognized as the backbone of custom framing. They are particularly ideal for showcasing photography and can be paired with various mat styles for a variety of effects.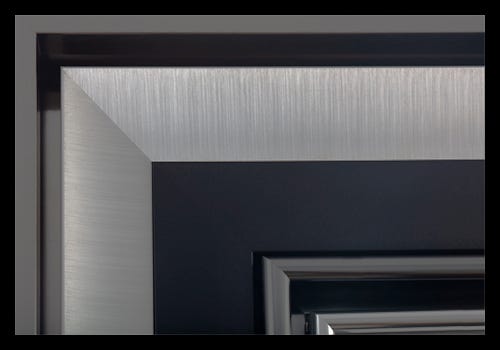 Metal frames are offered in a variety of shapes, colors and finishes.
For a line of strong, flawless aluminum frames that can elevate already dramatic photographs, look to our Standard Plus Two Nielsen 93 collection. The finishes on these frames are what make them truly special, including a variety of linen texture ones and a range of earth-tone mouldings that add sheen and glamour. From the integrity of these frames and how they're cut, to the seamless connections and easy assembly, this collection shines with simplicity and beauty.
Paying homage to the Bauhaus school of design, our Standard Plus Three Nielsen 117 collection features a sleek design that's a perfect combination of form and function. With minimalist contours and a generous rabbet that enables creative, dramatic mat treatments, this collection has become a perennial favorite for framing photography and modern art.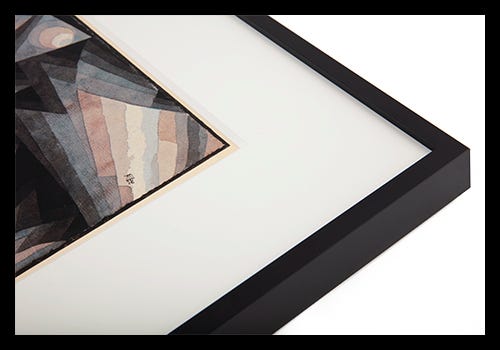 Nielsen 117 Metal Frames are a customer favorite and are acid-free.
And the perfect selection for sleek, contemporary framing, our Tiffany Nielsen 129 collection showcases an array of chic, sophisticated frames with a recessed face. Matte black and white finishes offer the perfect monochromatic option for photography, while rich jewel-tone anodized finishes provide a ribbon of eye-catching detail that makes art pop.
2. Peterboro Matboards
American Frame proudly partners with a top choice in preservation framing materials, Peterboro Matboards, to offer PPFA Class I and II mat board selections. Meaningful innovation, cutting-edge technology and one of the highest quality standards in the industry puts Peterboro at the forefront of mat board producers.
PPFA Class I materials are the highest quality available in the retail framing market, as well as the most protective selections available. They are chemically stable and non-reactive with framed items and other materials within the frame, providing the highest level of permanence and resistance to deterioration.
PPFA Class II materials are intended to assure extended resistance to deterioration in a normal display environment, providing protection from most anticipated hazards. Including the main attributes of Class I materials, they may allow minor compromises in the framing design, the composition of materials and the reversibility of methods for practical or aesthetic reasons.
Both types of mat boards from the Peterboro collection support the preservation of artwork over time—with attributes that go beyond the acid-free designation. That's why these high-quality museum and conservation mat boards are a top choice for our respected art community.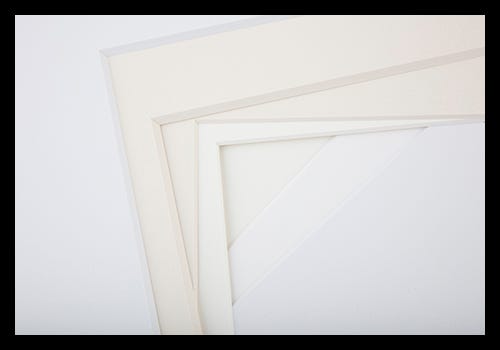 Peterboro Museum and Conservation mat boards will preserve your artwork and photography.
3. Tru Vue® Optium Museum Acrylic®
No museum-quality protective frame system is complete without Tru Vue® Optium Museum Acrylic®, a plexiglass framing product that meets the toughest conservation standards. It is not only acid-free, anti-reflective, anti-static and shatter-resistant, but it also provides nearly absolute UV protection, filtering out 99% of harmful UV rays.
Its thickness measures at 1/8", and it is recommended for professional presentation and preservation framing of artwork, photography and other works on paper. It is preferred by museums and galleries everywhere for its anti-reflective nature. Whereas other non-glare options contain a coating that can make a piece look hazy and distract from the artwork—particularly under a museum or gallery spotlight—the crystal-clear appearance of Tru Vue® Optium Museum Acrylic® makes it virtually invisible to viewers. Plus, its anti-static nature means you don't have to spend as much time cleaning the acrylic.
Tru Vue® Optium products are cut from continuously manufactured sheets specifically formulated to offer museum-quality UV protection. The UV absorbers are added to the liquid acrylic before it is extruded, so the protection is permanent and will never wear off. This allows for built-in UV protection, as opposed to a coated surface that could potentially scratch off.
4. American Hardwoods Collection
For simplistically beautiful wood mouldings, there's no better choice of museum-quality frames than the American Hardwoods collection. This line is characterized by innate organic beauty and strength, the hallmarks of a solid wood frame grown and produced on American soil.
One of the major reasons why our American Hardwoods collection is so valued is because of its proud distinction as being 100% domestically grown, milled and finished. All of these frames are FSC-certified, sustainably grown and harvested, and finished with eco-friendly clear coatings or stains that showcase the gorgeous individuality of real wood grains.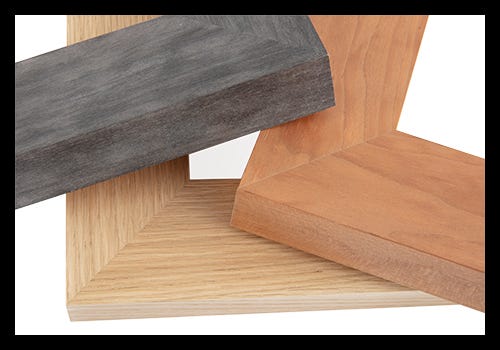 Our American Hardwoods Collection features quality solid wood frames.
The American Hardwoods collection offers selections of various shapes and sizes, including canvas float frames, as well as a range of profiles and finishes to serve different applications. Choose from solid walnut, maple, cherry, white oak or black ash varieties for a simple, natural and high-quality aesthetic.
To ensure the utmost in artwork protection when applying these solid wood frames, be sure to line the rabbet of each frame with acid-free sealing tape.
5. Point Driver
To make securing an art stack inside a frame significantly easier, it's wise to invest in a point driver. This is a staple tool for museums and galleries, as well as a top recommendation for anyone planning to frame more than one piece of artwork in a wood frame. It can help streamline the DIY custom framing process and save a lot of time.
A point driver is used as an alternative to the spring clips that come with your wood frame, as they make light work of assembling large or numerous picture frames. Used exclusively with wood frames, point drivers feature a one-touch trigger that drives a framer's point instantly into a frame's rabbet to securely hold your art stack or canvas. Point drivers are also useful when your rabbet depth is much greater than your art stack and spring clips are not long enough.
Products like the Fletcher FlexiMaster Point Driver and the Fletcher FrameMaster Point Driver are favored worldwide. Fletcher has led the industry in setting performance standards for points and drivers since the 1980s.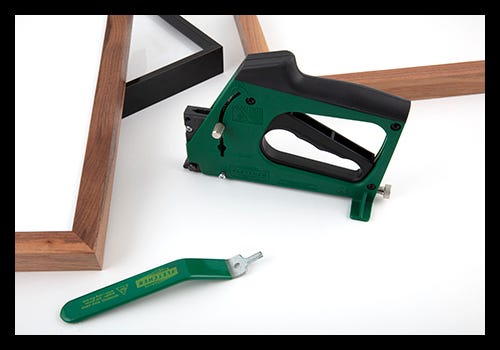 Fletcher point drivers and spring clip tools make the framing process easy and efficient.
6. Spring Clip Tool
When working with metal frames, there's a need to insert several spring clips, which can be tough on one's hands when you're framing more than one piece. A spring clip tool makes this process easy and efficient, which is why the Fletcher SpringMate Spring Clip Tool is a must-have for museum applications—or for any DIY custom framer working with multiple metal frames.
Without the right tool, the spring clip process can be hard on your fingers. The Fletcher SpringMate Spring Clip Tool makes light work of inserting and removing these spring clips. To insert, you simply place a spring clip into the slotted nose of the tool, then push down and slide the clip into the frame channel. To remove, slip the tool's slotted end over the spring clip and twist.
7. Proper Mounting Methods
When mounting art or photography for a museum-quality presentation, it's important to use the right methods. Mounting tapes and other products help secure artwork to a mat or backing board, but many tapes contain acids that could harm artwork. Therefore, the most archival way to mount is with an adhesive-free option, such as Polyester Archival Mounting Corners and Archival See-Thru Mounting Strips.
For a safe adhesive method, the materials and adhesives must be pH-neutral or acid-free. That's why Self Adhesive Linen Hinging Tape is a top option. Linen is ideal because it's archival quality, pH neutral and made from strong, high thread-count cotton. Its greater tensile strength (resistance to breakage under pressure) is preferred for mounting heavier papers, such as watercolor papers, because it can withstand the weight of the artwork and won't tear.
You can read more about choosing the right mounting methods here.
To receive more valuable information on custom framing, as well as news, offers and announcements from American Frame, be sure to sign up for our newsletter.