5 Compelling Reasons to Order Custom Framing Samples
When it comes to framing your precious artwork or photography, choosing the best framing materials to support its overall presentation is essential. Custom framing options, particularly those available online, can span a wide array of options—making it difficult to determine which ones are the right choice for your framing needs and preferences. One easy way to overcome this challenge is by ordering samples of the various framing materials you're considering.
Giving you a valuable opportunity to assess factors such as color, texture and quality before making a final decision, frame samples afford you a tangible experience with your framing options. While online images, digital representations and descriptions can certainly be helpful, there are a host of reasons why ordering frame samples is a valuable step in the process. Here are some of those reasons explained.
1. Ensuring You Get Precisely What You Want
One of the primary reasons for ordering samples of your framing materials is to make sure that the final product is exactly what you envision and expect. Plenty of colors, especially those in the wide-ranging categories of whites and neutrals, can have subtle variations that may not be adequately conveyed through online representations.
By having physical samples in hand, you're able to compare them with one another, hold them up to your artwork or photography and determine which one complements your piece most successfully. This hands-on approach enables you to make informed decisions about the style, color and finish that will ultimately enhance your piece and present it in its best light.
2. Examining Texture and Quality
No matter how well captured, website images can fall short when it comes to showcasing the full texture and quality of a frame or mat board. When you order framing samples and have them physically in hand, you get the tactile experience of feeling and seeing certain aspects that can't be represented in an image.
This way, you're able to assess each sample and note various types of features—including the ones you can't quite grasp in an image. You can run your fingers over the surface, feel the weight and examine the craftsmanship up close. With this firsthand inspection, you have a better perspective from which to select a frame that not only exudes the look you're seeking, but also meets your expectations in terms of texture and quality.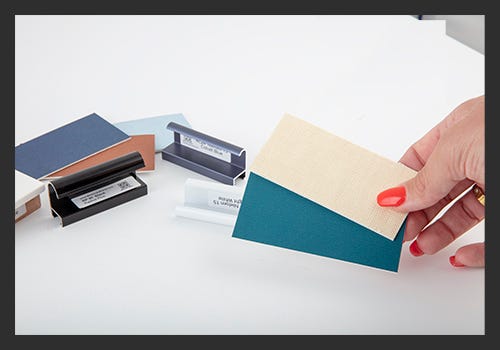 Ordering samples ensures you get exactly what you want.
3. Considering Compatibility with Surroundings
Framing samples allow you to see firsthand how a particular framing treatment will look within the setting in which you plan it to reside. You can actually place the samples up to the artwork and hold them against the wall, visualizing in a more concrete way how they will harmonize with your existing paint colors, lighting conditions and decor.
Different frames can produce remarkably different effects depending on these factors. By experimenting with framing samples in your home, office, studio or other environment, you can ensure that the framing materials you select will complement the overall aesthetic and ambiance of the space, creating a cohesive and visually pleasing display.
4. Overcoming Monitor Calibration Issues
The way colors appear on digital screens can be influenced by factors like monitor or screen calibration settings. If your phone or monitor is not calibrated properly, the color you see online may not accurately represent the actual color of the framing material.
Ordering framing samples circumvents this issue by providing a physical reference point. In comparing the samples to your artwork or photograph, you can observe the true color and avoid any surprises or disappointments upon receiving your selection. This is particularly important for those seeking precise color coordination or for professionals who rely on accurate color representation for their clients.
5. Supporting Professionals in Showcasing Options
For professionals in art and photography, ordering samples becomes an essential tool. Having physical samples on hand allows pros to feature different framing options for your work. It offers a tangible experience that goes beyond digital representations, thereby enabling your buyers to make more informed decisions and resulting in greater client satisfaction. This is also an excellent way for a professional to underscore your own expertise and dedication to your clients' needs.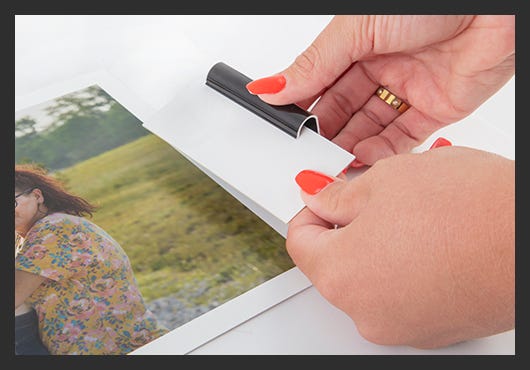 Use samples to see how a frame and mat may appear around your art.
Framing Sample Options & Ordering Instructions
The opportunity to order framing samples from American Frame presents several options from which to choose—all of which are about ensuring that you make an informed decision about your framing treatment. Here's what you should know.
You can order 2.5" samples of any frame or mat at no charge other than the small shipping fee involved. The samples themselves are offered at no cost and provide a convenient and cost-effective way to explore multiple options before finalizing your selections.
Note: If you order these samples in conjunction with another framing purchase, there's no additional shipping charge. You can add various framing materials and products to your cart, then include a range of these samples, all without incurring any extra shipping costs.
For a small fee plus shipping, you have the option to order 5" corners of any frame. This provides a larger sample size that can give you a better idea of the frame's overall appearance and presence in combination with your work and the surroundings in which it will be displayed.
With regard to mat boards, there are a couple of options available. You can order any individual 2.5" samples (as explained above) OR you can order sets of samples. For instance, we have an entire conservation set, which includes samples of all the conservation mat boards. Alternatively, you can opt for corner samples of specific series, such as all whites, cotton rags, eight-ply mats or six-ply mats. These samples offer a practical way to evaluate specific series and narrow down your choices accordingly.
To order mat board sample sets, simply navigate to the "Accessories" section, select "Mat Board" from the dropdown menu and click on "Sample Packs." Here, you'll find options for ordering the mat board sample sets you desire.
For individual 2.5" samples of frames or mats, go to the detail page for the specific product you are interested in and click on the "2" SAMPLE FREE" button to add it to your cart. For the larger corner samples of frames, click the button that says "BUY CORNER SAMPLE." The samples will be shipped within a few days to ensure they reach your door promptly.
Be sure to take advantage of these sample options to confidently select the perfect frames and mats for your presentations.
Should you need additional assistance with your framing projects, we're here to help. Our expert advisors are available for personal concierge service by calling (800) 537-0944 Monday-Friday, 8:30AM – 5:30PM EST. Or contact us at Customer.Service@americanframe.com.