10 Tips to Selecting the Perfect Custom Picture Frame
Custom framing is a great way to elevate the look of a favorite piece of art, photograph, or memorabilia. Choosing the best custom frame means carefully considering several factors. Below are ten tips to help you pick the perfect frame for your next project.
Tip #1: Start with your art
When contemplating a custom framing project, the artwork you're framing is the first thing you'll want to consider. What medium are you using? Different artwork - whether an autographed photo, a hockey jersey, an oil painting on canvas, or a child's watercolor painting - all have distinctly different feels to them. How does the art strike you? Is it casual? Formal? Is it a colorful piece that you want to tone down, or a neutral piece you might want to make bolder? Is it a mosaic that needs a frame that will take a back seat to the art itself, or a landscape that requires treatment with presence?
Here are some rules of thumb to follow:
Strong, modern works of art and photography can handle bold shapes and frame finishes.
Dramatic pictures on canvas are also stunning in extra deep frames or float frames. (Canvases attach to the back of a float frame instead of sliding into a channel like a typical frame. This makes the artwork appear to "float" inside the frame without touching it.)
Traditional canvas paintings and watercolors will showcase beautifully in solid woods or gold and silver mouldings paired with linen or rag mat boards.
Color can change the entire mood of a picture, from calm to exciting, and can influence the "season" the image suggests, lending the same artwork a winter, spring, summer or fall feel depending on the color and sheen of the frame and mat. Use a color wheel to test various shades against the image.
Look at your pictures and choose the element you'd like to call out, then match that shade to the mat.
If you aren't sure which direction to take, choose a high quality white or cream mat and use a simple frame in either black or a mid-tone wood. This approach will complement almost any item.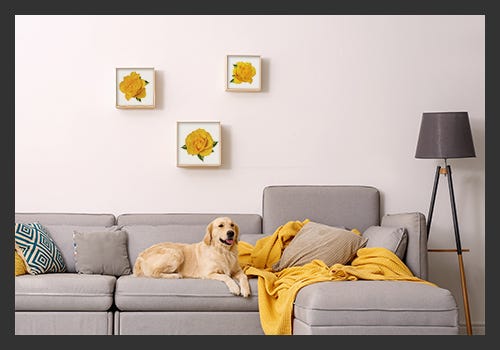 Custom picture framing can elevate the look of your art and photography.
Tip #2: Determine where you'll display your finished project
Will your pictures hang in a living room with contemporary decor or a sunroom filled with wicker? Is it going to be part of a gallery display or the focal piece in a professional office? Both the context - residential, commercial, gallery - and the style of the space will provide hints on which frame to choose and what color of mat would be best.
Framing for galleries or gallery-style spaces tends to be classic and high quality. The frames should have clean lines in solid wood or fine metals, while the mats should be in neutral shades. Frames for residential or office settings are meant to suit your taste and décor. Color, style, and design can all be chosen to work with the image and its surroundings including wall and trim paint colors and textiles, like drapes, rugs, upholstery and pillows to create a truly unique, custom look.
Tip #3: Consider the scale of the piece
Custom framing means you can have some fun with your artwork! You can play with proportion by varying the size of your mat's borders and by choosing frames with either narrow or wide faces. Make a big statement with small artwork by using extra wide mat boards with significant drop bottoms, where the bottom border is wider than the three sides. Conversely, you can constrain a large piece of artwork by opting to forgo a mat. If you want to keep your project small enough to display on your desk, shelf, or tables, we offer easels designed for custom frames.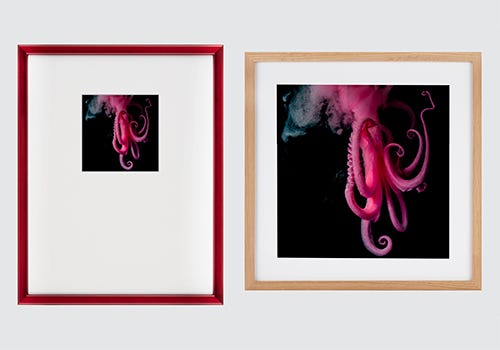 Play with proportions to give your art and photography maximum impact.
Tip #4: Remember - Style Isn't the Only Preference
When choosing a frame, think carefully beyond style - consider budget, ease of assembly, and eco-friendliness as well.
Standard Nielsen #11 & Radius Nielsen #58 are our most popular and budget-friendly aluminum frames. Our wood frame selections range from the budget-friendly Basics collection to the high design of our Econo-Wood collection.
Also consider the inside (rabbet) depth of the frame's channel. The rabbet should be at least ⅛ inch larger than the thickness of the stacked total depth of the artwork, mat board, mounting board and acrylic glazing. All American Frame frames have sufficient depth for a single mat, artwork on paper, a mounting board, and acrylic, but artwork on canvas, multiple mats, and other variations may make certain frames impractical. We provide exact dimensions for our frames, including width, height, and rabbet depth, all available on our website.
Tip #5: Contemplate Purpose and Lifespan of Your Piece
Your custom framing treatment is the environment in which your artwork will "live," so be sure to select the right materials to support its lifetime. If you're framing an original piece of art or anything you plan to keep long-term, be sure to order the appropriate backing boards and mat boards. Bainbridge Artcare™ and Peterboro matboards are always a good choice when it comes to preserving works of art. Low-cost posters and other unsigned reproductions can be economically framed in standard materials and mats.
Tip #6: Leverage Virtual Technology Before Your Purchase
As you make framing and mat selections at AmericanFrame.com, your choices will be displayed as a virtual mock-up of the finished framing treatment, including your specified art sizes and mat borders. Virtual technology allows you to play with endless possibilities before you commit to your final decision, which ensures you get the exact treatment you want at the budget you've set.
Use our preview tool to visualize what your final design will look like.
Tip #7: Request Samples to Confirm Colors, Profiles, and Finishes
Requesting free samples from AmericanFrame.com is the ideal way to be absolutely certain of your material, style, and color selections. You can order samples before committing to a frame, which will allow you to physically hold up corners to your artwork and on your wall so you can see exactly what your piece will look like. Samples ship to you in 4-5 days. Once you've had a chance to see the samples, confirm your order and we will custom cut and handcraft your framing choices to your exact specifications.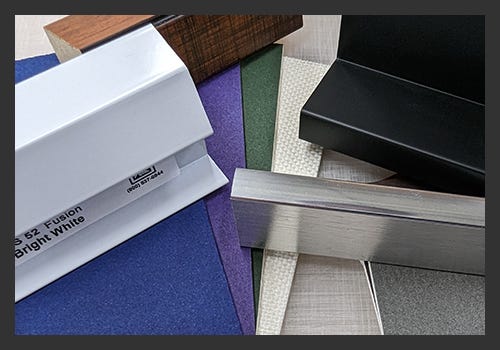 Free samples are available of all our frames and mat boards. Corner samples are also available or frames for a nominal charge.
Tip #8: Trust Your Artist Instincts
Remember - the nature of custom framing is that it's custom! You created the artwork or chose it for yourself, so trust your personal taste and artist instincts, and use the online tools and resources provided at AmericanFrame.com. Take your time, enjoy the process, and create a truly original and beautiful look for your artwork.
Tip #9: Always be Learning
At American Frame, expert advice is available 24/7. We've created a wealth of tools and resources for the DIY custom picture framer. Schedule a video call our Virtual Showroom for free personalized advice on custom framing; visit our How-To page for videos, guides, and answers to frequently asked questions; or sign up for our email newsletter for custom framing tips delivered straight to your inbox.
Tip #10: Get in Touch!
If you need personal help, we are here! Our expert advisors are available for personal concierge service by calling (800) 537-0944 Monday-Friday, 8:30AM – 5:30PM EST. Or contact us at Customer.Service@americanframe.com. We love to hear from you!