Picture Frame Ideas
Best Things to Do With A Picture Frame (Other Than Hanging A Photo)
Featuring artwork and photos is the most traditional use of frames, but it's far from the only one. A great frame can offer many other options when you're looking for something truly unique.
Whether it's an old picture frame to be upcycled, or a new purchase with a purpose, these picture frame ideas are sure to inspire you.
Frame a Piece of Fabulous Fabric
When you're looking for a unique and fantastic piece of art, you may want to check the linen closet instead of your local art gallery. Fabric comes in virtually every color and pattern you can imagine. Unexpected sources for gorgeous, inexpensive fabric include:
A dress or a shirt you no longer wear that has a vibrant pattern
Extra pillow shams or cases
Textiles like napkins, placements, table clothes and draperies from thrift shops
Trim the fabric to size, mount it, add a mat or two, and set it into a great frame.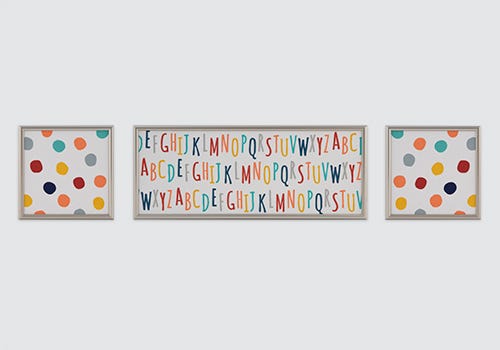 You can also head to the fabric store for easy, affordable children's room decor that can be changed as they grow
Use a Shadow Box Frame to Create Abstract Art
Here's a new idea: create a colorful, abstract display with leftover fabrics or yarns rolled into balls. Use the leftover yarn from your knitting or socks whose mates have gone permanently missing. Roll each item neatly into a ball, arrange in a pleasing color pattern until the entire shadow box has been filled, then set the back into place to hold everything in.
Heartwarming Messages on Glass
The frame itself can become its own work of art when you have a permanent marker on hand. Write a word or short phrase (for example, "Love," "Peace," "Never Give Up," or "Best Friends") onto the glazing of the frame and add it to the frame. It's simple, elegant, and can also make a touching gift.
A Treasured Memento
So many items can be displayed inside a shadow box, from natural objects like seashells and stones, to memories like a child's outgrown mittens. Create a shadow box with extra deep frames and use spacers to keep your object from touching the acrylic.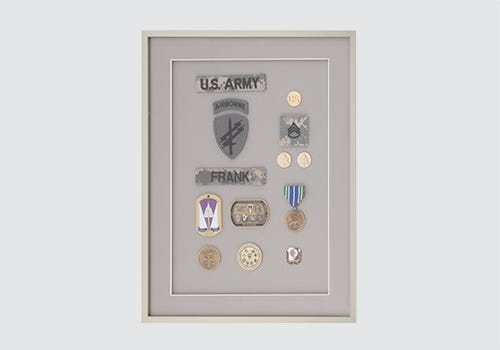 Military memorabilia can also be displayed in a deep shadowbox frame
Find Inspiration
Browse American Frame's catalog of picture frames for ideas, DIY resources, framing services, and accessories.

Have a picture frame idea of your own? Get in touch with American Frame for any assistance you need with your next custom framing project, including free color samples, instructional information, and more.