Cotton: It makes Peterboro mat boards superior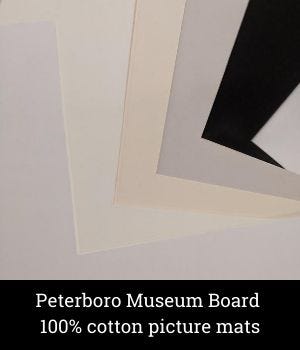 Mat board made of cotton – "rag" board – is multiple layers, or plies, of cotton board that have been color dyed and combined in 4-ply, or 8-ply versions.
The best picture frame mats you can buy? 8-ply rag matboard.
8-ply rag is museum-quality, long-term conservation matting. It's inert, which means it won't change shape over time. It's also acid-free. 8-ply is exceptionally thick, so its bevel is a deep ¼ inch, adding considerable depth to the picture framing package it's in.
The downside of cotton rag custom mats for frames? They come in fewer colors because they're made with dyes less likely to have harmful components.

Peterboro Museum Board 100% cotton picture mats are made from the purest form of natural cellulose, so they require minimal processing. All Peterboro picture frame mat boards adhere to the demanding specs of the Fine Art Trade Guild and Professional Picture Framers Association.
Good enough for the Library of Congress.
Peterboro Museum Board meets all the mandates of the Library of Congress for archival properties and specifications for museum mounting board.
Peterboro Museum Core meets or exceeds all international standards for conservation mat boards. Framers, and their clients, feel better when Peterboro matboards are included in the framing package.
The Peterboro specs:
· 100% virgin cotton rag core and backing; acid- and lignin-free
· Buffered with calcium carbonate
· Made with pigmented, conservation-quality surface papers
· Bleed- and fade-resistant throughout
· Consistent core and fibre density for smooth, clean bevels
· Cotton core & backing is 100% renewable and earth-friendly
· All colors have passed the PAT (ISO 18916) test
To see our Peterboro matboards, click here.